THE IGLTA FOUNDATION IMPACT AWARD
SUSTAINABILITY FOR SMALL BUSINESS SUCCESS
The IGLTA Foundation empowers LGBTQ+ welcoming businesses through leadership, research and education. This award recognizes a business member of IGLTA whose initiatives encourage the responsible development of tourism in three key areas: environment, community, diversity & inclusion. The Impact Award is presented in partnership with The TreadRight Foundation, the foundation created by The Travel Corporation's family of brands.
WHY?
Sustainability is an essential consideration for LGBTQ+ travelers around the world. As a community that has historically faced discrimination, LGBTQ+ travelers prioritize safety and inclusivity when choosing travel destinations. In recent years, sustainability has become an increasingly important factor in the decision-making process of LGBTQ+ travelers. This is because sustainable travel not only contributes to the preservation of the environment, but it also promotes social and economic development in local communities.
Many LGBTQ+ travelers prioritize hotels and resorts that have environmentally friendly practices and initiatives, such as recycling programs and the use of renewable energy sources. Additionally, LGBTQ+ travelers may choose to support local LGBTQ+ organizations and businesses that are working towards creating safe and welcoming spaces for LGBTQ+ people. The 2021 IGLTA post-COVID survey found that LGBTQ+ travelers prioritize sustainability when planning their vacations. Participants expressed a strong desire to support LGBTQ+ and small businesses, contribute to community projects, and reduce their environmental impact. By prioritizing sustainability, LGBTQ+ travelers can help create more inclusive and equitable travel experiences while promoting environmental and social responsibility.
---
About the Impact Award
Our Impact Award focuses on initiatives and efforts that encourage the sustainable and responsible development of tourism. The award encompasses a holistic approach to the matter of sustainability as it does and should affect us all. 
The Impact Award will recognize a smaller, independent IGLTA business member based on 3 pillars of sustainability that are of the greatest impact to us at IGLTAF. The award is presented every year at the IGLTA Global Convention.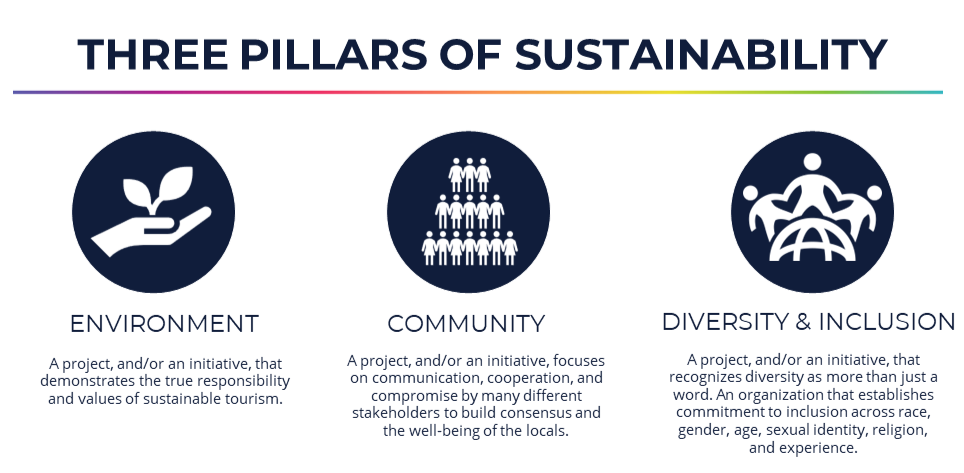 Benefits of Receiving this Prestigious Award:
Recognition on main stage at the Convention
Mentorship from an industry leader during the convention
Four nights of free accommodation at the convention host hotel
Complimentary Buyer/Supplier Marketplace & Convention Registration
Complimentary admission to Voyage
One-year Free IGLTA Membership Renewal
An IGLTA marketing package valued at US$3,000
A commemorative trophy
Recognition on IGLTA social media and newsletter reaching 11,000+ tourism professionals in over 80 countries
PAST IMPACT AWARD RECIPIENTS
Founded in 2010 in Taolagnaro, Dadamanga creates tours to attractions, parks, and destinations throughout the unique landscape of Madagascar with an emphasis on environmental protection and community engagement.

A donation is made from every tour to girls' school Nofy i Androy, and they have established a rice distribution fund for single mothers of disabled children. Through a partner company, they fund a nursery to raise and distribute fruit trees to local farms, and actively lobby against the exploitation of lemurs as hotel attractions. They also hold workshops for independent local drivers and tour guides to educate them on the importance of diversity,equity, and inclusion.

"Dadamanga is honoured to have been selected for this prestigious award.  It has always been a guiding ethic of our company to support social issues and to support the environment in everything that we do.  Being in the travel business in one of the least developed countries on earth, we consider it vital that our entire chain, from drivers to guides to the staff in our partner hotels, actively embrace those values, we have carefully worked with our team on matters of diversity, and we assure you that Madagascar is open, welcoming, and ready to receive everyone with Fahalemem-panahy (with gentleness), and with open hearts and minds." Brett Massoud, Founder & Owner, Dadamanga

---

A warm thank you to our 2022 judging committee

 

Founded in 2016 in Medellín, OUT in Colombia is committed to creating life-changing experiences for travelers that also engage members of the local LGBTQ+ community and protect Colombia's biodiversity. Among the company's recent initiatives was the formation of the Cocora Alliance to create a platform for charitable giving from tour proceeds; the project is named after the Cocora Valley, home to Colombia's national tree, the wax palm, which is a major draw for tourists to the region, but also is endangered.

---

 

A warm thank you to our 2021 judging committee

"With every one of our tours, we seek to introduce LGBTQ+ travelers to the new definition of all-inclusive, where you can travel well, travel out, and make a difference all at the same time, it is truly an honor to be recognized by IGLTA, the IGLTA Foundation, and The TreadRight Foundation for our efforts to give back to the community through responsible and sustainable tourism. As we strive for equality through travel, we hope that every new experience and cultural exchange leads to more compassion and understanding, while uplifting the diverse communities of the world.".Sam Castañeda Holdren, CEO & Founder, OUT in Colombia.

---