UNWTO & IGLTA, ADVANCING LGBTQ+ TOURISM
A DECADE OF COLLABORATION
January 2011, The United Nations World Tourism Organization chose the Pink Corner at the FITUR Travel Trade Show in Madrid as the backdrop to present IGLTA with a certificate officially designating the association as UNWTO's first LGBTQ+ Affiliate Member.
UNWTO former Executive Director Márcio Favilla conducted the presentation and was joined by Javier Blanco, UNWTO former executive director of affiliate members, and Peter Jordan, former UNWTO affiliate member liaison.
Accepting the certificate on behalf of IGLTA were Vice President of Global partnerships, Clark Massad and former IGLTA Spanish Ambassador Juan Carmona del Solar.
This collaboration has highlighted the unique ability of LGBTQ+ tourism to bring growth, inclusion, and diversity to the travel industry, as well as to share a reliable analysis of a market segment with strong potential, in order to further examine LGBTQ+ tourism from a social, political, and economic perspective.
This partnership has highlighted the unique ability of LGBTQ+ tourism to bring growth, inclusion, and diversity to the travel industry, as well as to share a reliable analysis of a market segment with strong potential, in order to further examine LGBTQ+ tourism from a social, political, and economic perspective.
UNWTO AT IGLTA's 29th Annual Global Convention
The International LGBTQ+ Travel Association's 29th Annual Global Convention, held 12-14 April, in Florianopolis, Brazil, was one of IGLTA's largest conference outside of North America. More than 260 participants from 23 countries united at IGLTA's first South American convention for three days of networking, education, and an introduction to the association's new board of directors. Among the highlights, former executive Director of the UNWTO Affiliate Members Programme, Javier Blanco received one of IGLTA's Honors, the prestigious Chair Award for 2012.
IGLTA Honors are chosen by the association's board of directors and presented during each year's Annual Global Convention to individuals or businesses that have improved the global landscape for LGBTQ+ travelers. The 2012 Chair award was presented to Javier Blanco for his contribution into bringing LGBTQ+ travel to the forefront of discussion among the UNWTO membership.
GROUNDBREAKING GLOBAL REPORTS ON LGBTQ+ TOURISM
2012: FIRST GLOBAL REPORT ON LGBTQ+ TOURISM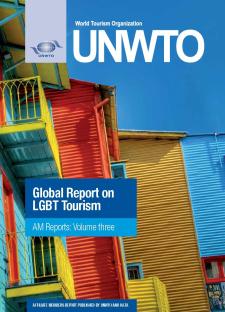 UNWTO unveiled its first report on LGBTQ+ tourism on 19 January, 2012 during FITUR, Spain's leading international tourism trade fair.  Created in partnership with the IGLTA, the inaugural 40-page "Global Report on LGBT Tourism" includes case studies and commentaries documenting the economic and social impact of LGBTQ+ travel.
The report includes articles on global tourism from the UNWTO and IGLTA as well as contributions from IGLTA members, such as Tourism Spain, Embratur (Brazil), South African Tourism, Cape  Town Tourism, Argentina's National Institute of Tourism, Tourism Montreal, NYC & Company, Witeck Communications, Sweet, and American Airlines. IGLTA's ambassadors to South Korea and India also provided commentary.
"This report demonstrates the clear relationship between countries' progressive policies toward LGBT people and the economic benefits for their tourism sector," said Javier Blanco, Former Director, UNWTO Affiliate Members. "Social benefits are becoming clearer too as more destinations are benefitting from the associated brand image of tolerance, inclusiveness, and diversity."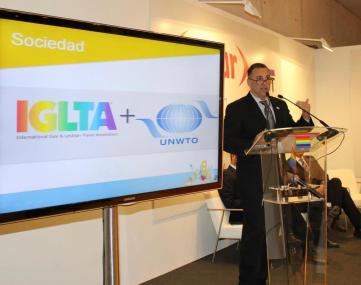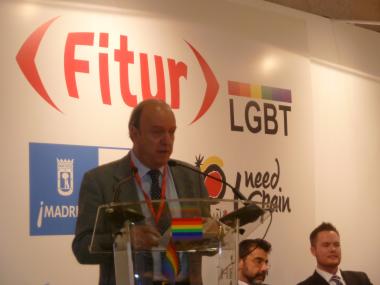 The official presentation of the first  global report on LGBTQ+ tourism hosted at the FITUR LGBT auditorium
CLICK HERE TO DOWNLOAD THE FIRST GLOBAL REPORT ON LGBTQ+ TOURISM
2017: SECOND GLOBAL REPORT ON LGBTQ+ TOURISM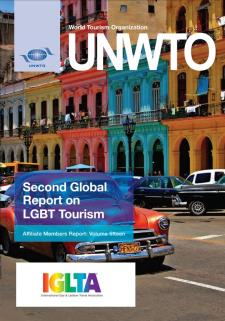 Five years after the publication of their first collaboration in 2012, UNWTO and IGLTA announced the release of  UNWTOsecond Global LGBT Tourism Report at the 34th Annual IGLTA Global Convention in St. Petersburg, Florida, where approximately 500 attendees received a copy of the report and were greeted by a video message from then UNWTO secretary -general Taleb Rifai, highlighting the importance of this niche market globally: "LGBTQ+ tourism is a powerful lever for economic development. It also brings recognition to LGBTQ+ communities as well as a fair reputation of tolerance, inclusion and diversity to the sector's destinations," he said," Committing to LGBTQ+ tourism is a huge opportunity to raise awareness and fight against any form of discrimination in our sector, in our society and in our world."
The Second Global Report on LGBTQ+ Tourism addresses the relationship between the rights of LGBTQ+ people around the world and the growing visibility of LGBTQ+ travelerss. It also examines trends that will be critical to the development of the LGBTQ+ tourism market in the future, such as the attitudes of millennials, increased global support for marriage equality and the willingness of new destinations to welcome LGBTQ+ visitors. It features case studies from UNWTO affiliates, IGLTA members, and other tourism marketing and development specialists.
CLICK HERE TO DOWNLOAD THE SECOND GLOBAL REPORT ON LGBTQ+ TOURISM
IGLTA'S PRESIDENT AS JURY MEMBER FOR THE UNWTO AWARDS FOR EXCELLENCE AND INNOVATION IN TOURISM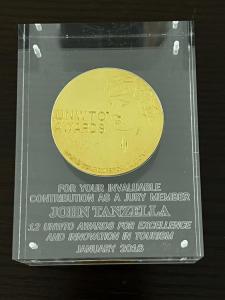 In 2016, IGLTA president/CEO John Tanzella was honored as a jury member of the 12th edition of Excellence and Innovation in  Tourism Awards. Since 2003, the UNWTO Awards celebrate excellence and innovation in the tourism sector, recognizing exceptional leaders in the categories of Creation and Dissemination of Knowledge and Lifetime Achievement, as well as outstanding projects in the categories of Public Policy and Governance, Research and Technology, Enterprises and Non-governmental Organizations. Since their inception in 2003, the UNWTO Awards have recognised more than 70 institutions for their innovative tourism initiatives. The contribution of the awardees are in line with UNWTO´s policies, priorities and programme of work, including the
UNWTO Global Code of Ethics for Tourism.
IGLTA AT THE 24th UNWTO GENERAL ASSEMBLY
Tourism leaders from every global region have traveled to Madrid this week for the 24th Session of the UNWTO General Assembly. 30 November to 3 December, 2021. IGLTA is proud to be the only LGBTQ+ organization with UNWTO affiliate membership status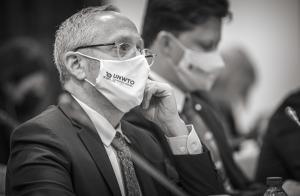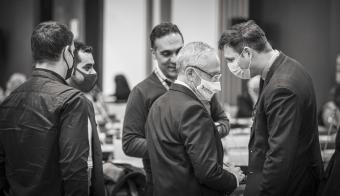 Held in conjunction with the UNWTO General Assembly, the Affiliate Members department organized a special edition of the AM Corner.  The idea is to have a greater visibility of the projects and initiatives of the Affiliate Members. IGLTA was proud to have been selected as one of 10 members to share a new initiative. 
IGLTA VP-Global Partnerships Clark Massad, represented IGLTA and spoke about the great work of the IGLTA Foundation and the Impact Award, created in partnership and presented with the support of the The TreadRight Foundation (created by The Travel Corporation).
Launched with the 2021 IGLTA Global Convention, the IGLTAF Impact Award, rewards and celebrates association small business members for initiatives that encourage sustainable tourism development. Award criteria are based on three key pillars of responsible tourism: environment, community/local well-being, and diversity & inclusion. The inaugural award went to Out in Colombia.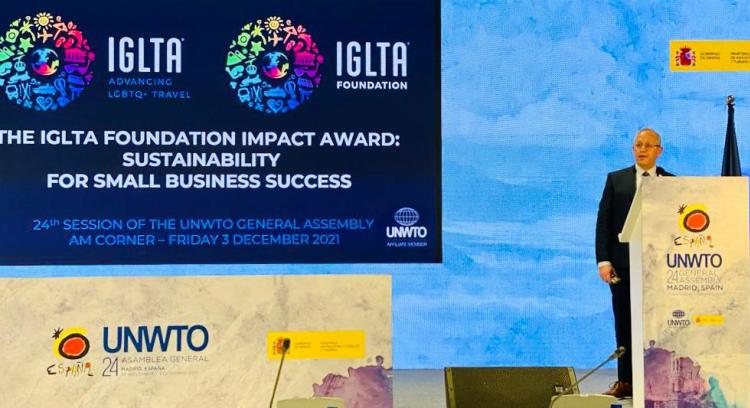 "I would like to express my gratitude to Ion Vilcu, Ana Larrañaga, Juan Carlos Baena Franco and the entire Affiliate Members staff for giving us this platform and the opportunity to share our initiatives and those of our members with the other Affiliate Members of the UNWTO. I would also like to congratulate and applaud the work of the other Affiliate Members including those who shared their initiatives at today's meeting."  says Clark Massad, IGLTA Vice President of Global Partnerships,
THE IGLTA FOUNDATION IMPACT AWARD: SUSTAINABILITY FOR SMALL BUSINESS SUCCESS
IGLTA AT THE GLOBAL YOUTH TOURISM SUMMIT
IGLTA and the IGLTA Foundation proudly attended the first edition of the Global Youth Tourism Summit, organized by UNWTO and the Italian Ministry of Tourism, 27 June to 3 July.
Tourism leaders from all around the world traveled to Sorrento, Italy for the event, which provided a platform that aims to empower youth to take an active part in decision-making processes in the tourism sector.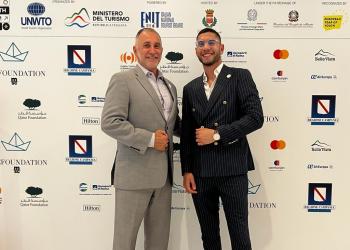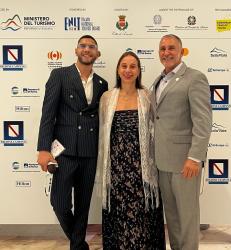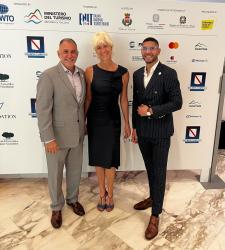 ABOUT UNWTO
The World Tourism Organization (UNWTO) is the United Nations agency responsible for the promotion of responsible, sustainable and universally accessible tourism.
As the leading international organization in the field of tourism, UNWTO promotes tourism as a driver of economic growth, inclusive development and environmental sustainability and offers leadership and support to the sector in advancing knowledge and tourism policies worldwide.
 
ABOUT IGLTA & The IGLTA FOUNDATION
The International LGBTQ+ Travel Association is the global leader in advancing LGBTQ+ travel and a proud Affiliate Member of the United Nations World Tourism Organization. IGLTA's mission is to provide information and resources for LGBTQ+ travelers and expand LGBTQ+ tourism globally by demonstrating its significant social and economic impact. The association's professional network includes 10,000+ LGBTQ+ welcoming accommodations, destinations, service providers, travel agents, tour operators, events and travel media, and its members can be found in 80 countries. The philanthropic IGLTA Foundation empowers LGBTQ+ welcoming travel businesses globally through leadership, research and education.