Transgender, genderqueer and non-binary individuals face unique challenges when traveling, ranging from being humiliated by airport security, to being targets of hate crimes, to not having access to proper medical care while abroad.  #TravelingWhileTrans on Twitter provides firsthand accounts of the obstacles that transgender travelers face. 
Though the U.S. Department of State has issued guidelines for LGBTQ+ travelers under the "Travelers with Special Considerations" section, it is important to note that many of the challenges that transgender, genderqueer and non-binary people experience while traveling are some of the same challenges these communities face on a daily basis even when not traveling. However, traveling to unfamiliar places can put vulnerable minority populations at increased risk. It is also important to note that many people within this group belong to more than one minority category and belonging to, or being perceived as belonging to multiple minority groups can exacerbate the risk of being discriminated against, humiliated, harassed and assaulted. For example, women, particularly transgender women of color, are at high risk of being victims of violence and #TravelingWhileBlack on Twitter documents stories of black travelers being constantly harassed and treated unfairly while traveling. Transgender, genderqueer and non-binary communities are not a monolith and any travel tips specific to these communities need to be looked at through an intersectional lens. Here are some foundation travel tips to consider, including a comprehensive, individually tailored travel safety plan based on specific precaution needs.
Research Your Destination
Some will advise LGBTQ+ travelers to avoid destinations where "consensual same-sex sexual activity, public gathering, or dissemination of pro-LGBTQ+ material may be illegal," not only for safety reasons, but also as a means of economic boycott. However, not all LGBTQ+ travelers have the privilege of boycotting when they have to travel for business or to see family in areas that are not friendly to LGBTQ+ communities. And, some members of the LGBTQ+ community still choose to visit these destinations despite the legal challenges.
Know the laws, policies and attitudes of your travel destination and also be prepared that you may be mis-identified because many people across the globe do not know the difference between gender identity, gender presentation and sexual orientation. Whether or not you identify as a specific sexual orientation or gender identity (SOGI) minority, you may be perceived as belonging to a particular SOGI category and be targeted based on perception.
Freelance photographer and globetrotter Kim Geronimo (aka @thestreetsensei) stated, "[In] the United Arab Emirates (UAE) and Morocco, homosexuality is illegal and you should take that law very seriously. In UAE, it is socially unacceptable for even straight couples to display affection in public and they too can be arrested. In Morocco, my girlfriend and I got harassed a couple times, once almost to imminent danger."
Prepare Your Airline Travel Documents
When traveling by air, you must provide proof of identity at check-in and at the security checkpoint. To avoid delays with airport security, if possible, be sure that the name, gender and date of birth on your airline reservations match information displayed on your government-issued photo ID or passport, which you must present at the airport.
For residents of the United States, the National Center for Transgender Equality (NCTE) provides this advice:
The Secure Flight program checks this information against government watch lists, and gender information is used to eliminate false matches with the same or similar names—not to evaluate a person's gender. If you have different names or genders listed on different ID, you can choose which to provide. TSA Travel Document Checkers will check as you enter security to ensure that information on your ID matches your boarding pass. It does not matter whether your current gender presentation matches the gender marker on your ID or your presentation in your ID photo, and TSA officers should not comment on this.
If you travel frequently and live in the United States, you may want to consider enrolling into the TSA Pre-Check program, which offers expedited screening and reduces wait times in TSA lines. Visit here for more information about this program.
Packing
All prosthetics, prescription medications (including hormones) and medical accessories (ice packs, syringes, etc.) will be screened at the airport. If you plan on boarding an aircraft with any of these items, pack them separately and inform airport security that you are carrying medically necessary items to help facilitate the screening process. For example, NCTE notes for the United States, "Gel-filled prosthetic items such as breast forms are not included in the three-ounce liquid limit for carry-ons, as they are considered medically necessary, but their presence in your carry-on luggage may result in extra screening." Informing airport security of any items in your carry-on that may require additional screening can reduce delays. You can also request for a private screening by an airport security official if your bags need to be opened.
Know Airport Security Rules
In many countries, airport security uses Advanced Imaging Technology (AIT) to scan passengers for possible dangerous items. These scanners utilize a technology that may register body contours, binders, or prosthetics as "anomalies" requiring further screening, which usually consists of a targeted pat-down of any areas where an anomaly was perceived. Travelers often have the right to opt out of AIT, but opting out of this screening requires a thorough pat-down as an alternative. If you request a private screening, you should bring a witness with you to observe the process. Out and proud transwoman activist, actress, and software developer Sydney Shackelford adds, "[In the US] If you are non-binary, TSA is required to ask you your preferred pronouns or whether you prefer to have a male or female TSA agent screen you." Some countries have laws providing legal protections for non-bianary travels though many do not. Be sure you research your destination of interest and ensure you are comfortable traveling there and passing through airport security before booking your trip.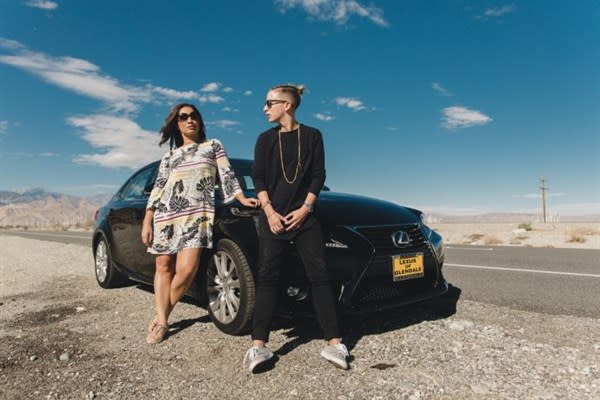 Travel by Land
If you are not comfortable traveling abroad or by air, consider taking a road trip to avoid security checkpoints. Road trips can be extremely fun, but also anxiety producing for transgender, genderqueer and non-binary individuals when passing through less densely populated areas where there are fewer resources, witnesses and cellular services. Be sure that you always travel with a companion and that you inform friends and family about your route. Additionally, queer Black femme Toni Myers, Assistant Dean of Students and Director of the Multicultural Resource Center at Oberlin College, recommends that you plan your stops such that you will know in advance the following:
Service plaza stops (most larger ones may actually have single/family use restrooms)
Choose to have a restroom buddy at all times—never travel into a gender-affirming restroom alone. Have them [your buddy] stand by your door, time your use of the restroom and your use of the sink/wash area.
Never leave your car unattended and/or unoccupied in dark, unlit areas.
Prepare a gas can (or two) to store in your trunk, in advance, in case there are long stretches of the trip through unfamiliar areas.
Keep an emergency car kit in your car at all times. Keep copies of your license, gender-affirming documents and insurance in the car.
If you are traveling by car alone, heed above advice, but be sure to utilize cruise control during midday or late night stretches. Drive defensively and wisely. If you can, install a GPS system in the car, a dash cam (optional), and a toll pass (if affordable).
Travel in Groups
It is advised that transgender, genderqueer and non-binary individuals travel with companions, as there is safety in numbers. While having a buddy or group with you may reduce your risk of being a target of discrimination, harassment and/or violence, having a plan for what to do in the event something goes wrong is equally important. Be sure that:
Your travel companion(s) know who to contact in the event of an emergency, including friends, family members and the number of the nearest U.S. embassy or consulate if traveling abroad;
You have a meet up location if you become separated from your travel companion(s).
For more information about your rights when traveling in the United States, visit the National Center for Transgender Equality. Please note many of these recommendations may only relate to countries that provide adequate protections to LGBTQ+ travelers. It is advised that you proceed with caution when traveling outside of your home country. For additional information and resources on LGBTQ+ laws, rights, protections and social sentiments in countries around the world, visit Destination Pride or the International Lesbian, Gay, Bisexual, Trans and Intersex Association.
This article was submitted by Anita Dolce Vita, QPOC femme, owner of dapperQ, and contributing fashion editor at Curve magazine.  Follow her adventures on www.dapperQ.com or @dapperQ / @anitadolcevita. Photo credits @thisisyourheartcalling / @photographybysuri & @dapperQ.