Playa del Carmen is a very open-minded and gay-friendly city. Together with its gorgeous beaches and vivid nightlife, this makes it the perfect gay destination for your next vacation!
The cosmopolitan town, about 45 minutes south of the Cancun airport, is laid back and easily walkable. Once you stroll down 5th Avenue (and maybe indulge in some good ol' people watching) you will see that there is a great mix of people from all over the world. Clubs, bars or beaches here are not really segregated and you will find a mixed crowd at most locations. This is why there are only a few places designed specifically for a gay audience. Here are the ones you should definitely check out.
Top Playa del Carmen Gay Clubs
This is the one and only gay nightclub in Playa del Carmen, right on 5th Avenue, near 6th Street (walk down the alley to the left of the 7 Eleven shop). It's open on Tuesdays, Fridays and Saturdays, and the party usually starts around 2 am. The entrance fee is 50 pesos (about 2.50 USD) and there is usually a drag show.
La Cueva del Maya-T
If you are fond of gay (male) strip shows, this bar is a must. If not, you will have fun anyway. It's a rather casual place to go for a beer, attracting mainly locals. On some evenings they have an entrance fee of 50 pesos. The bar is a bit outside of Playa del Carmen's center, so the best way to get there is by taxi.
This club isn't really a gay club, but usually, you'll find a gay crowd there. It's the perfect place if you just want to dance, have fun and are looking for fair-priced drinks. They play a bit of everything and have themed evenings like wet t-shirt contests or twerking contests.
Playa del Carmen Gay Beaches
Playa del Carmen's most popular beach attracts a very mixed crowd—straight, gay, young, old. It's all about seeing and being seen, so if you are looking for the hottest gays in town, this is where you will place your towel. You can either use the beach club or, if you don't feel like paying, just go to the beach in front of it.
It's like a nightclub, but with the sun out and at the beach. Coralina is your place to be if you are looking for party and meeting new, fun people.
Playacar
Do you prefer a quiet beach to escape the crowds for a while? Then this neighborhood is your destination. To get there, walk up to the ferry station and head south from the Señor Frog's Restaurant next to it.
Gay Spa in Playa del Carmen
X-Mahan-Nah Spa Club
This spa's target audience is the gay man. It's a nice and beautiful place to relax. X-Mahan-Nah opens daily from 4 pm to 10 pm, with a cover fee of 120 pesos (about 6 USD). Massages have an extra cost.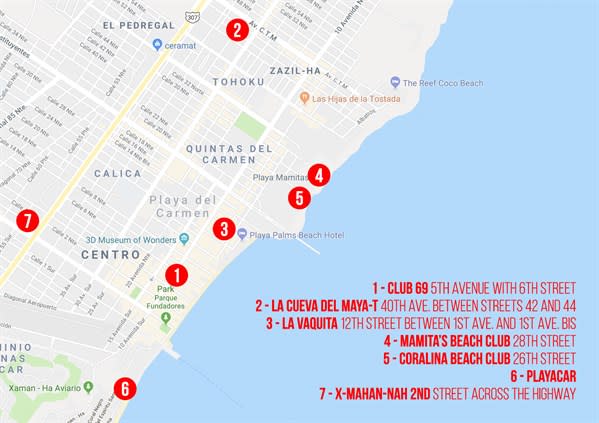 Gay Events in Playa del Carmen
As do most other big cities around the globe, Playa del Carmen celebrates its LGBTQ+ community with parades and parties, usually at the second or third weekend of June.
This is Mexico's biggest LGBTQ+ dance music festival. It takes place every year at the beginning of February and turns Playa del Carmen into gay paradise for a week. Featuring many parties at fantastic locations along the Riviera Maya, such as in a cenote or in the middle of the jungle. The festival attracts a very international gay crowd that is growing from year to year.
Playa Palms Beach Hotel is a small boutique hotel in the very heart of Playa del Carmen, right at the beach and just steps from 5th Avenue, making it perfect for the independent traveler. Each of its studios feature a kitchenette with a fridge and microwave, a balcony with your very own hammock and gorgeous views over its tropical garden and the Caribbean Sea.