The Best Things to Do in Queer-friendly San Juan, Puerto Rico!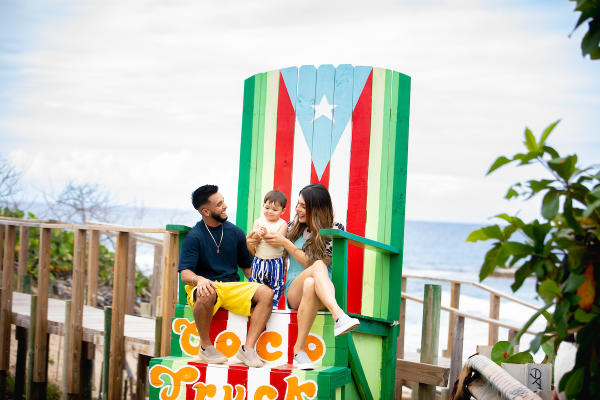 A Brief Guide To LGBTQ+ History In San Juan
San Juan, the capital city of Puerto Rico, is a vibrant and inclusive destination for LGBTQ+ travelers. The city boasts a rich history, stunning architecture, beautiful beaches, and a thriving welcoming nightlife scene. Over the years, San Juan has become a popular destination for LGBTQ+ visitors due to its warm climate, friendly atmosphere, and acceptance of diverse communities.
 San Juan has a significant LGBTQ+ history and has been a hub for LGBTQ+ activism in the Caribbean. The LGBTQ+ community in San Juan has played a vital role in fighting for equal rights and raising awareness about LGBTQ+ issues. Puerto Rico legalized same-sex marriage in 2015, elevating its position as an inclusive and welcoming destination for LGBTQ+ individuals.
You can explore it for yourself with our friends at Delta Air Lines. If you're dreaming of a warm getaway to San Juan, Delta Air Lines has you covered. With their extensive network, Delta offers multiple nonstop routes to and from San Juan International Airport (SJU) year-round to help travelers easily reach this tropical paradise. 
Delta flies to many LGBTQ+ welcoming cities from its major US hubs.  Click here to book a flight.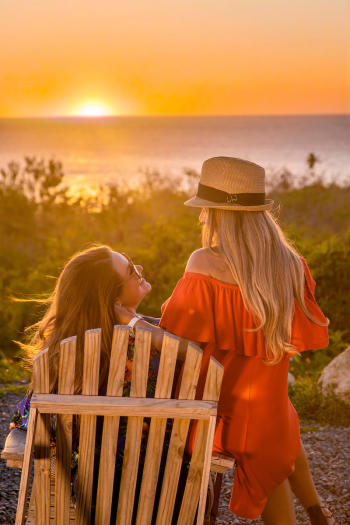 IGLTA will celebrate 40 years of advancing LGBTQ+ tourism globally by bringing its premier tourism event to San Juan, a destination that stands out in the Caribbean for its lively LGBTQ+ scene and commitment to diversity and inclusion. The host city selection carries even greater impact as IGLTA will celebrate its 40th anniversary and has not held a convention in the Caribbean since 1985.

Why Visit & When to Go?
 San Juan offers a wide range of attractions that make it an ideal destination for LGBTQ+ travelers. The city is known for its historic Old San Juan, which features colorful colonial buildings, cobblestone streets, and charming plazas. Exploring the historic sites, such as El Morro fortress and San Juan Cathedral, allows visitors to immerse themselves in the city's rich culture and history.
 Moreover, the San Juan metropolitan area boasts beautiful beaches like Condado, Ocean Park, and Isla Verde, where LGBTQ+ travelers can relax, soak up the sun, and enjoy water activities. The LGBTQ+ beach in San Juan is called Atlantic Beach and is nestled in the Condado neighborhood. The city also offers a vibrant dining scene with diverse cuisines, ranging from traditional Puerto Rican dishes to international flavors.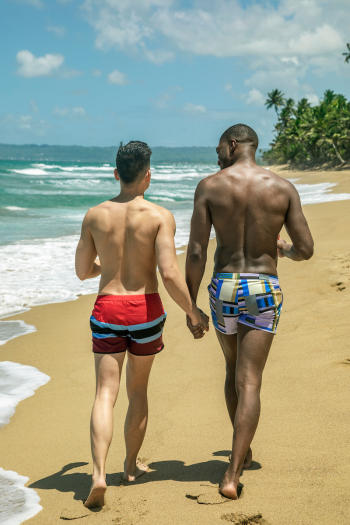 When to visit San Juan depends on personal preferences. Puerto Rico enjoys a tropical climate, with warm temperatures year-round. However, the peak travel season typically runs from December to April when many visitors escape colder climates and many Puerto Rican Diaspora return to visit their families. For a quieter experience, consider visiting during the shoulder seasons, such as May or November.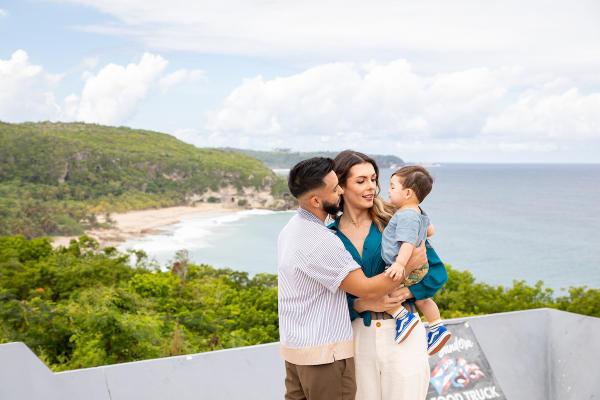 Interesting Attractions to Visit
 San Juan has numerous attractions that cater to diverse interests. Key locations include: 
Old San Juan: Explore the 500-year-old historic district's narrow streets, visit iconic landmarks, and experience the city's colonial charm with many plazas, restaurants, and quaint shops.  

Castillo San Felipe del Morro: In Old San Juan you will find this 16th-century fortress that offers stunning views of the Island's coastline and provides insights into the colonial military past.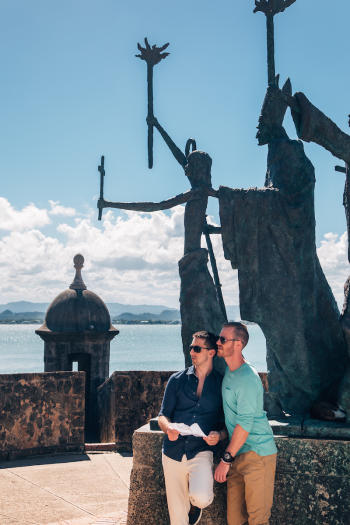 Museo de Arte de Puerto Rico: Offering an array of Puerto Rico's rich artistic heritage, the museum houses a diverse collection of local and international artwork.

La Placita de Santurce: This lively square in the center of the Santurce neighborhood is known for its many restaurants during the day time and its rich vibrant nightlife, with numerous bars and clubs that are frequented by both locals and visitors. 

El Yunque National Forest: Located a quick drive from San Juan, this is the only tropical rainforest of the US Forest system and offers hiking trails, waterfalls, and breathtaking views of the eastern region of Puerto Rico.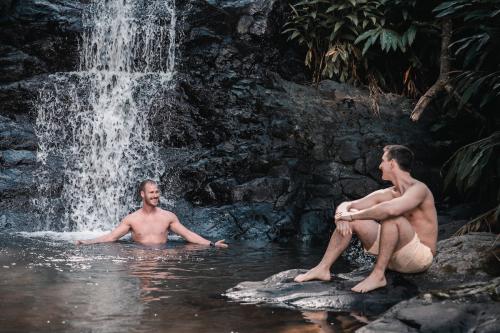 Safety Considerations for LGBTQ+ Visitors
San Juan is considered a safe and welcoming destination for LGBTQ+ visitors. Puerto Rico has laws that protect individuals from discrimination based on sexual orientation and gender identity. While incidents of violence or discrimination can occur anywhere, LGBTQ+ travelers in Puerto Rico should feel welcomed and respected.
 As with any travel destination, it's essential to exercise caution and be aware of your surroundings, it's also recommended to follow general safety practices like staying in well-lit areas, avoiding excessive displays of wealth, and using reliable transportation options as you would do visiting any major city.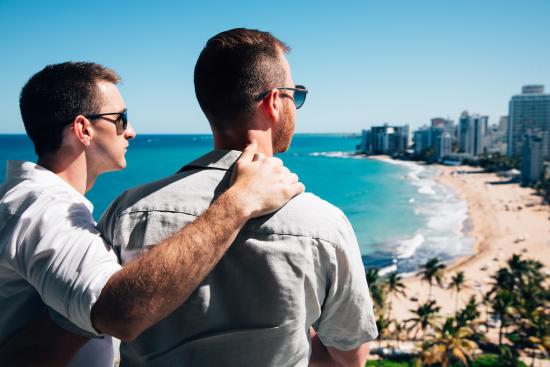 Lgbtq+ Travel Tips
 LGBTQ+ Events and nightlife
San Juan Pride  is an annual event held in June. The 2023 event was held on 4 June and celebrates Puerto Rican LGBTQ+ pride and equality. The event features a colorful parade in the Condado neighborhood, live performances, inclusive parties, and community gatherings, attracting locals and visitors alike.
 
Orgullo Boqueron is a pride celebration and event that takes place in Boquerón, a coastal town on the west coast of Puerto Rico. For 2023, the event takes place 8-11 June. Boquerón is known for its beautiful beaches and vibrant LGBTQ+ community. The event includes a series of festivities, such as parades, live performances, and community gatherings, held to celebrate LGBTQ+ pride and promote inclusivity. The events aim to create a welcoming and accepting environment for LGBTQ+ individuals and their allies while showcasing the diversity and achievements of the local LGBTQ+ community. Orgullo Boquerón is an opportunity for residents and visitors to come together, show support, and celebrate LGBTQ+ rights and equality.
 

LGBTQ+-Friendly Bars and Clubs: San Juan is home to a range of LGBTQ+-friendly bars and clubs, offering a lively nightlife experience. Some popular venues include Kweens Klub, SX, Chueca Bar, and the Tryst Hotel. 
 

Circuit Parties: Puerto Rico hosts popular circuit parties throughout the year, attracting international DJs and performers. These events feature high-energy music, and elaborate productions, and attract a diverse LGBTQ+ crowd.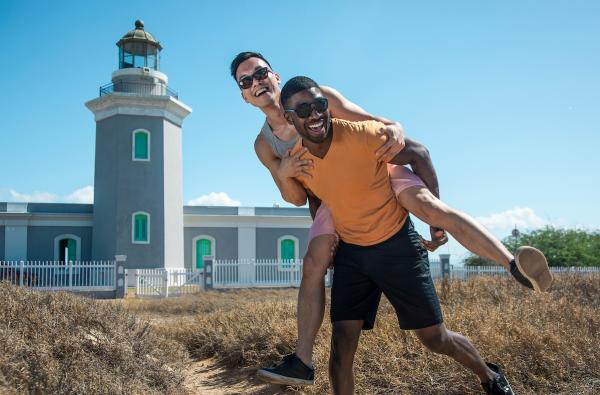 Drag Shows: Puerto Rico has a thriving drag scene with numerous venues hosting fabulous drag shows. The Tryst Hotel is a popular spot to enjoy entertaining performances by talented local drag queens in a beachfront setting. 
Puerto Rico Queer Film Festival is an annual event that celebrates LGBTQ+ cinema and provides a platform for queer Puerto Rican, diaspora, and international filmmakers to showcase their work. The festival typically features a curated selection of short and long-form films from around the world that explore various aspects of LGBTQ+ experiences, identities, and issues. It serves as a cultural and educational event, promoting dialogue, understanding, and acceptance through the medium of film.
Supporting the local community
These are a few examples of the many great nonprofits benefiting LGBTQ+ people in Puerto Rico:
WAVES AHEAD – Apoyo a comunidades marginadas: Waves Ahead is an LGBTQ+ nonprofit organization that focuses on promoting inclusivity, education, and social justice for the LGBTQ+ community in Puerto Rico. They organize events, workshops, and support programs to empower LGBTQ+ individuals.
PRIDE Puerto Rico | COA: COA is a grassroots LGBTQ+ organization that works toward achieving equality and social justice for the LGBTQ+ community in Puerto Rico. They provide support, advocacy, and resources for LGBTQ+ individuals, including counseling services and workshops.
True Self Foundation - We get you: True Self is a nonprofit organization dedicated to supporting diverse communities in sexual orientation and gender identity. Their mission is to promote social mobility and personal well-being within LGBTQ+ communities. The foundation also offers economic relief to victims of gender violence in emergency situations and supports community initiatives led by fellow community members.