This article is part of a Delta Air Lines, seven-city series featuring Seoul, São Paulo, London, New York City, Seattle, Los Angeles and Buenos Aires. Delta flies to all seven destinations from its major US hubs. Click here to book a flight.
---
New York City's dynamic queer arts, entertainment, nightlife and leisure activities make this one of the greatest cities in the world. NYC's queer scene is never static and is always reinventing itself!  While many queer bars across the country are closing their doors due to gentrification, online dating apps and younger generations spending less time in nightclubs, NYC's queer communities have not skipped a beat, bouncing back with new festivals, museums and beach takeovers. Of course, some of the classic watering holes have weathered the storm and are definitely worth a night of fun. Here are some recommendations for the best queer things to do in NYC right now, both inside and outside of the bar.
Be Proud
On the last Sunday of June each year, millions of people from all over the globe gather in Manhattan for NYC's Pride March, one of the largest Pride parades in the world. The festivities continue after the march with queer parties held all night long throughout the borough of Manhattan. Though NYC Pride has become synonymous with this one-day event, Pride is actually a monthlong celebration in June filled with LGBTQ+ activities, including, but not limited to, Youth Pride; festivals and marches in Brooklyn, the Bronx, Staten Island, Queens, and Harlem; the Dyke March; and many other grassroots parties, protests and activities. To celebrate the 50th anniversary of the Stonewall uprising, NYC is hosting WorldPride in 2019. To get the full experience of Pride month in NYC, create your ideal itinerary using resources like NYC Go and The official events calendar of New York City Pride.
Have Some Sun and Fun at Queer Beaches
While most travelers do not think of NYC as being a beach city like Miami or Los Angeles, NYC has vibrant queer beach scenes with each beach offering a unique vibe and something different for every interest. 
Accessible by public transportation, Fire Island offers two queer beaches: The Pines and Cherry Grove. The natural beauty of the island was protected from mass development so there are no paved roads and no cars in the beach communities. Instead, you will find long stretches of wooden boardwalks and the Sunken Forest, a preserve that is home to a rare ecological community. This natural wonderland serves as the backdrop for queer summer parties beyond your wildest dreams. If power gays (think finance and Fifth Avenue fashion) in Speedos twirling under disco balls to high energy music at multiple venues after a day of sun and swim are your idea of a perfect queer beach getaway, Fire Island is the beach for you. The Pines skews more bougie than Cherry Grove.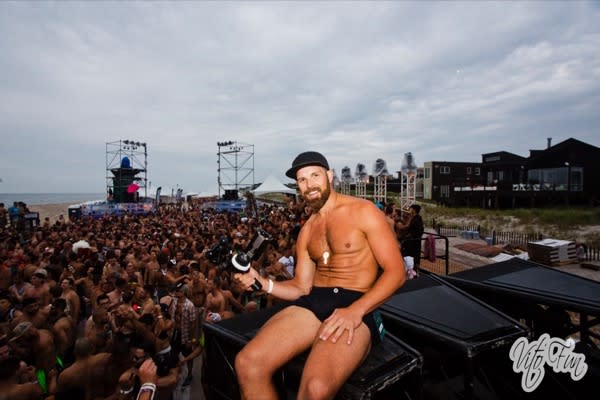 Photo credit Vito Fun / @vitofun
Riis Beach, also accessible by public transportation, is frequented by a different type of "power queer." Riis is the summer playground for NYC's queer bloggers, journalists, writers, artists, dancers, photographers, performance artists, party promoters and activists. Diverse, intersectional and body positive, Riis is the perfect beach experience for the hip and woke. Not to leave the foodies out, Riis offers a wide range of artisanal eats and treats at the Riis Park Beach Bazaar.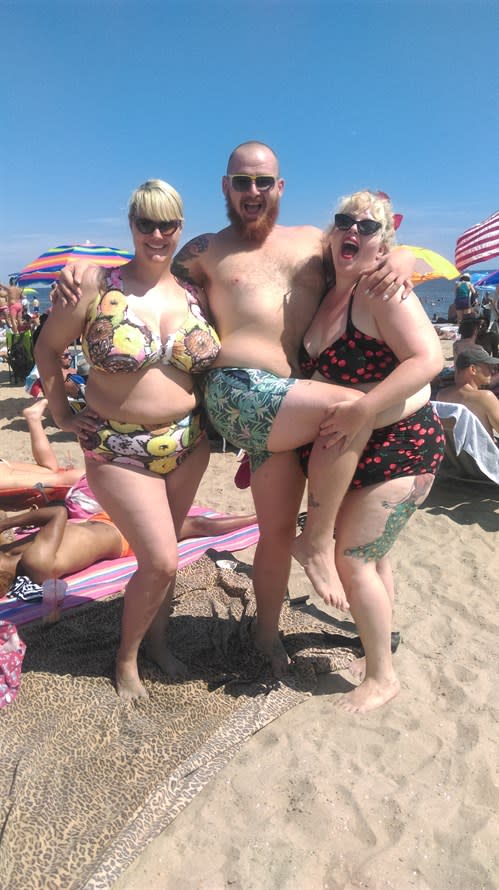 Photo credit Bevin, World Famous *BOB* and drag protégé Tammy Cannons / @queerfatfemme
Attend a Massive Queer Fashion Show
Each September, dapperQ, a leading digital queer style magazine, produces the largest queer fashion show during New York Fashion Week. The show is held at world-renowned Brooklyn Museum and boasts 6-10 designers; over 70 models representing a diverse range of race, ethnicity, body types and gender identities; and 2,000 attendees. The Museum stays open until 10pm to provide an interactive multi-media experience, complete with access to all of the exhibits, queer designer pop-up shops, photo booths, a full-service restaurant led by a Michelin-starred chef, a casual gourmet snack café and alcohol bars on two floors. And, if you love the nightlife and got to boogie, there is an off-site after party where show producers, designers, models and attendees can mix and mingle. The show has received press in notable media outlets such as Vanity Fair, Teen Vogue, NBC News, and Curve magazine. It has also been livestreamed on Huffington Post Queer Voices' Facebook feed and was featured as the closing scene in the HBO documentary Suited.
Get Dragged
NYC is a drag mecca. There are drag performances throughout most of the NYC boroughs on any given night of the week. Some performances are pop-up events, while others are featured in venues and at festivals dedicated specifically to drag. Lips and Lucky Cheng's are two long-standing cabaret restaurants that produce memorable drag show and dining experiences. Bushwig and RuPaul's Drag Con celebrate the rich history and art of drag in more depth. Bushwig is a two-day festival that showcases over 200 drag performances, DJs and musicians. RuPaul's Drag Con is a three-day convention that provides opportunities to meet your favorite drag queens, attend panels and shop for awesome merch.  
Enjoy Queer Cinema
NewFest gives voice and visibility to the full spectrum of the LGBTQ+ experience by championing films, supporting storytellers and engaging audiences in order to inspire dialogue, shift cultural bias and empower our diverse community. NewFest presents programming and community events year-round that shine a light on the LGBTQ+ experience. Their New York LGBT Film Festival features over 140 films each October. And beyond the cinematic experience, you can mingle with influencers, filmmakers and cinephiles while creating new connections to strengthen the spirit of LGBTQ+ communities.  NewFest also produces OutCinema with NYC Pride and curates a monthly screening and talkback program at The LGBT Community Center and a retrospective series at Quad Cinema. Approximately 12,000 people attend the film festival and there are plenty of opportunities to connect with others at their parties: opening and closing night of New York's LGBT Film Festival; or OutCinema with NYC Pride on the Monday of Pride Week in June.
Bar Hop in the Village
Greenwich Village is home to historic LGBTQ+ bars and nightclubs that have stood the test of time. No queer NYC travel agenda is complete without a trip to the Stonewall Inn, a gay bar and historic landmark that marks the site of the 1969 riots that sparked the gay rights movement. The Duplex, Monster, Marie's Crisis, Cubby Hole and Henrietta Hudson are all within walking distance from Stonewall. That means you can sing at a piano bar, laugh to queer stand up comedy, drink in a historical site that launched the gay rights movement and dance to some of the city's best female DJs at the oldest NYC brick and mortar queer women's club all in one fabulous night!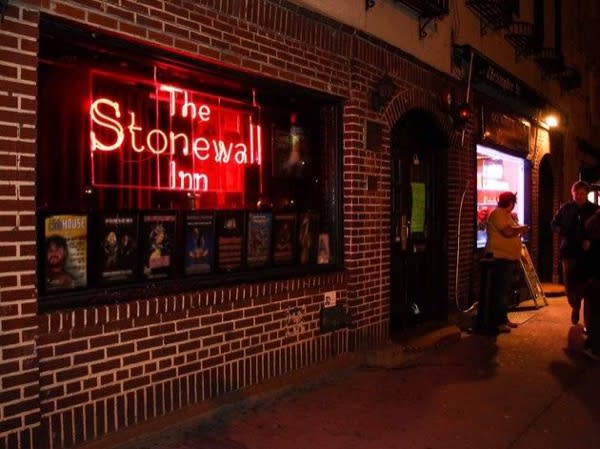 Photo credit Grace Chu / @notgracechu
Admire Gay Art
Located in lower Manhattan, the Leslie-Lohman Museum "is the only dedicated LGBTQ+ art museum in the world with a mission to exhibit and preserve LGBTQ+ art and foster the artists who create it. The museum has over 30,000 objects in its collections, spanning more than three centuries of queer art." In addition to their rotating exhibitions, the museum also curates special events with DJs, cocktails and mingling.
Support the Community
New York City's Lesbian, Gay, Bisexual & Transgender Community Center located in Manhattan and the Brooklyn Community Pride Center provide support and services to local LGBTQ+ communities, but are also open to queer visitors from all over the world. Both centers are home to arts and cultural events, such as TELL, an evening of queer storytelling produced by Drae Campbell at the Bureau of General Services—Queer Division bookstore and event space located in the LGBTQ+ Community Center in Manhattan.
Click here to view all IGLTA members and travel opportunities in New York City.
---
This article was submitted by Anita Dolce Vita, QPOC femme, owner of dapperQ, and contributing fashion editor at Curve magazine.  Follow her adventures on  www.dapperQ.com or @dapperQ / @anitadolcevita. Featured image photo credit Kim Geronimo /  @thestreetsensei