Written by Gabi and Fabia, ESTRANGEIRA travel blog
Recife is the capital of Pernambuco, in the Northeast of Brazil. This city is not only one of the main cultural centers in the region, with intense musical and audiovisual production, but also a great destination for LGBTQ+ travelers. We, as Brazilian queer couple, really love traveling to Recife and we hope you get excited to visit it as well after reading this article.
Maybe if you think about coming to Brazil you´ll automatically think of Rio de Janeiro, Foz do Iguaçu or São Paulo. But you should know that the most beautiful beaches in Brazil are located in the Northeast region, that's why planning a trip to Recife is a very good idea. You can also include a visit to Porto de Galinhas, Praia dos Carneiros and Ilha de Itamaracá.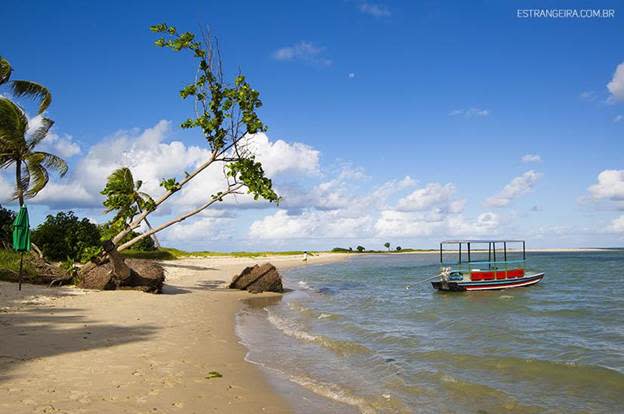 Recife is well known for being the LGBTQ paradise in the region, as the city is full of bars, clubs and activities exclusively queer, not to mention all the other gay-friendly venues.
For accommodation, you can choose Ibis Recife Boa Vista or Mercure Recife. Both hotels are IGLTA members!
Queer Recife - LGBTQ+ bars and clubs
Recife's queer area is located at Boa Vista Neighborhood, and most of the LGBTQ+ bars and clubs are at Rua das Ninfas (Ninfa's street) and Manoel Borba Avenue. You can easily do a gay pubcrawl, exploring all the places at one night, or be a whole week partying and having a lot of fun in Recife!
1. Bar do Céu
Bar do Céu (or, literally, "Heaven's Bar) is a great mix of bar and club in the same place. It is located inside a big house, so you can choose between chilling in the external area, having a beer with friends or a date, or hitting the dance floor in the internal area.
Address: Rua das Ninfas, 84 (opens from Wednesday to Sunday)
2. Metrópole Club
Metrópole Club is the main gay club in Recife. It has 2 dance floors: the first one, called "New York" is all about electronic and house music. The second one, called "Brazil", offers a mix of Brazilian popular songs of all types (from samba to funk carioca) and mainstream international popstar divas. If you wish to enjoy a crazy mix of Britney Spears and carnival samba, that's your place!
Address: Rua das Ninfas, 125 (Fridays and Saturdays)
3. Conchittas Bar
Conchittas Bar is our favourite Recife Queer Bar! A very open minded place, where queer people get along easily. Many lesbian couples hang out there. It's a great place to chill, have a beer or a drink before heading to a nightclub. It's not a huge place, but very welcoming. Walls are decorated with pop divas photos and '70s disco elements.
Address: Av. Manoel Borba, 709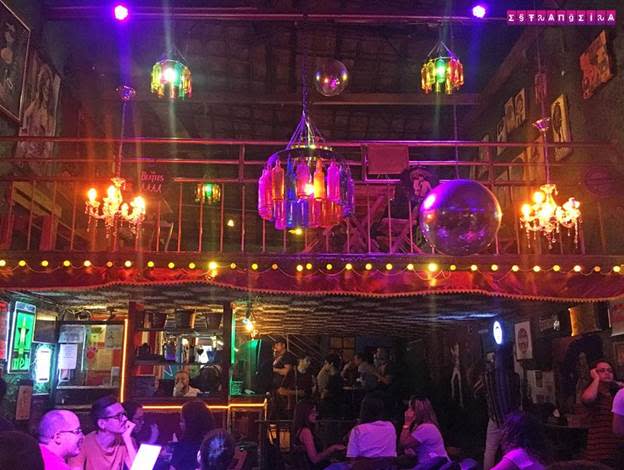 4. Amigos do Pop
Are you a friend of pop and love singing? You can show your talent (or just have a lot of fun) at Amigos do Pop, a great Karaoke night! Did you know karaoke is a huge thing in Brazil? Well, now you do! I know you want to release your inner Lady Gaga, no need to be afraid of doing it!
Addres: Av. Manoel Borba, 786
In the same street you can also visit some smaller gay bars, such as Aquarius Bar, Miami Pub, Place Bar, Red Angel and Iraq club (the most underground/alternative venue in Recife, very cool).
Outside Boa Vista Neighborhood you can find more LGBTQ+ friendly places to go, such as Madame Simões Street, at Santo Amaro Neighborhood. This area is an artistic and alternative spot. That means that all LGBTQ+ people are more than welcome!
A great restaurante over there is Central, and if you're looking for bars, then you should head to Bestafera Bar, Boi Neon or Casa de Bamba (this last one is pretty interesting, over there you can experience parties that mix Brazilian music, poetry and theater).
Queer Recife - LGBTQ+ pool parties
In Recife, the temperature is hot all year around, so you can enjoy great gay pool parties. Here are the main ones:
Woofer Pool Party - Bears exclusively pool party
Pool da Morena - this one is not in Recife, but in another Pernambuco town, Caruaru. It's a bit far away, but everyone says it's worth the trip.
These pool parties take place on a monthly basis, so you should check their Instagram or facebook pages before planning (only available in Portuguese, sorry about that).
Instituto Brennand and Oficina Brennand
Ìf you like art, you can't miss two incredible places: Instituto Brennand and Oficina Brennand. The Brennand family is very influential and important in the city.
Ricardo Brennand Institut is a big museum with his personal collection in a large area with native vegetation. The museum is located in a complex of medieval buildings and a idyllic green area.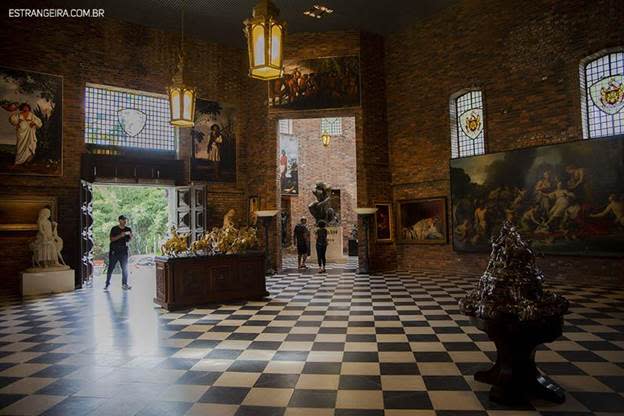 Oficina Cerâmica Francisco Brennand (Pottery studio) is the atelier of Francisco Brennand, brother of Ricardo. Francisco has recently passed away, but before his death you could be lucky enough to see him working on his ceramic pieces. The sanctuary (as he used to call it) was built in the old industry building of the family, which he later transformed into this amazing place.
You will walk through hundreds of art pieces and sculptures. Most of them are erotic, sexual and phallic.
In the center of Recife, near Marco Zero, you can also visit the Parque das Esculturas (Sculptures Park), with 90 sculptures of Ricardo Brennand.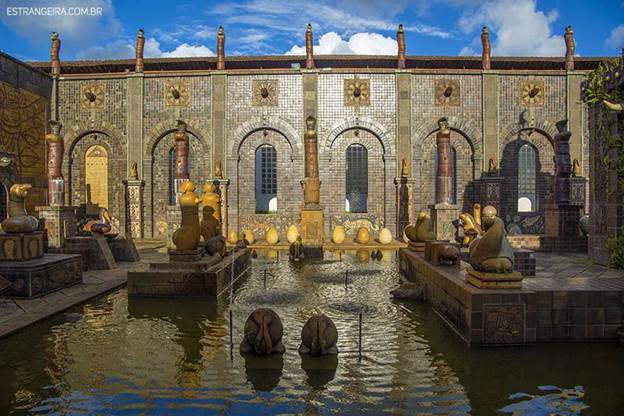 Fabia and Gabi are a Brazilian lesbian couple responsible for the LGBTQ+ travel blog ESTRANGEIRA. They write in Portuguese about queer destinations all around the world. They also have a youtube channel where you can watch their lesbian travel adventures!