Written by: Ivan Quintanilla
Originally Published: 19 November 2019 - Click here to view the original article
The new buzzy destination topping everybody's lists these days is Merida. Mexico's new IT girl is enjoying quite a moment, with accolades and coverage in major travel publications, including Condé Nast Traveler's 2019 Readers' Choice Award for "World's Best Small City."
IQ's Merida Gay Travel Guide
Though it is the capital and largest city of Mexico's Yucatan State, Merida is pedestrian-friendly and compact, with most tourism centered around the Centro Historico (historic center). It is accessible by direct flights from Miami, Houston and Tijuana/San Diego; and only a three-hour drive from the Cancun airport, with flight options from major cities all over the world. And you'll feel comfortable here. After all, Merida was voted the second safest city in all of North America by CEOWorld Magazine—ranked above any city in the United States.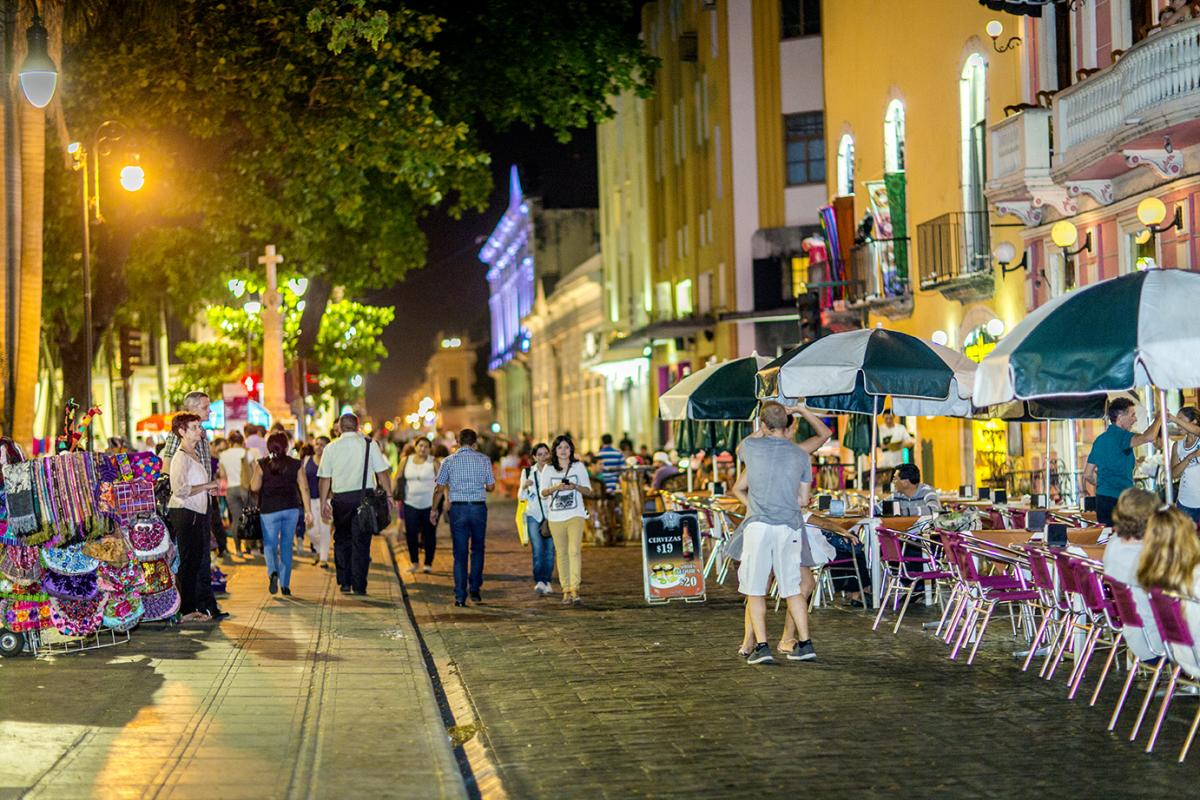 Pedestrian-friendly Merida (Photo courtesy of Yucatan.travel)
Also, Merida has potential to evolve into Mexico's newest LGBTQ+ destination. In 2019, Mexico's Secretary of Tourism, Miguel Torruco Marques, the International LGBTQ+ Travel Association (IGLTA) and Queer Destinations signed a Letter of Intent to further promote LGBTQ+ tourism to Mexico. Since then, Queer Destinations has been working with the Yucatan State government to train, develop and certify tourism players in Merida and throughout the region.
DAYS FOR DRINKING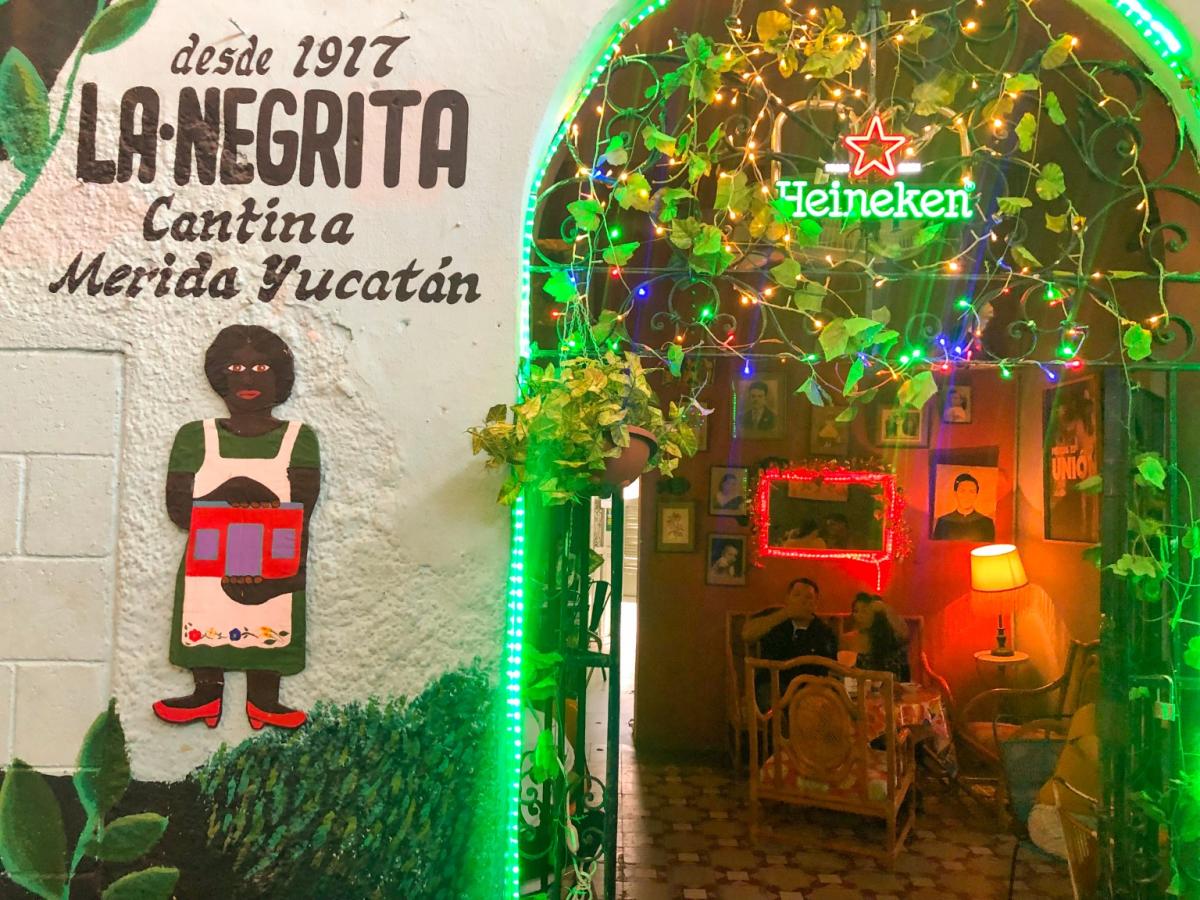 La Negrita Cantina
Liver be damned: Merida is a day drinking city! The parties center around its cantina culture, starting at noon and closing at 10pm. Though many locals have their favorite neighborhood spot, the most popular cantina in Merida is La Negrita. Literally, every single person I asked for a recommendation mentioned La Negrita. Expect fantastic live Cuban music, dancing and a very friendly crowd. It's the type of place where, if you are fortunate to get a table (and for that, you should arrive early), you'll instantly spark a conversation with your neighbor. The musical vibe of Merida has a strong Caribbean influence and salsa dancing reigns supreme, so this Cuban boy felt quite at home. 
For day-drinking with a side of man muscle, Cantina Bullpen had been Merida's gay cantina featuring go-go boys dancing by daylight. Recently, they announced they were closing temporarily. Check their Facebook page before visiting for an announcement of a new location.
NIGHTS FOR GO-GOS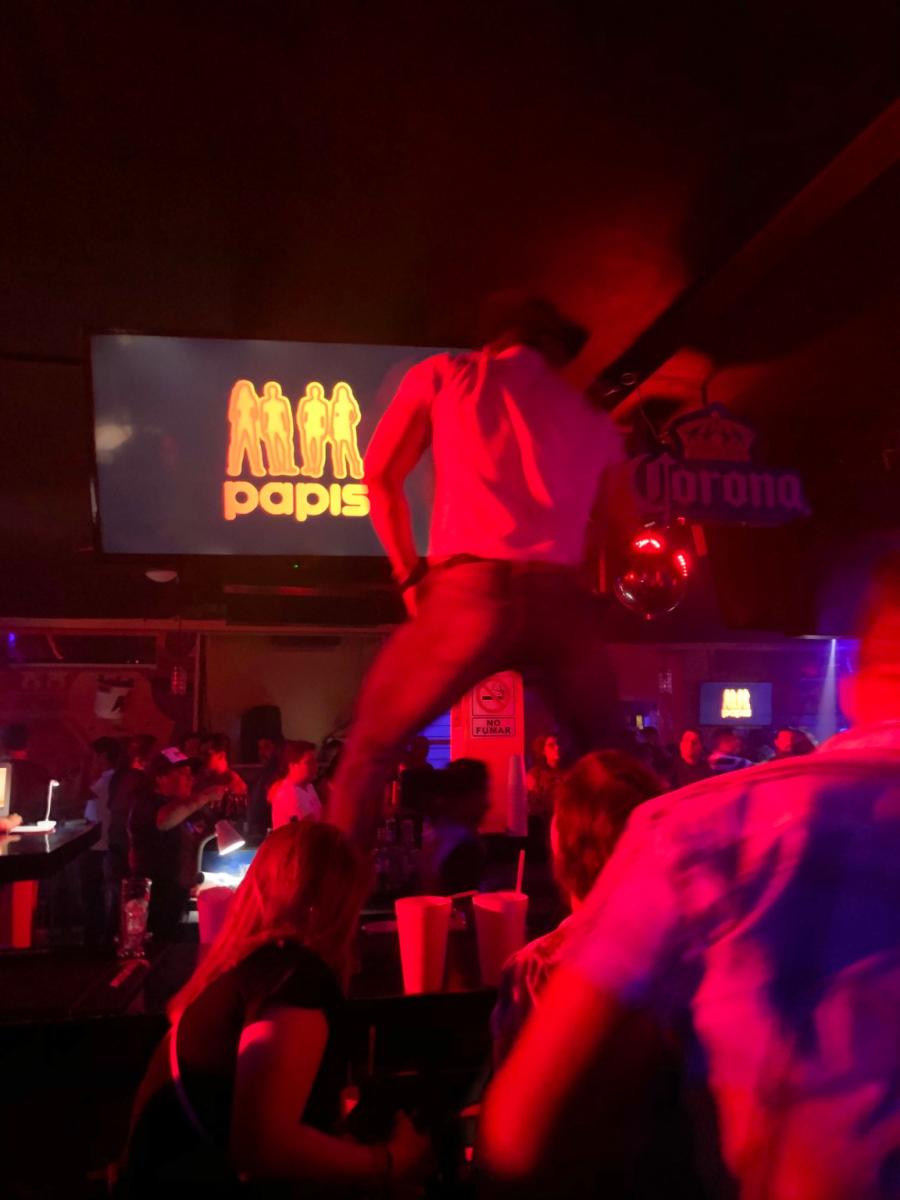 Papis Dancer Struts
Nighttime is Papi time. The stripper bar Papis does its name juicy justice, with a plentiful selection of muscular muchachos strutting on the bar and leaving little to the imagination. The cheesiness of their costumes is part of the charm. During my visit, I saw a cowboy, fireman, cop and construction worker—all started fully dressed and ended with a fully erect lasso, firehose, billy-club and hammer. Yes, there is nudity. And though the audience was primarily gay men, the crowd also had a nice mix of adoring ladies enjoying the show.
The largest LGBTQ+ club in Merida is Blue Gay Club, about a 10-minute drive from the Centro. Ubers are inexpensive and plentiful in Merida, so travel within the city is very easy to navigate. My night started with a drag performance that was challenging to follow even though I speak Spanish. I'd suggest arriving closer to midnight, when the focus shifts to a more traditional club night with go-go boys and dancing. You should know the crowd was also pretty mixed, so all will feel welcome. For a change of scene, Deseo is next door and also owned by Blue. The bar feels more intimate and has an outdoor patio (and also go-go boys). And though I did not partake of their company, it was clear that private dances were available from the fellas at both bars. 
MERIDA GAY TOURS
Once you recover from your evening, you'll be quite busy. Merida is a perfect base from which to explore the Yucatan State's most unique and revered sights, including 19 Mayan archeological sites and countless cenotes: fresh-water sinkholes and underground rivers.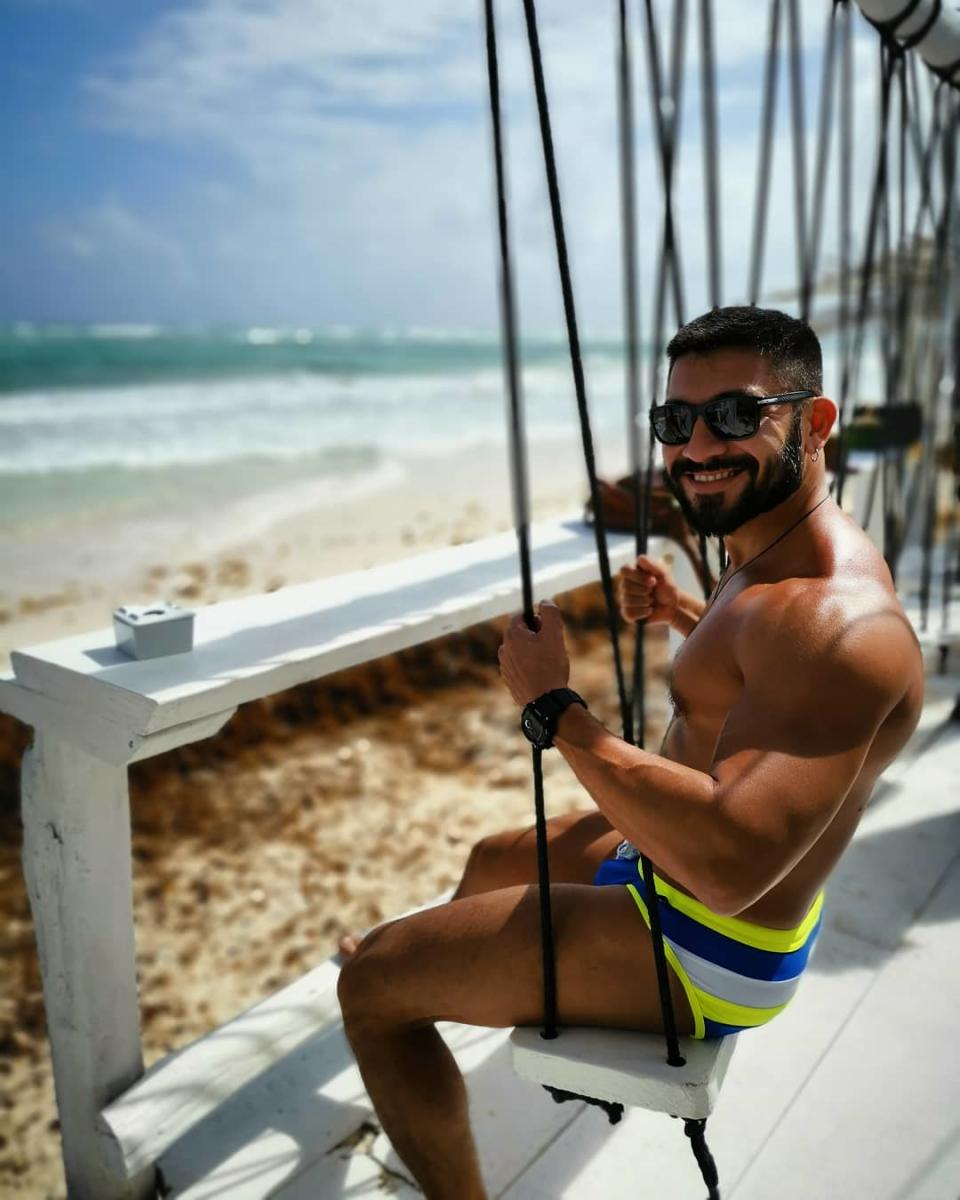 Ricardo of Merida Gay Tours
You'll need some wheels to explore beyond the city. Why not add an adorable, knowledgeable gay guide? The boys of Merida Gay Tours (recent members of the IGLTA family) can help plan your entire trip and customize an adventure suited just for you. Created by a gay couple interested in growing the city's LGBTQ+ tourism, David and Ricardo can arrange sightseeing tours of Merida, recommend specific gay-friendly nightlife spots or create a multi-day itinerary throughout the state. Their packaged experiences include days at the beach, Mayan archeological sites and visits to nearby "Magical Towns." They are accommodating, sweet and will instantly make you feel like you've reconnected with a long-lost friend. Have I mentioned they're adorable? They can also help orient you toward roving nightlife events that aren't held in large clubs. The weekend I visited we ended up at a "house ball" hosted by La Fantasía Salón, complete with voguing battles and plentiful cheap tequila. Category was Merida Friendliness and these kids slayed.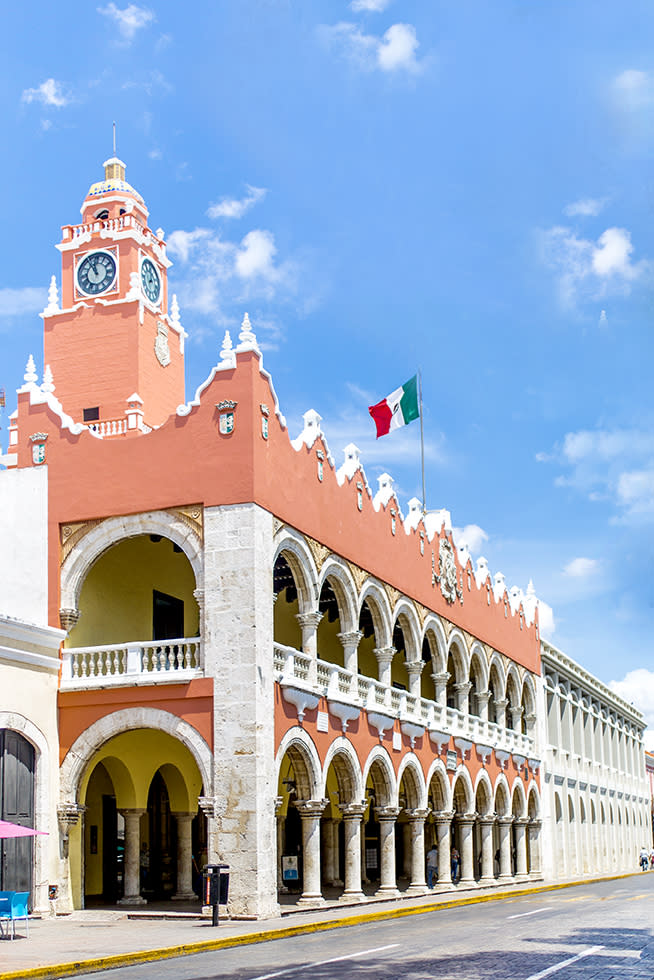 Municipal Palace in Merida (Photo courtesy of Yucatan.travel)
Merida is a contemporary city with reverence to its Mayan and Spanish colonial history. It's a great home base for your explorations and it's the LGBTQ+ center of the Yucatan State. Merida is also fun, beautiful and exploding in popularity. Get thee there pronto and witness this jewel of a city evolving into Mexico's newest queer destination.
For travel info on Merida, visit the websites of Yucatan Tourism and Merida Gay Tours.