Written by: J. Harvey
This blog post originally appeared on My Normal Gay Life
Featured image by @frankeee19 via Instagram
Walking past bright buildings graced with large balconies and towering tropical trees as the summer sun warms my shirtless body, rainbow flags flap in the breeze and time seems to pass at a comfortable leisurely pace, I can't help but feel I am experiencing a small bit of paradise. But that's quite the norm in Key West. At the tip of the Florida Keys, the world seems to slow down and, inevitably, you slow down with it. It's generally a quirky place—with chickens that run free and five-toed cats sauntering down its alleyways—that embraces a come as you are attitude. Key West has always attracted people from the outskirts of society, at one point serving as a stopping place for pirates and later attracting artists and writers such as Ernest Hemingway. Eventually the LGBTQ+ community discovered Key West as a remote outpost where we were free to live our lives without fear of reprisal. While LGBTQ+ acceptance has spread across the country and world slowly, the island and city has never taken issue with our community and this Key West Gay Guide, much like the city, is for the traveler with an open mind. The island, with its fiery sunsets and always-ready-to-party attitude, has been the muse of inspiration for many a people searching to express themselves and simply live their lives. It's the perfect destination to lay back and do nothing. If it's adventure you thirst for, you'll find that in Key West too!
Key West: A State of Mind
Key West is a physical manifestation of a state of mind. Its relaxed atmosphere and loving embrace of humanity and fun is the result of an attitude that mandates we mind our business and not interfere with the lives of others. Cause no harm and be happy seems to be the prevailing perspective on the island and I fully endorse it. This perspective not only applies to people but extends to the environment as well. It's hard to fully visualize the personality of the island and is better experienced firsthand at least once in your life. This guide will help you plan your Key West vacation, providing you with the info you need about when to go, what to do, where to eat…and more!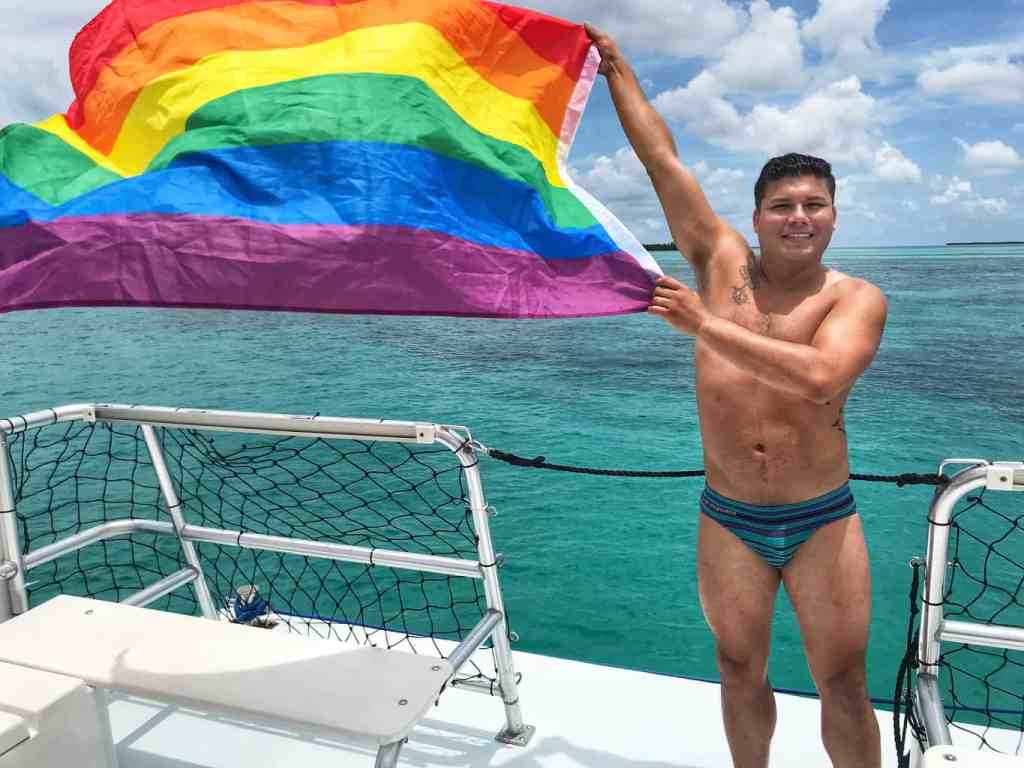 Key West: History
A Key West gay guide is not complete without a little history demonstrating how the island became what it is today. So, I give you the extremely condensed version (if you're history averse, you can skip this section).
1521: It all started when Ponce de Leon, in search of the fountain of youth, discovered the island and named it Cayo Hueso (Bone Island) for the limestone rock formation found on it. Once it was appropriated by English-speaking settlers, the name changed to Key West.
1822: Other than pirates using the island as a stop during their swashbuckling escapades, not much happened for about 300 years. But in 1822, Key West officially became part of the United States after Lt. Commander Matthew C. Perry sailed the schooner Shark to the island and planted the US flag in the ground.
1845-1866: The US Civil War breaks out. Florida joins the Confederacy, but Key West remained in the Union because of the island's strong naval presence. Fort Zachary Taylor is constructed. Key West also takes in Cuban refugees fleeing the Ten Years War.
1912: Key West is connected to the mainland via Henry Flagler's Overseas Railway opening the door to tourism.
1930-1950: Key West attracts many writers, including Ernest Hemingway, Tennessee Williams, and Shel Silverstein. President Harry S. Truman also begins to make regular visits to Old Town Key West going as far as converting the Naval station's command headquarters into an official Little White House.
1979: Key West hosts its first Fantasy Fest, a 10-day bacchanal that has become a legendary annual tradition.
1982: Due to US Border Patrol officials putting up roadblocks at the entrance to the overseas highway to deter drug smuggling and the consequent severe traffic congestion on the island, Key West declares independence from the United States and calls itself the Conch Republic.
Today: Key West plays host to cruise ships and tourists from all over the world.
As you can see, the island has a colorful history and has always attracted things outside the ordinary.
When to Visit Key West
Key West sports a tropical environment so you will never find truly cold weather as you might in other places. However, just as with any other place you visit, there are good and better times of the year to visit based on things like weather, tourist numbers, and prices.
Winter: The winter season in Key West (December to March) is actually the most popular time to visit the island so crowds will be large. This is the time of the year after hurricane season so there is a low chance of disaster striking and temperatures are moderate with fairly low humidity. The weather is usually perfect! Since demand is high at this time of the year, prices will be higher than the rest of the year, so your trip could cost a bit more.
The Best Time: Visiting Key West between March and June is your best bet. Winter crowds have tapered off at this time of the year, therefore hotel rates become far more reasonable. You have more of the city to yourself and don't have to compete with everyone else for a seat at the table. The weather is still pretty great at this time of the year and resembles winter with temperatures in the 70s and 80s F (21-26 C).
Summer: Summer in Key West goes from June to August and often extends to November but the weather can take a turn for the worst during this time. Hurricane season in Key West spans the same time period as summer. Also, summers are marked by high heat and humidity, which may make some travelers uncomfortable. On the plus side, hotels are at their lowest prices during this time. You can definitely get a good deal and you'll be able to eat at some of Key West's best restaurants without waiting in long lines. If you don't mind the heat or risking a hurricane spoiling your vacation, then this could be the ideal time for you to visit.
Key West: Gay Hotels
Key West is definitely a town known for its gay culture. Historically, the LGBTQ+ community has been drawn to the island due to its remoteness and come-as-you-are attitude. Consequently, LGBTQ+ people played and continue to play a pivotal role in the culture of Key West. If you are looking for a gay hotel for your Key West Vacation, give one of these a try.
Island House: This clothing-optional hotel offers very comfortable rooms, a gym, outdoor pool, two hot tubs, and a sunbathing roof for men only. Complete with a full kitchen where you can order food 24 hours a day, Island House also offers a free happy hour every day. It's the perfect place to unwind during your Key West vacation. You can't beat that!
Address: 1129 Fleming Street Key West, FL, 33040
Alexander's Guesthouse: Built in 1902 and listed on the National Register of Historic Places, this lovingly restored home is an LGBTQ+ guesthouse but also open to "friends of the LGBTQ+ community." Boasting comfortable beds, a lovely pool, and a happy hour with complimentary cocktails, you are sure to find the relaxation so needed during your Key West vacation.
Address: 1118 Fleming Street Key West, FL 33040
Equator Resort: Located just a few blocks from Key West's famed Duval Street, Equator Resort is composed of 5 historic properties, so each room is unique and has its own charm. Boasting two heated pools and two hot tubs, this hotel caters to men only and is clothing-optional.
Address: 822 Fleming St, Key West, FL 33040
Gay-Friendly Hotels
Now, if you are looking for something that isn't necessarily a gay hotel or you find that all the gay hotels are booked up (the more likely scenario) then you'll find plenty of gay-friendly offerings. These hotels are not gay per se, but they are welcoming to everyone regardless of sexual orientation or identity.
Parrot Key Resort: Welcoming to all, Parrot Key West Resort offers luxury and style right on the water in what feels like a private hideaway. With over 5 acres of tropical gardens and pools, you won't have any problem relaxing. If you prefer adventure, the hotel also offers on-site water sports and complimentary shuttles to the beach.
Address: 2801 N Roosevelt Blvd Key West, Florida
Silver Palms Inn: Located in historic Key West, Silver Palms Inn offers affordable elegance in a tropical-themed setting. This boutique hotel will inspire you to relax during your Key West vacation with its excellent amenities and laid-back atmosphere.
Address: 830 Truman Avenue Key West, Florida 33040
Gay Bars and Clubs
Of course, you can't visit Key West without heading to at least one gay bar while you're there. It is one of the historic gay destinations of the United States after all. You can find a number of gay bars in Key West along Duval Street. There is a bar for every flavor, so you're bound to find you're looking for.
Bourbon Street Pub: This New Orleans-themed gay video and dance bar features multiple bars for your cocktail needs, go-go dancers and private lap dances, as well as an outdoor area open to men only. Head here for happy hour daily until 8 p.m.
Address: 724 Duval Street Key West, FL 33040
Aqua Nightclub: Home of the famous Aquanettes, this night club is the perfect place to drink, party, and watch drag!
Address: 711 Duval Street Key West, FL 33040
801 Bourbon Bar: Located in the heart of Duval Street for over 30 years, the legendary 801 offers a bar area, cabaret drag shows and karaoke.
Address: 801 Duval Street Key West, FL 33040
Saloon 1: This is the only gay leather bar in Key West. It offers a small, intimate atmosphere for those loving leather and everything that goes with it. Head here on Friday nights at midnight to enter into a number of adult-themed contests.
Address: 504 Petronia St, Key West, FL 33040
La Te Da: Featuring cabaret performances and a piano bar, this is a great place to hang out with friends and grab a drink. If you'd like to attend a cabaret show, you'll need to purchase tickets ahead of time.
Address: 1125 Duval Street Key West, FL 33040
Key West Gay Guide: Delicious Restaurants
Key West is definitely home to a lot of great food and, of course, cuisine on the island is often centered around the sea. Many guides will recommend your typical tourist restaurants with all the frills and price tag to go with it. Instead, I recommend tasty restaurants that won't burn a hole in your wallet.
Bo's Fish Wagon: Offering a simple menu of everyday food with a heavy focus on fish, Bo's Fish Wagon will leave you feeling satisfied without breaking the bank. I loved the fried soft-shell crab and the open-air atmosphere of the place. You will know you're at the right place when you see a 1950s Chevy truck that looks like it is being held together by bumper stickers.
Address: 801 Caroline Street Key West, FL 33040
El Siboney: If you're looking for something not so fish-centric then look no further than El Siboney. This restaurant offers traditional Cuban style home cooking in a casual and family-friendly environment. The restaurant is perfect for a low-cost yet exceptional meal!
Address: 900 Catherine St Key West, FL 33040
Half Shell Raw Bar: This super laid back and casual restaurant offers some of the freshest fish you will find in Key West and is a local favorite. Located along the water, you'll sit at picnic tables while enjoying oysters, shrimp, fresh fish, and more. It's probably my favorite restaurant in Key West!
Address: 231 Margaret Street Key West, FL 33040
Abbondaza: Considered by locals to be the best Italian restaurant in Key West, Abbondanza offers a red-sauce heavy menu of delicious Italian food. Located in three former cigar makers' cottages, the hotel exudes historic character while serving high-quality, budget-friendly meals that will leave you quite satisfied. They also have a great wine selection.
Address: 1208 Simonton St Key West, FL 33040
The Conch Shack: If you're looking for some delicious conch fritters, look no further than the Conch Shack. They also serve fish, burgers and hot dogs. Don't expect it to be fancy as this restaurant operates around an outdoor counter. It's great for a super laid-back meal.
Address: 118 Duval St Key West, FL 33040
Key West Attractions
Hemingway House: One of Key West's most famous residents was the literary icon, Ernest Hemingway and his home is now listed as a US National Historic Landmark. The author penned parts of his most famous works here, including A Farewell to Arms and For Whom the Bell Tolls. The house was also the first in Key West to have indoor plumbing and a swimming pool. You can learn about the author and see memorabilia from his life and work.
Cost: $14 for adults | $6 for kids 6-12 | Free for kids 5 and younger
Address: 907 Whitehead St Key West, FL 33040
Southernmost Point: This is by far one of the most popular things to do in Key West. Snapping a photo with the famed colorful buoy is a rite of passage for any first-time visitor to the island. It isn't actually the southernmost point though. Just to the west of the buoy is a patch of land that is truly the southernmost point but its owned by the US Navy and is closed to the general public, so the buoy will have to do. If you want to avoid massive tourist crowds, get up early.
Cost: Free 24/7
Address: Corner of Whitehead Street and South Street
Duval Street: Head to Duval Street for loads of shopping and restaurants. If you're a night owl then this is where you'll want to go for all the nightlife too. It's Key West's most lively area.
Cost: Free 
Mallory Square: Located at the Northwest tip of Key West, Mallory Square is the perfect place to watch the sunset. Every evening a sunset celebration is held here with art and street performances. Just remember that this is one of the best places to watch the sunset in Key West so there will be massive crowds.
Cost: Free
Address: 400 Walls Street Key West, Florida 33040
Fort Zachary Taylor: Head to this park for clean beaches and sunbathing. Fort Zachary Taylor Park offers hiking, biking, fishing and more all in one place. Don't forget to explore the historic fort located within the park which dates back to the 1800s and was used during the Civil War and Spanish-American War.
Cost: $6 for vehicles with 2-8 passengers | $2 for pedestrians and cyclists | $4 for single-occupant vehicles and motorcycles.
Address: 601 Howard England Way key West, FL 33040
Truman Little White House: President Harry S. Truman loved Key West so much that he'd spend winters on the island. The building where he lived was once a naval command headquarters but eventually became known as the Little White House. Today the Little White House has been restored and turned into a museum where you can learn about Key West's role in naval conflicts.
Cost: $21.45 for adults | $10.75 for kids 5-12 years old | Free for children 4 years and younger
Address: 8311, 111 Front St Key West, FL 33040
Fort East Martello Museum: Head here if you want to see exhibits of local history and art. The museum is one of the best remaining examples of Martello-style military architecture in the country and is famously the home of Robert the Doll, a haunted doll belonging to the late artist Robert Eugene Otto, which requires respect or else bad things happen.
Cost: $10 for adults | $5 for children ages 6 and up | Children under 6 are free
Address: 3501 Roosevelt Blvd Key West, Florida 33040
Tours You Should Take
Key West certainly has no shortage of fun tours and activities. There are so many tour operators that you might find it difficult to decide which company to use.  I've included a few of my recommendations.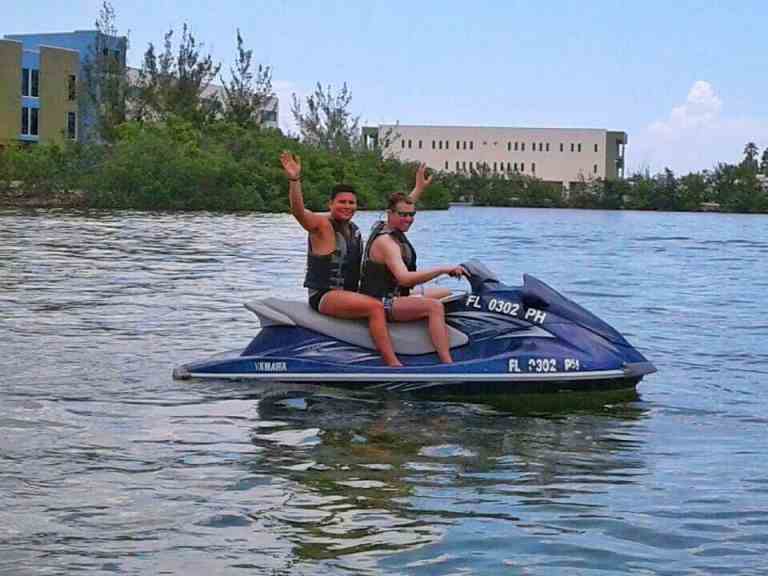 Blu Q: If you're a gay man looking for a tour where you can totally be yourself then look no further than Blu Q. This tour operator offers sailing, snorkeling and kayaking tours in Key West. They also organize sunset sails, sandbar trips and offer private charters. The tours cater to a gay male clientele, so you don't need to worry about a thing. Everyone who uses this tour company has a great time, so you should definitely check it out.
Barefoot Billie's: While not a gay tour operator, Barefoot Billie's is certainly LGBTQ+ friendly. I felt perfectly comfortable during both tours I experienced with the company. Offering jet ski tours and snorkeling tours, the company has a great staff with lots of energy. I did both a snorkeling and jet ski tour. During my snorkeling tour, we saw a huge nurse shark and the jet ski tour took us completely around the island of Key West. Check them out!
Sebago Watersports: One of the absolute must-dos of Key West is taking a sunset cruise. The sunsets in Key West are legendary and seem to emit some sort of magic that just makes you feel good. There's no better way to experience a Key West sunset than on a boat, in the ocean, free of the crowds on land. Sebago Watersports offers a great sunset cruise at an affordable price that includes your cruise passage on a catamaran, hors d'oeuvres, champagne, sangria, wine, beer and soft drinks. It also includes a full liquor bar. This is definitely the best way to experience a Key West sunset.
Air Adventure Helicopter Tours: This was one of my favorite tours I took because it is so unique. If you're a bit adventurous then sign up for a helicopter tour over Key West and get a bird's-eye view of the island, surrounding waters, and even some wildlife. We actually saw eagle rays in the ocean from the helicopter. It was amazing! Our guide was also super knowledgeable and friendly.
Ghosts and Gravestones Frightseeing Tour: For those of you interested in a bit of dark tourism, the Ghosts and Gravestones Frightseeing Tour may fit the bill perfectly. This trolley tour takes you through Key West as your guide recounts stories of murder, disease, and misfortune. You'll learn about Captain Tony's Saloon, maybe meet the Lady in Blue, and definitely encounter the famed Robert the Doll. It's a spooky tour in the middle of paradise!
Key West Beaches
Key West is an island with a variety of beaches you can access during your visit.
Smathers Beach: This is the largest public beach in Key West, approximately a half mile long and located on the south side of the island
Address: 2601 S Roosevelt Blvd, Key West, FL 33040
Higgs Beach: Not as glamorous as Smathers Beach, but is still worth a visit. It is located on the Atlantic side of the island near Casa Marina Key West Hotel and the Key West Garden Club. Palm trees lined the beach in some places and there are also picnic tables, so you can definitely have an outdoor lunch.
Address: Atlantic Avenue and White St, Key West, FL 33040
Dog Beach: This beach gets its name from the fact that it is the only beach in Key West where your dogs can also take a dip in the ocean. The beach is pretty small and is basically a dog park. Near the beach is Louie's Backyard, which is also dog friendly and a great place to grab a drink.
Address: 1500 Vernon Ave, Key West, FL 33040
Fort Zachary Taylor Beach: Located in the Fort Zachary Taylor State Park, this beach offers fishing, snorkeling, swimming, and of course lounging around. You can also walk the wooded nature trails to discover Key West's bird life. Don't forget to visit the beach's namesake fort and take a tour!
Day Trip from Key West
Dry Tortugas National Park: If you are looking to explore something outside of Key West, a visit to Dry Tortugas National Park makes for a great day trip. Located 70 miles west of Key West, this cluster of seven islands is known for its bird and marine life. It also has some pretty interesting history involving pirates, sunken gold, and a massive coastal fort called Fort Jefferson. Take a sea plane or a ferry and spend a day exploring the islands!