This article is part of a Delta Air Lines, seven-city series featuring Seoul, São Paulo, London, New York City, Seattle, Los Angeles and Buenos Aires. Delta flies to all seven destinations from its major US hubs. Click here to book a flight.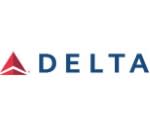 ---
Ever wanted to visit Argentina? We're giving away a trip for 2 people to Buenos Aires including flights & hotel. Enter here for your chance to win!
Argentina is a large and diverse country. On the map, it stretches from the Tropic of Capricorn all the way down to the South Pole, with Buenos Aires located close to the Uruguayan border. For travelers visiting Argentina, Buenos Aires is a cool and interesting hotspot where you can experience the metropolitan atmosphere in a few days. Buenos Aires is often called the gay capital of South America and it definitely lives up to its reputation!
How to get around in Buenos Aires
Buenos Aires actually has two airports, one of which is used for national flights, while the other is used for international connections. Make sure you don't end up in the wrong airport when your flight home is due. The Ezeiza International Airport (EZE) is located outside the city center and can easily be reached by taxi or with the city bus with number 394. There's no train connection between the city center and the Ezeiza Airport, but Buenos Aires does have an awesome extended subway system for transportation in the city center.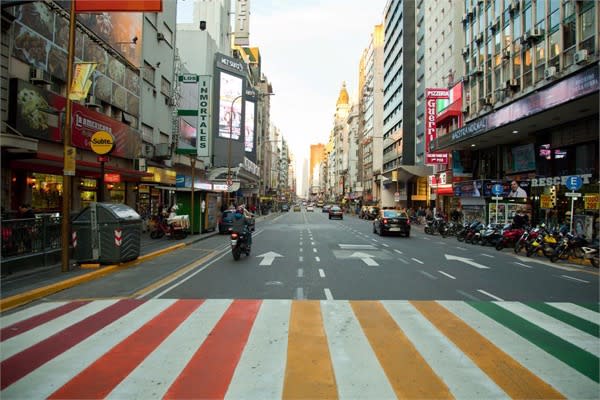 Districts and things to see in Buenos Aires
Buenos Aires is a massive city with no less than 48 districts. That's why it's a great idea to do some district research before you leave or you might just get lost in this metropolis without seeing any of the highlights.
La Boca district is well-known for its vibrant and colorful nature. Most visitors just walk through the area in order to see the colorful houses.
San Telmo is more of a colonial style district where you can indulge in the history of Buenos Aires and walk the cute cobblestone streets. The San Telmo district offers a great range of nightlife options for straight as well as LGBTQ+ party people.
Palermo is a residential district where most of the LGBTQ+ nightlife and activities are located. Depending in which sub-district of Palermo you're in, you'll feel as if you're walking through different parts of the world, i.e. Hollywood Palermo or SoHo Palermo. Don't skip the Parque Tres de Febrero in Palermo for a well-deserved break from city life.
Recoleta is an upscale and more expensive area in Buenos Aires. Evita fans must include the Recoleta Cemetery, where she is buried, a beautiful and interesting place to wander around.
But of all the districts to visit, you should start out with the Microcentro or downtown area, where you can find the main archeological sites and where most activities are located. Walk by the Casa Rosada, which is featured in the movie Evita and the Playa de Mayo main city square. Even though this district doesn't really represent life in Buenos Aires, it's still a district you don't want to skip.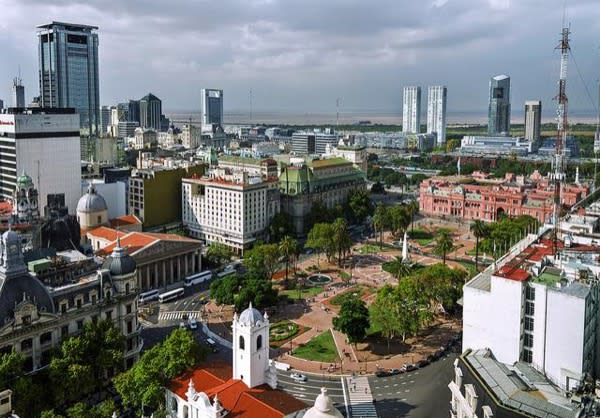 Food to try in Argentina
When talking about food in Argentina, your first thought will probably be steak! That's right. Argentinian steak is world famous and the beef from Argentine cattle is ranked very highly all over the world. What better place to try the Argentine steak than in Buenos Aires itself? Aside from the steak, other meat is also popular as an asado meal, which is Spanish for barbecue. Asados are very popular in Argentina and you can find steak and asado restaurants on every street corner in Buenos Aires. Another trademark food is chimichurri, a green garlic sauce that goes perfectly with the steak or asado. If you're looking for quick street food while you're exploring the city, try the empanadas! They're a cheap and tasty snack made of pastry and filled with almost anything you like. Last but not least, try the dulce de leche in Argentina. This sweet caramel dessert is the one thing you'll be looking for in your local grocery store once you get back home.
Where to sleep in Buenos Aires
Buenos Aires has been a well-known LGBTQ+ travel destination for many years. You'll have no trouble finding LGBTQ+ owned and LGBTQ-friendly accommodation all over the city. The best districts to find lodging are Palermo, Recoleta, and San Telmo, where you will be close to the action, tourist attractions, and nightlife of Buenos Aires. Check out all the LGBTQ-friendly hotel options in Buenos Aires on the IGLTA website.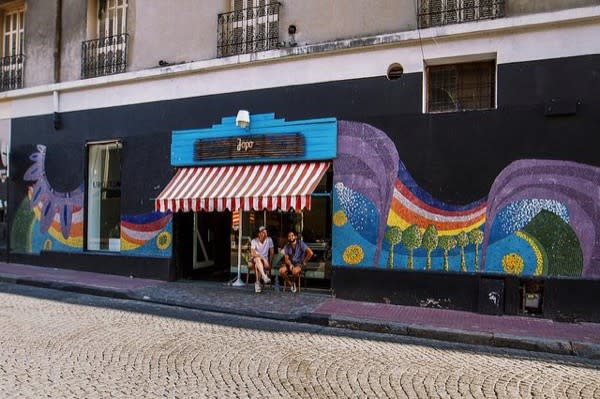 Buenos Aires for LGBTQ+ travelers
Argentina is one of the most progressive countries in the world when it comes to LGBTQ+ rights and laws. It seems like everything is possible in Argentina, and this doesn't only apply to gay and lesbian people, but also for transgender and gender-nonconforming travelers or locals. Same-sex marriage, partnership and adoption are all legal in the country and people can change their legal gender quite easily. Buenos Aires also has a lot to offer for LGBTQ+ travelers and some neighborhoods are brimming with gay bars, hotels, spas and LGBTQ-focused activities, like queer tango.
Click here to view all IGLTA members and travel opportunities in Buenos Aires.
---
We're Lobke and Inge, a regular lesbian couple. Travel is always in the back of our minds. The urge to explore new land and discover the gems of the world is bigger than ever. We need to roam the earth. This blog is all about that venture. You can read stories about our past travels and tips and tricks we learned on the road. We might even inspire you. We're hoping to help many other dreamers who crave the relaxed and exploring lifestyle. Photo credits: Ente de Turismo de la Ciudad Autonoma de Buenos Aires