LGBTQ+ travelers are not monolithic. We vary in age, gender, ethnicity, travel interests, travel budget, relationship status and family household units, and so much more. Yet, travel marketing is often geared toward the white, gay male experience or focuses solely on nightlife, ignoring LGBTQ+ individuals and families who fall outside of these demographics and who crave experiences beyond the bar.
There are a number of LGBTQ+ events across the United States that are promoting queer diversity. Many of these events are not featured in typical travel guidebooks or are not at the forefront of LGBTQ+ travel and leisure marketing. Here are our top 9 picks for events that promote queer diversity that we recommend you check out.
1) The Annual dapperQ New York Fashion Week Queer Runway Show at Brooklyn Museum
Each September, dapperQ, a leading digital queer style magazine, produces the largest queer fashion show during New York Fashion Week. The show is held at world renowned Brooklyn Museum and boasts 6-10 designers; over 70 models representing a diverse range of race, ethnicity, body types, and gender identities; and 2,000 attendees. The Museum stays open until 10pm to provide an interactive multi-media experience, complete with access to all of the exhibits, queer designer pop-up shops, photo booths, a full service restaurant led by a Michelin-starred chef, a casual gourmet snack café, and alcohol bars on two floors. And, if you love the nightlife and got to boogie, there is an off-site after party where show producers, designers, models, and attendees can mix and mingle. The show has received press in notable media outlets such as Vanity Fair, Teen Vogue, NBC News, and Curve magazine. It also was featured as the closing scene in the HBO documentary Suited. Price point for admission is $0-25. Check out www.dapperQ.com for information on their upcoming September show.
2) Babetown
Babetown is a moving pop-up dinner party for queer women and transgender and non-binary people, offering an evening of food, wine and gayness in a series of private residences.  Babetown aims to put people in a state where they are relaxed, in a private home with a full stomach, and are able to let their guard down a little bit and connect with the new people around them. Alex Koones, the mastermind behind Babetown, says, "We live in a fairly divided world.  Babetown is about bringing a community back together through house parties, through food, and the kind of conversations that happens over a mid-priced bottle of wine. We probably have about 40 people at each event, although some are much smaller and more intimate, ranging from 15-25, and others are larger spectacles, like the 80-person pig roast for our birthday." Each ticket is $35, but Babetown often offers free, volunteer trade and donation-based tickets. Visit www.beyourownbabe.com for event listings.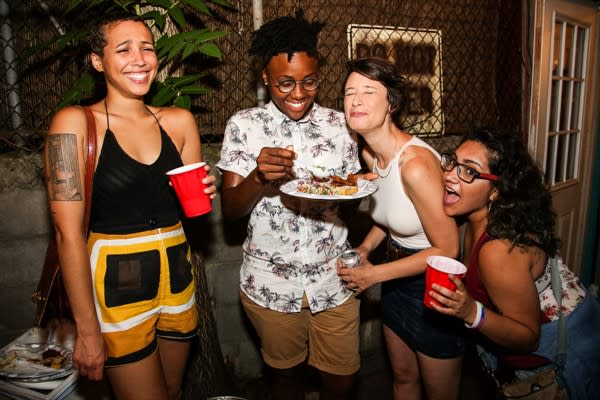 Photo credit Grace Chu / @notgracechu
3) bklyn boihood Events
bklyn boihood's (BBH) mission is to create spaces where black, brown queer and trans bois* and BBH communities can cultivate stories, dreams and creative work. The BBH collective produces an extensive menu of events throughout the year to provide space for a diverse community with varied interests. Their events include sober brunches; QTPOC bike rides (A Different Gear); storytelling in collaboration with "Collective Sex," which is held monthly at the New Women's Space in Brooklyn; a monthly dance party called "Joy,"  and a large Pride event with over 500 guests. BBH founder Ryann Holmes says, "We not only throw this party [Pride] to provide a safe and fun space for QTPOC, but to celebrate with our folks. It is always one of our biggest parties of the year and people come from all over, not just New York. The bklyn boihood Pride party is a way for us to get free in our own way during the citywide Pride celebrations, which too often are not inclusive of the QTPOC community." Tickets to their Pride event are $15 pre-sale and $20 at the door. Follow bklyn boihood here on Facebook to receive notifications for their latest events.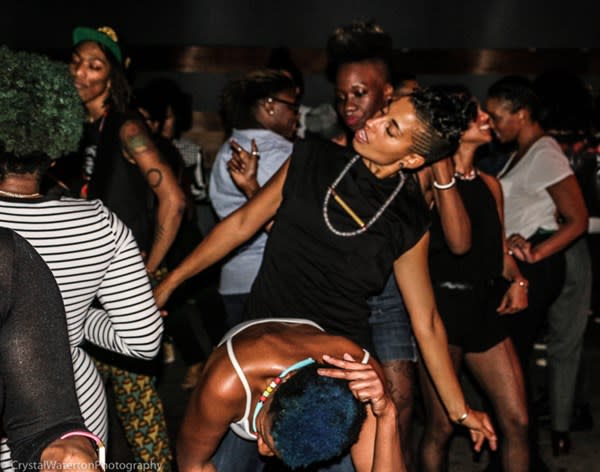 4) The Philadelphia Trans Wellness Conference
Now in its 17th year, the Philadelphia Trans Wellness Conference (PTWC) strives to educate and empower trans individuals, allies, and providers on issues of health and well-being. The conference is a space for networking, community-building, and actualizing systemic change in the name of trans solidarity and liberation. With over 200 workshops free to the public, the conference aims to create an accessible and respectful environment that is inclusive of diverse gender identities, expressions, lifestyles, abilities, and more.
"The Philadelphia Trans Wellness Conference is a beacon of light for the transgender and non-binary community. For some, it is their only opportunity in the year to meet and feel safe with other trans and non-binary individuals. People from all over the world come together to share their knowledge and experiences in hopes of improving the quality of life of the trans community. It's also a crucial time for cis people to gain more knowledge on a community that would greatly benefit from their action and support. Lastly, the General Track of the conference is free to the public. What more could you ask for?" said Oliver de Luz, Event & Volunteer Coordinator for the PTWC.
PTWC offers an eclectic range of workshops for the community and allies. Some workshops are closed spaces for the intended audience while others are open to everyone and anyone.   Examples of their wide ranging workshop include "The Dysphoric Musician: Music Performance and Body Positivity," "Family Through a Gender Transition," "Being a Millennial Queer with Culturally Conservative Parents," "Post Top Surgery Scar Care," "Maybe Baby! Baby Making Options for Trans Prospective Parents," and "Surgical Options for Transgender Women: Vaginoplasty, Facial Feminization," just to name a few! And, if you are looking to dance, self-care, and connect with conference attendees, local event producers often host PTWC after parties, so keep an eye out for those as well.
In 2017, the conference, which continues to grow year over year, was attended by about 7,000 people from all over the world. Attendees cover a broad spectrum of ages, ethnicities, races, abilities, sexualities and genders from various communities and professional fields.
The General Track of the conference is free to the public. For professionals and students in education, law, medicine, behavioral health and social work, the conference offers a we have our Professional Track whose workshops qualify for continuing education credits. Professional Track prices vary on the field, but range from $125-300. Check out www.mazzonicenter.org/trans-wellness for information on the next conference.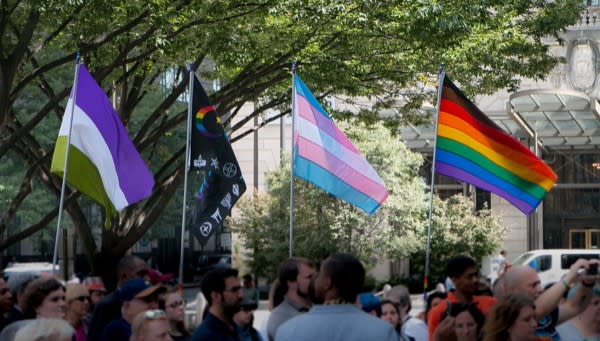 Photo credit: Courtesy PTWC
5) NewFest
NewFest gives voice and visibility to the full spectrum of the LGBTQ+ experience by championing films, supporting storytellers, and engaging audiences in order to inspire dialogue, shift cultural bias and empower our diverse community. NewFest presents programming and community events year-round that shine a light on the LGBTQ+ experience. Their New York LGBT Film Festival features over 140 films each October, telling the stories that need to be heard. And beyond the cinematic experience, you can mingle with influencers, filmmakers, and cinephiles while creating new bridges and connections to strengthen the spirit of LGBTQ+ communities.  Past premieres of films have included Paris is Burning, The Same Difference, But I'm a Cheerleader, Tongues Untied, Carol, and God's Own Country at New York's LGBT Film Festival, which will be celebrating its 30th Anniversary October 24-30, 2018! NewFest also produces OutCinema with NYC Pride and curates a monthly screening and talkback program at The LGBT Community Center and a retrospective series at Quad Cinema. Approximately 12,000 people attend the film festival and there are plenty of opportunities to connect with others at their parties: opening and closing night of New York's LGBT Film Festival; OutCinema with NYC Pride on the Monday of Pride Week in June. Prices vary. Tickets to general festival screenings are $16 and $12 for NewFest Members. Check out www.newfest.org for a list of programming.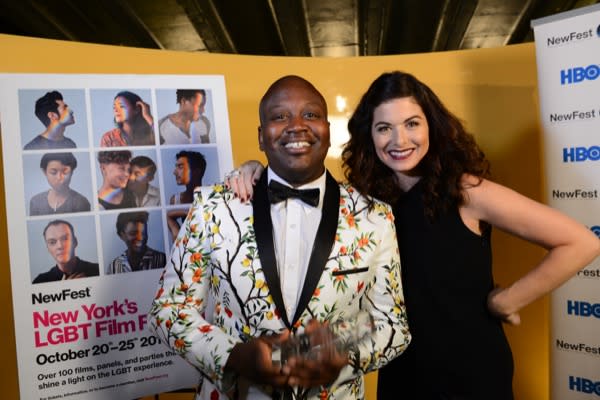 Photo credit: Yifu Chien/NewFest
6) Autostraddle's A-Camp
Produced by Autostraddle, the most widely read independently owned queer women's website, A-Camp is a queer adult camp where you can be yourself, enhance your relationships within the international queer community, be a kid again, and make new friends forever. Kristin Russo, Camp Director and CEO and Co-founder of Everyone Is Gay, says, "A-Camp has been a space for shared, queer community since 2012, and the importance of and need for spaces like these has only grown since then. Finding community—and finding fun with community, especially for so many of us who rely on chosen family in tumultuous political and social times—is critical!"
The beautiful camp and retreat site are situated in Ojai, California, about 90 minutes from Los Angeles and Burbank. A-Camp runs shuttles to and from LAX for an additional fee, and if you're within driving distance, there's free parking on-site. A-Camp is also within 5 hours of San Diego and 7 hours from San Francisco or Las Vegas. Camp activities range from whiskey 101 to QTPOC speakeasies and includes nighttime programing, such as dancing, music, and standup comedy.  Price points vary. Visit www.a-camp.org for more information.

Photo credit: Robin Roemer 
7) Honey Groove
Honey Groove is a September music and art festival in DC showcasing the artistic excellence of LGBTQ+ people. It all began with an Indiegogo Campaign where the founders raised $7k for the first production and has grown into an indoor/outdoor extravaganza with the 2017 production headlined by Big Freedia.  The festival is lauded as one of the best events of the year for the LGBTQ+ community that is not Pride related. Honey Groove is the largest festival with the purpose of spotlighting and celebrating LGBTQ+ artists and creatives of color in the Mid-Atlantic Region. Since 2014 Honey Groove has drawn attendees from Atlanta, Seattle, Philly, New York, Florida, and California, inspiring queer events to pop up throughout the weekend in DC. Ticket prices vary. Visit www.honeygroovedc.com for more information about their next event.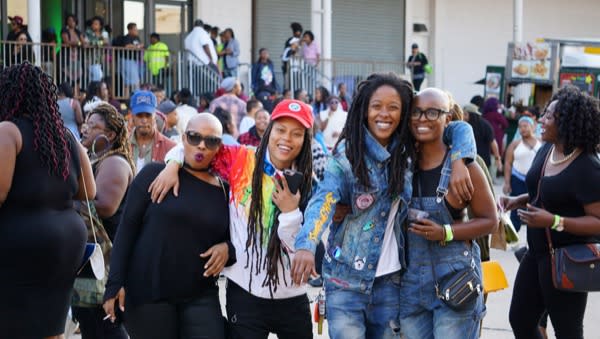 Photo credit: Courtesy Honey Groove
8) San Francisco Trans Film Festival
Held every November at the famous Roxie Theater, a landmark in the Mission District, The San Francisco Transgender Film Festival screens films that promote the visibility of transgender and gender variant people and challenge the mainstream media's negative stereotypes of transgender and gender variant communities. SFTFF provides opportunities for transgender and gender variant media artists to build community through SFTFF film and performance events, and engage SFTFF audiences in cross-community dialogue. For dates, films, and ticket prices, visit www.sftff.org
9) South by South West
With over 72,000 attendees from over 86 countries annually, South by Southwest in Austin, Texas is considered to be where the world's most prominent influencers in tech, art, music, fashion, and film go to present, learn, entertain and network. Though not a queer-specific event, SXSW is increasingly invested in showcasing queer panelists and performers. SXSW is more popularly known for their music festival, which has included LGBTQ+ musicians such as Young MA, Troy Garrick, BdotCroc, DVWEZ, and BAUM. However, SXSW also includes a robust film and interactive track with past panels ranging from "Queer Style: Visual Activism and Fashion's Frontier," "Beyond Boxes: The Intersex Case for Intersectionality," and "LGBTQ+ Representation in Cinema," as well as films, including TransMillitary, Rukus, and We're Still Here.  And, for those who want to experience the Austin nightlife scene, there are several official and unofficial SXSW meetups and dance parties throughout the city during the event. Lesbutante and the Boss have hosted an official SXSW LGBTQIA+ dance party for the past couple of years. SXSW is held every March. Check out www.sxsw.com for badge prices and programming schedules.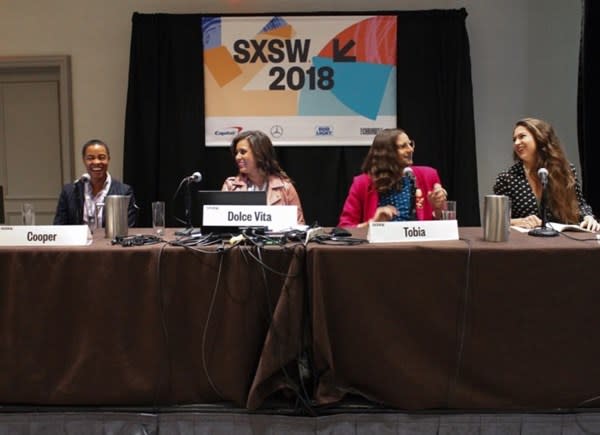 Photo credit: dapperQ / @ninakossoff
Featured image photo credit: dapperQ / @hbcohen
This article was submitted by Anita Dolce Vita, QPOC femme, owner of dapperQ, and contributing fashion editor at Curve magazine.  Follow her adventures on www.dapperQ.com or @dapperQ / @anitadolcevita