36 Hours in Rio de Janeiro 
A cocktail, a tropical beach, a night of dancing and soul-pleasing food is the recipe for a seamless and satisfying city break. Although, it would be incredible to spend a month in every country you visit, sometimes a long layover is all you have. Bromelia Rio Travel takes you on a colorful journey for 36 hours in Rio de Janeiro, that will leave you feeling satisfied and alive.
A Layover in Brazil
Recipe:
Yields: One authentic experience, for those longing to see Rio de Janeiro from a local's perspective.
Ingredients: 
2 champagne brunches
A dash of photography in the rainforest
A big scoop of rooftop cocktails
An LGBTQ+ beach
An intimate local dinner
A whole lot of Brazilians 
A Rio City Break - LGBTQ+ Style 
Step 1: Brunch - Champagne & Oysters at Astor
What is more quintessential than a visit to Ipanema Beach in hour one of 36 on your layover in Rio de Janeiro? Astor is one of the only restaurants right on the water. Grab a seat at the bar or on the outdoor patio, and promptly order a dozen Florianópolis oysters and a bottle of champers. If you are really hungry, their steak tartare is divine. And if a sparkling beverage does not suit your taste, the Caju Caipirinha will not disappoint. The Caju fruit is the succulent part of the fruit that growths underneath the cashew nut and is the perfect complement to this classic Brazilian cocktail made from local Cachaça.
Step 2: Afternoon Coffee & Pastry - Café at Instituto da Moreira Salles
Tucked inside a local's favorite neighborhood of Gávea, just a 15-minute taxi ride from Ipanema Beach, is the free photo gallery, Instituto da Moreira Salles. A Brazilian bourgeois family, donated their former residence to be made into an indoor/outdoor art space that includes an annex of one of the city's hottest cafés: Empório Jardim. Give yourself about 1.5 to 2 hours during your city break to take in the rainforest setting, munch on an incredible pastry and drink a Brazilian coffee (which you will probably need once jetlag and your morning's cocktail have set in).
Sept 3: Sunset on Ipanema Beach - Posto 9
If only for an hour on your 36 hours in Rio layover, pay your 5 Brazilian reais to rent a beach chair and take in the majestic Dois Irmãos Mountains and the scene that is Ipanema Beach. The who's who and the what's what is happening here, especially after 4pm, when locals are getting off work and trying to catch a few rays before they head to Smart Fit Gym near General Osório Square. The numbered lifeguard stands along the beach, dictate the crowd you want to tan with. At the end of Farme de Amoedo Street lies a portion of the beach between Postos 8 & 9 (Posto means lifeguard stand in Portuguese). This is the end of the rainbow you have been waiting for, the LGBTQ+ beach! If you are feeling peckish, flag down a vendor dressed in bright orange, carrying two metal barrels. Order an ice tea with lemonade (called Matte) and a bag of Salty Globo Crackers. And If you are feeling playful, flag down a man in a speedo carrying colorful cocktails [don't worry, there will be plenty of them!].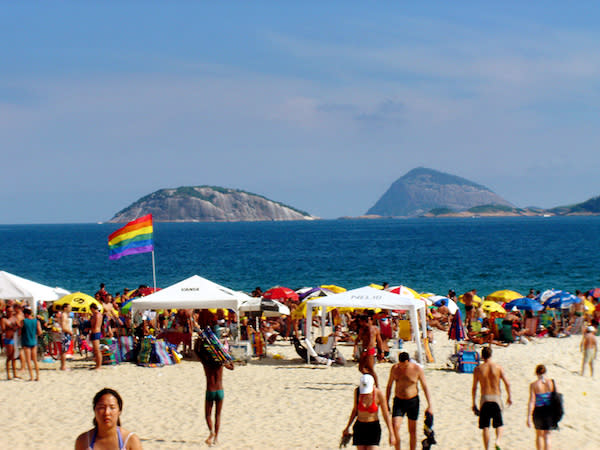 Step 4: Cocktails on the Rooftop of Sofitel Hotel Ipanema
I do not care where in the world it is, I love a good rooftop bar. Sofitel's newest property (formerly Caesar Park) is one of the few you can enter, even if you are not staying at the hotel. The setting is simple, but the service impeccable and the cocktails glorious. This will give you a very different perspective on the beach during your comprehensive city break, as you take in Rio at night and sip on a libation inspired by local ingredients such as the Amazonian Açai berry.
Step 5: Dinner at Puro
As your layover reaches its midway point, we recommend heading over to the neighborhood of Jardim Botanico. Attracting Brazilian artists, world travelers, actors, and the classy side of the city's elite, you will find a handful of Rio's most talked about dining establishments, without the heavy tourist traffic. Puro brings you incredible Brazilian options, for wine, beer and culinary delights. The food is plated with finesse, the minimalistic decor is soothing and the hidden location makes you feel like you are entering a Rio city secret.
 Step 6: TV Bar in Copacabana
In this location, a long time ago, used to stand the headquarters of a defunct station 'TV Rio'. Today it is one of Rio's best gay nightclubs. Taking inspiration from its roots in entertainment, this campy club becomes quite busy on the weekends as it is only open Fridays and Saturdays from 11pm to 5am. If you want to fit in with the local 'Cariocas', arrive after midnight ready to stay until dawn.
Step 7: Breakfast at the Cafeteria Columbo 
Although it feels like you just arrived, your layover is well underway and it is time to eat again. The Copacabana Fort stands between Copacabana and Ipanema. If you pay the 10 Brazilian reais entry fee (note: there is no need to visit the museum), you will have access to the restaurants inside. The crowd favorite is Cafeteria Columbo, an annex of the 100-year-old downtown café. Breakfast is served on the cobblestone path overlooking the entirety of Copacabana beach. Order the bread basket for two, which comes with a Brazilian coffee, fresh juice, breads, jams, ham, cheese, yogurt, granola and cake. Note: the café is closed on Mondays and there will be a wait on the weekends.
Step 8: Bake it in your memories and repeat
While you can easily spend a week in Rio de Janeiro and still want to stay longer, this 36-layover recipe will allow you to fully indulge in your city break. Boa Viagem!
This article was submitted by Lauren Quinn, a California native living in Rio. Lauren curates authentic experiences for the bohemian luxury traveler. By offering ease & comfort to your trip, Bromelia Rio Travel provides you the space to share, explore, mend, relax and be inspired.
Photo credits: Christ the Redeemer by Ulysses Padilha, Ipanema Posto 8  byJeff Belmonte via Flickr.