If you're looking to "Go See the World" with an LGBTQ+ inclusive airline, then fly with Delta Air Lines! Delta has been an IGLTA Global Partner since 2006 and is currently at Platinum Level, the highest level of commitment to IGLTA. Only 4 brands globally are IGLTA Platinum Level Global Partners. Delta is also the founding partner of the IGLTA Foundation Convention Fellowship Program and has been a Convention Sponsor of the IGLTA Annual Global Convention many times.
Kyle Van Alstine, Specialty Sales Senior Sales Account Executive with Delta Air Lines, takes great pride in Delta's commitment to diversity, the LGBTQ+ community and IGLTA. "It is part of our DNA to support diversity and inclusion and we feel that IGLTA helps us in our mission of 'Connecting the World.' It's also the right thing to do. Delta strives to provide an inclusive experience for everyone who flies with us."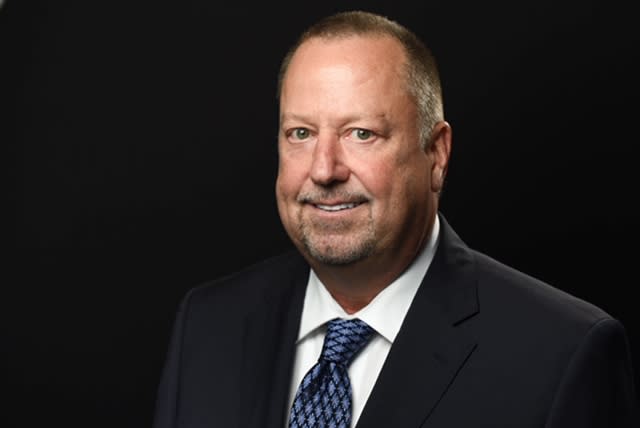 As a founding partner of the IGLTA Foundation Fellowship Program, "Delta fully supports the Foundation's goals of advancing LGBTQ+ education, research and leadership—all of which will result in a more inclusive world." The fellowship program was created specifically to support the next generation of LGBTQ+ professionals and allies by providing access to attend the International LGBTQ+ Travel Association's Annual Global Convention, including all convention registration fees and travel expenses. Fellowship recipients have the opportunity to network with travel industry leaders from around the world, join all educational sessions and receive mentorship from established travel professionals. Delta also has been a partner with Meet Minneapolis for the annual  LGBT Party at American Society of Association Executives (ASAE) for 11 years, which has benefited the IGLTA Foundation since 2012.
Delta's partnership with IGLTA is a perfect example of the company's marketing efforts in the LGBTQ+ space. Both IGLTA and Delta have partnered for several tourist board marketing campaigns, as can be seen on Delta's LGBTQ+ travel page and their Special Getaways page. And their outreach and marketing efforts to the LGBTQ+ community go well beyond IGLTA.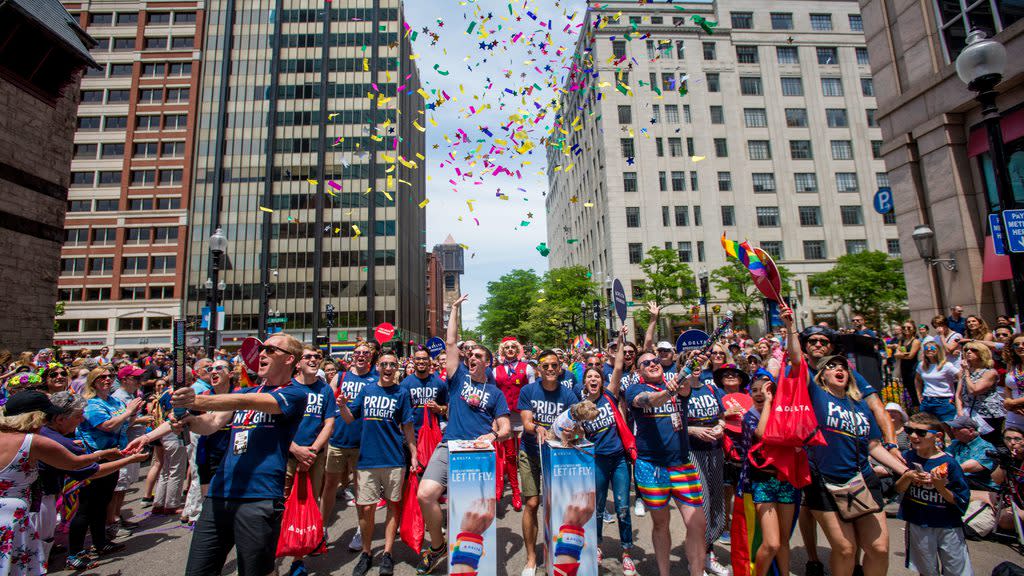 "For more than 10 years, Delta has supported Gay Men's Health Crisis and were honored to be recognized for our ongoing commitment," says Van Alstine. "Each year we have been a partner of the GLAAD Media Awards and a supporter of HRC. We're also a sponsor of GNETWORK 360 in Argentina and the Brazilian Association for GLS Tourism (ABRAT GLS)."  
Internally, Delta supports LGBTQ+ employees through their Business Resource Group, EQUAL. "EQUAL is a voluntary organization committed to making Delta the best place to work by promoting inclusion, respect for differences, equal opportunity and diversity in the workplace. EQUAL strives to provide a space for its members to feel comfortable being their authentic selves, as well as offer members opportunities for personal and professional growth. EQUAL serves as a champion for Delta's LGBTQ+ employees and allies by representing their interests to the company and by representing Delta in the communities in which we live and work."
Delta is also a proud sponsor of annual Pride events throughout the world, including New York, Los Angeles, Seattle, Minneapolis, Detroit, Salt Lake City, Toronto, London and Paris. Every year, EQUAL members around the world take part in these global Pride celebrations. Ad Age took notice of the Delta/Virgin Atlantic double decker bus float in New York City and Virgin made headlines with a Pride Flight to EWR. Delta also participated in Paris Pride for the first time this year, in partnership with Virgin Atlantic, Air France and KLM.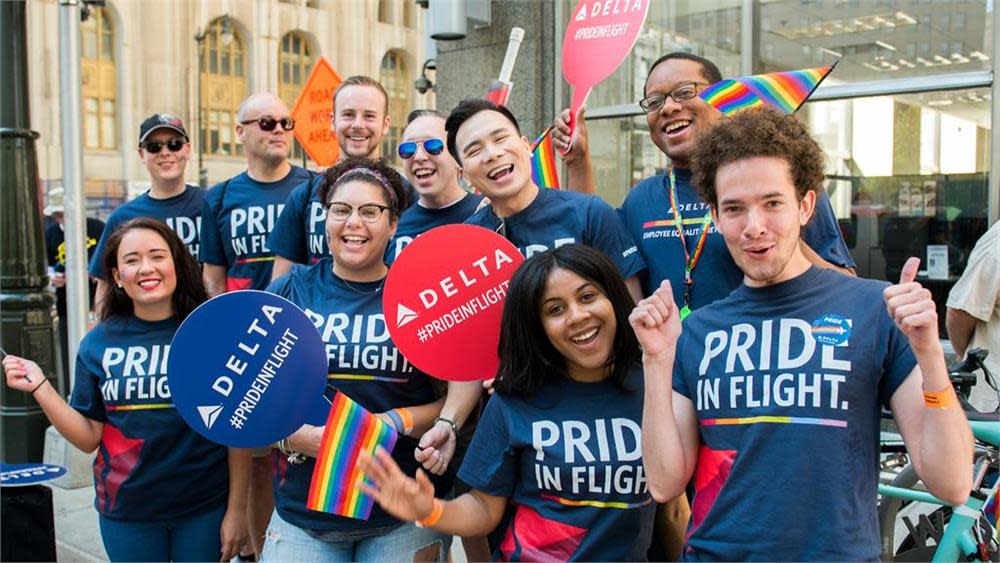 Delta's commitment to diversity goes beyond the LGBTQ+ community. Delta has received several awards over the years for their commitment to all who fly with them:
Best Place to Work for Disability Inclusion
Van Alstine sums up Delta's commitment to their IGLTA partnership with these words: "The work and march towards LGBTQ+ equality is never done and we are a proud supporter of the efforts made by IGLTA to make the world a more inclusive and accepting place for all."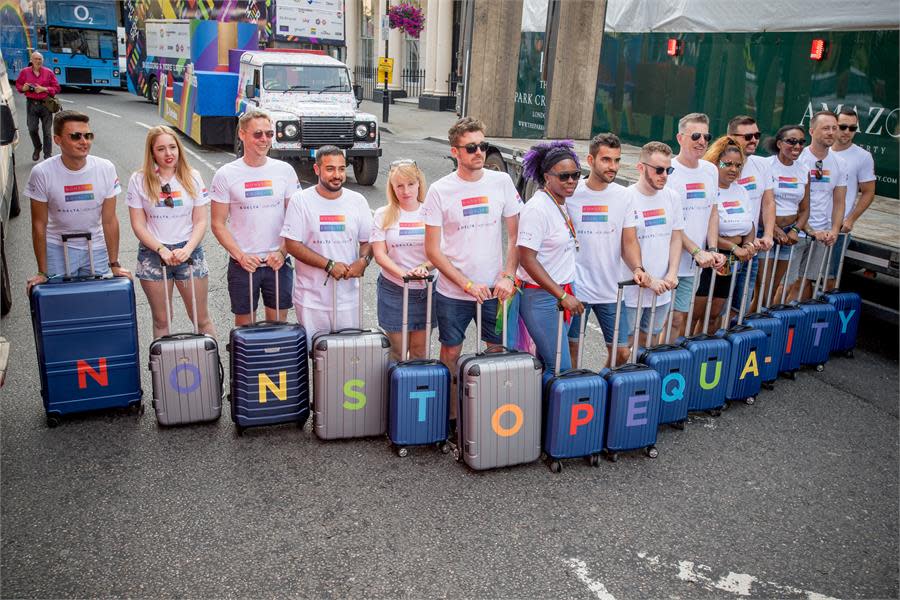 About the Author
Rachel Covello is an award-winning speaker, writer, diversity marketing consultant, and photographer. She was the Founder of LGBT Equality Alliance, a Pennsylvania nonprofit organization, and is currently the CEO of OUTCOAST, an online LGBTQ travel website marketing the Gulf Coast of Florida as an LGBTQ-inclusive place to VISIT, CELEBRATE, and LIVE. Rachel is also an avid event photographer and has captured photos for LGBT organizations around the world, including the IGLTA. To follow Rachel's adventures, follow her on Instagram at @rachelcovello or at @outcoastfl