Hotelier sets a global example with his approach to DEI and support for LGBTQ+ issues in India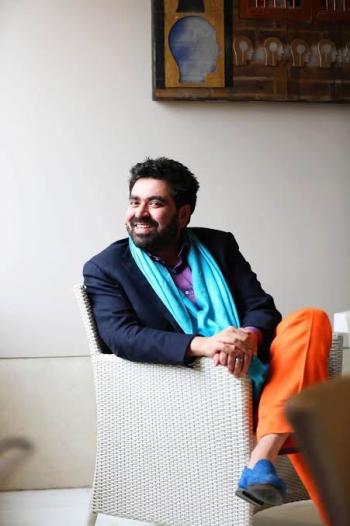 Keshav Suri
NEW DELHI, India (7 August 2023)—The International LGBTQ+ Travel Association (IGLTA) is delighted to announce that Keshav Suri (he/him), from The Lalit Suri Hospitality Group and Keshav Suri Foundation, has been selected as the recipient of the 2023 Pioneer Award. This honor recognizes individuals, businesses, or organizations whose innovative spirit and actions have played a pivotal role in advancing LGBTQ+ travel.
The Pioneer Award will be presented to Keshav Suri during IGLTA's 40th Anniversary Global Convention in San Juan, Puerto Rico, 4-7 October. In addition to receiving the award, Suri will also speak on the main stage at the convention, where he will share his insights and experiences with industry professionals, LGBTQ+ travelers, and advocates from around the world. The Pioneer Award is part of this year's IGLTA Honors, presented with support from American Express Travel. The IGLTA Honors were created to celebrate individuals, businesses and organizations that have tirelessly worked to improve the global landscape for LGBTQ+ travelers. They are selected by the IGLTA Board of Directors. Click here to view a list of former Pioneer Award recipients and other Honors Awards recipients.
"Keshav Suri's tireless advocacy has been instrumental in promoting LGBTQ+ inclusivity within the travel industry, as well as creating safe spaces for India's queer community," said IGLTA Board Member Theresa Belpulsi who participated in the first IGLTA Foundation LGBTQ+ Travel Symposium in India earlier this year. "His efforts in India to support queer people in hospitality and the rights of LGBTQ+ people throughout the country are a shining example for the world. We applaud his unwavering commitment to advancing LGBTQ+ travel."
"I am honoured and humbled to receive the Pioneer Award for our efforts in creating a more inclusive hospitality industry in India. This recognition is not just a reflection of my efforts, but a testament to the transformative power of inclusivity and diversity within 'THE LALIT' family. The principles of Diversity, Equity, and Inclusion are embedded in The Lalit's DNA, allowing us to foster an environment of acceptance and equality," said Keshav Suri, Executive Director, The Lalit Suri Hospitality Group. "This has not only provided opportunities for various marginalised communities, such as LGBTQ+, acid attack warriors, and people with disabilities, but has also enriched the cultural tapestry of our establishments. We are grateful for this journey and eager to work on fresh initiatives to contribute toward building an inclusive and empathetic organisation and nation."
Keshav Suri, renowned entrepreneur and advocate, embodies the spirit of the Pioneer Award through his remarkable contributions, innovation, and dedication to making LGBTQ+ travel accessible and welcoming for all. As the Executive Director of The Lalit Suri Hospitality Group, he has transformed the concept of LGBTQ+ travel in India and beyond. Each hotel room throughout the group contains "Elphie" books, a children's series featuring a gender-neutral elephant that Suri conceptualized to celebrate diversity. Recognizing the need for safe and inclusive spaces, Suri created the Kitty Su Night Club in his hotels, which are among the longest running and most inclusive nightclubs in India. Additionally, he played a pivotal role in the successful 2018 petition to decriminalize homosexuality in India. 
Suri remains dedicated to driving societal progress through The Keshav Suri Foundation. This foundation is an initiative dedicated to fostering equality, education, and awareness within the hospitality sector. Earlier this year, Suri was appointed Committee Chair of the IGLTA Foundation's India Initiative, following the successful symposium in New Delhi on expanding LGBTQ+ tourism in the region. 
About IGLTA & the IGLTA Foundation
The International LGBTQ+ Travel Association is the global leader in advancing LGBTQ+ travel and a proud Affiliate Member of the United Nations World Tourism Organization. IGLTA's mission is to provide information and resources for LGBTQ+ travelers and expand LGBTQ+ tourism globally by demonstrating its significant social and economic impact. IGLTA's global network includes 12,500+ LGBTQ+ welcoming accommodations, destinations, service providers, travel agents, tour operators, events, and travel media in 80 countries. The philanthropic IGLTA Foundation empowers LGBTQ+ welcoming travel businesses globally through leadership, research, and education. For more information: iglta.org, igltaconvention.orgor iglta.org/foundation and follow us on Facebook @IGLTA, @IGLTABusiness or @IGLTAFoundation, Twitter, LinkedIn, and Instagram @iglta.