It's big and bold, international and inspiring. That's how I'd describe both New York City, and our hugely successful Annual Global Convention—which took over NYC for four amazing days last week.
Marking 36 years for IGLTA, our April 24-27, 2019 convention achieved several milestones. It was our biggest yet, hosting nearly 700 delegates from 49 countries and territories. At our annual Buyer/Supplier Marketplace (presented in partnership with ASTA), registration sold out in record time. Meanwhile, at the IGLTA Foundation's annual Voyage fundraising gala, we celebrated our convention scholarship recipients—from Nepal, Japan, Zimbabwe and NYC—as they set out on their path to becoming leaders in LGBTQ+ tourism. We also presented renowned playwright Terrence McNally and his husband, producer Tom Kirdahy, the IGLTAF Humanitarian Award, just one day after it was announced that McNally will receive a 2019 Tony Award for Lifetime Achievement. (Pictured below: IGLTAF Board Chair Reginald Charlot interviewing McNally and Kirdahy at Voyage.)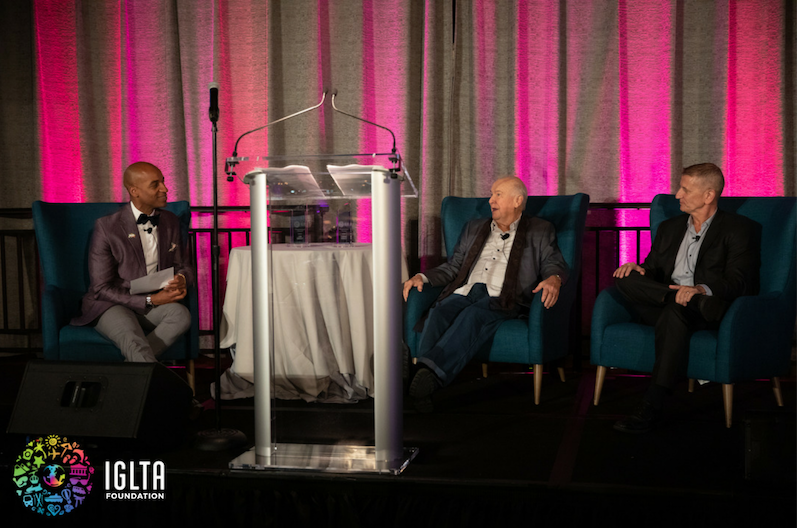 First and foremost, however, the IGLTA Annual Global Convention is a hub of knowledge and networking. This year, our amazing IGLTA team proudly programmed an array of daily forums and discussions that enriched our knowledge about LGBTQ+ travel, tourism, and hospitality—as well as fabulous nightly parties.
One particular point of pride remains our convention's unique ability to draw together incredible people, united in their desire to support LGBTQ+ travel. Community members and allies attend IGLTA's convention to discover the latest tourism trends and technology developments, address human rights issues and learn best practices for workplace inclusion.
We held the 2019 convention in New York City as part of the city and state's yearlong commemoration of the Stonewall 50th anniversary, and June's WorldPride. So we were thrilled to hear the insights of NYC & Company President and CEO Fred Dixon—who joined me on the main stage to welcome delegates during our opening session, alongside our colleague Roger Dow, President and CEO of the U.S. Travel Association. We also heard from executives, researchers, entrepreneurs and marketing leaders who exemplify the brilliance and diversity of the LGBTQ+ travel collective.
(You can watch videos and see photos from each day's programming on our IGLTA Business Facebook page.)
With our annual convention comes such a positive reflection on our community: Experts who take the stage to impart their knowledge are just as interested in hearing other speakers. It's a mutual benefit that we know, over all these decades of growth, strengthens both IGLTA, and our mission to advance LGBTQ+ travel around the world. Collaboration is truly the core of community.
While many participants found inspiration and connections at the convention, we also remember our friends and fellow LGBTQ+ community members who continue to endure LGBTQ+ discrimination in their countries. Yes, we have made many advancements in the LGBTQ+ travel world, but we know that the struggle for safety and equality remains.
IGLTA and its members will keep our optimism strong, our mutual support thriving, and we'll see you soon at one of the many events we attend around the world, such as IPW in Anaheim, California, or the Fórum de Turismo LGBT do Brasil in São Paulo. And, of course, save the date for next year's Annual Global Convention, 6-9 May in Milan, Italy!
Photo by Rachel Covello, OUTCOAST Photography