This article is part of a Delta Air Lines, seven-city series featuring Seoul, São Paulo, London, New York City, Seattle, Los Angeles and Buenos Aires. Delta flies to all seven destinations from its major US hubs. Click here to book a flight.
---
The Pacific Northwest of the United States is one of the most progressive and accepting regions of the country. In Seattle, many of the values of the LGBTQ+community are immersed into the city's culture. Throughout history, Seattle has long been a safe haven for creatives, eccentrics, and yes, the LGBTQ+ community. Whether you're visiting to witness the birthplace of grunge, experience the booming marijuana tourism market, see firsthand the second tech boom the city has experienced or taking a day trip to one of the beautiful surrounding areas, Seattle is a city with a distinct personality and flavor.
Transportation
Most visitors to Seattle will land at Sea-Tac International Airport airport on the outside of the city. The best way to get from Sea-Tac to downtown Seattle is via the lightrail train. Trains arrive every 6 minutes during the day and take about 40 minutes to travel between Sea-Tac and Westlake Station in downtown Seattle. One-way fare for adults ranges from $2.25 to $3.25. Most parts of Seattle are fairly accessible by taxi and public transportation but having a rental car will give you more freedom to explore the city's incredible natural surroundings.
Accommodations
Seattle is a city of neighborhoods, each with its own flavor and personality. Capitol Hill is known as the gay district but is less concentrated than many traditional gayborhoods around the country. With its distinctive restaurant culture and vivid nightlife scene, it's a great area for those looking to explore the bars and club scene. Another trendy option is Belltown, which is just north of downtown and full of bars, boutiques, restaurants and cafés. It's also very conveniently located to some of Seattle's most iconic tourist attractions, like Pike Place Market. Book a room with Space Needle views and don't forget to check out campy decor at the Pineapple Espresso Bar. Check out all the LGBTQ-friendly hotel options in Seattle on the IGLTA website.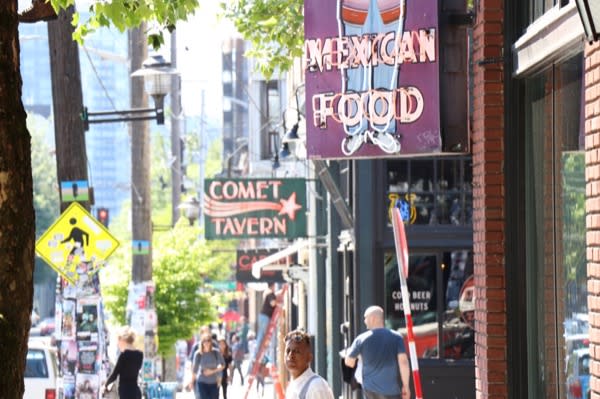 Foods & Drinks to Try
Seattle is a foodie's paradise with hundreds of fun, quirky, and incredibly innovative options. Stop by Pike Place Market for clam chowder in a bread bowl. It's a Seattle institution. Spend some time wandering the stalls of the market and sample some of the locally owned and freshly made snacks from the dozens of vendors in the area.
If you're looking for dinner reservations, Seattle has you covered. For lighter fare, stop by the Walrus and the Oyster in Ballard for some upscale oyster slurping. Or enjoy a fresh ceviche at Manolin in Fremont. Seafood isn't your thing? No worries, check out JuneBaby, a Seattle institution specializing in lowbrow Deep South home cooking in an aesthetically pleasing environment.
What to See
Seattle is the perfect launch point for nature enthusiasts. You're on the Puget Sound for all the water activities you can imagine and you're a short drive to some of the most breathtaking scenery in the United States. If you'd prefer to stay in the city limits, stop by the Space Needle for your iconic tourist photo and stop by the Museum of Pop Culture for some zany and thought-provoking exhibits. Speaking of zany, Seattle's most famous piece of public art is actually an alleyway covered in millions of pieces of chewing gum. Don't forget to grab your selfie while you're exploring Pike Place Market. If you prefer your art a bit more professional, head to Seattle Art Museum for the classics or stop by one of the dozens of galleries in Pioneer Square.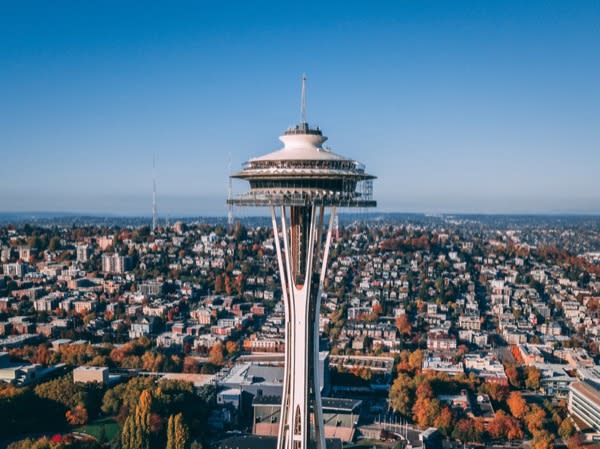 LGBTQ+ Experience
Seattle is a safe, fun, and culturally affirming city for LGBTQ+ visitors. In Capitol Hill you'll find rainbow-painted sidewalks, Pridefest in the summer, and LGBTQ+ nightlife, including one of the last remaining lesbian bars in the country, Wildrose. Stop by Seattle's LGBTQ+ center or check out one of the many live performances happening around town featuring LGBTQ+ cast members. If you're lucky you might find RuPaul's favorite hipster queens Jinkx Monsoon and BenDeLaCreme performing on their home turf.
Click here to view all IGLTA members and travel opportunities in Seattle.
---
Meg Cale is an LGBTQ+ travel advocate and community educator. Meg and her wife Lindsay run the number one lesbian travel blog, DopesontheRoad.com. Meg's LGBTQ+ subject matter expertise has been featured in the New York Times, Condé Nast Traveler, Cosmopolitan Magazine, Go Magazine, Out Traveler, Gay Star News, Buzzfeed, Matador Network, Elite Daily, Korea Observer, and India's The Quint. Her passion lives at the intersection of travel, queer culture, and new media. Follow her on Instagram or Twitter @MegCale. Photos credits: Visit Seattle