We were invited by Royal Caribbean in partnership with IGLTA  to experience a few days on their newest ship, Symphony of the Seas. As a first-time cruise goer, I pestered Meg with questions on what to expect in the weeks leading up. What I found was traveling on a cruise ship is so much about creating your own experience. If you want to be on the go nonstop, no problem. If a strong cocktail and tan is your main objective you're good too. I actually enjoyed the experience so much I convinced my Dad to take his first cruise. Have fun in the Mediterranean, Dad. If you need an experienced traveler to tag along, I know someone.
LGBTQ+ Friendly Cruise
Royal Caribbean has a long-standing history as a welcoming and affirming cruise ship for LGBTQ+ people. They are also a Global Partner of the International LGBTQ+ Travel Association. They are taking strides to continue walking the walk in support of both guests and employees in the  LGBTQ+ family. While it is not an LGBTQ+ exclusive trip it is absolutely and LGBTQ+ inclusive experience.
As a gender nonconforming traveler, I quickly realized that cruise travel eliminates one of my main travel-related issues, the bathroom. While I did not spot any gender-neutral restrooms in the common areas, it was comforting to know at any point I could walk back to my room. It's a small detail but put my mind at ease during the days spent at sea.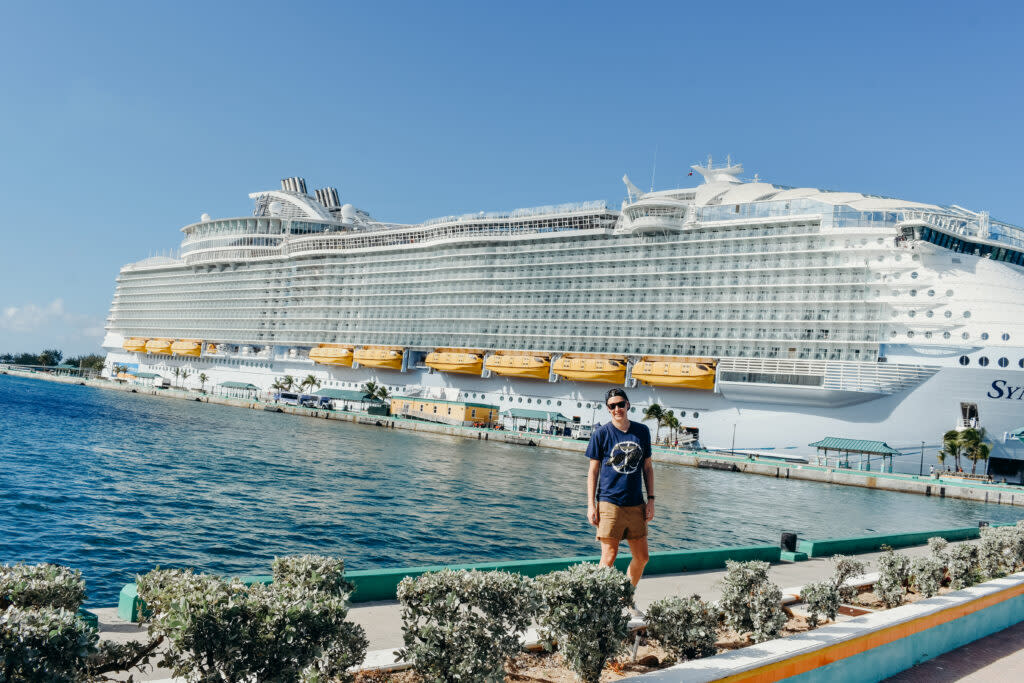 Download the Royal Caribbean App
One of the first things we did to get ready for our trip on Symphony of the Seas was downloading the Royal Caribbean App. What seemed like a small detail ended up having an immediate impact on the trip. Upon arrival at the port, our check-in was quick and seamless because we already had our SetSail passes. We did find out later that the app also allows you to book excursions, as well as dinner and show reservations. The app ended up being a super valuable tool even during the trip. We used it as a map and schedule planner each day.
You Won't Be Bored
Whenever considering a cruise previously, I always opted out for fear it would be boring. My travel style is absolutely fast paced and I was worried I'd feel kinda stuck. I am here to formally say I was so freakin' wrong. There was not a single moment on the ship that I was at a loss for what to do.
Shows on Symphony of the Seas
We saw three shows during our time on the ship. The first was the high energy, crazy athletic aqua show Hiro. There was so much going on in this acrobatic water show, my eyes weren't even sure where to look. One second I was watching an aerialist overhead and the next I'd catch a diver gearing up to leap off a high platform. Hairspray was absolutely fantastic; this Tony Award-winning show is perfect for everyone. There's no way to avoid smiling while you sit in the crowd humming (or singing) along to the catchy songs. Talk about a unique experience: 1977 is an ice skating show at sea! The show is about time travel and has some stunning costumes.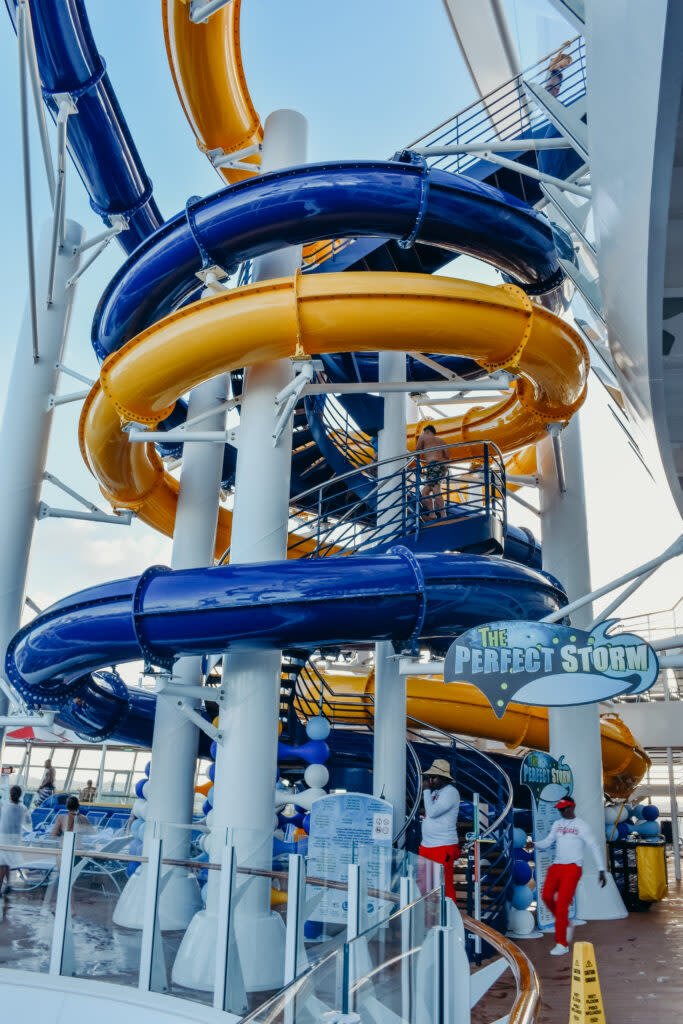 Activities on Symphony of the Seas
This list could easily end up a mile long, but that's kind of my point. You seriously are not going to run out of stuff to do. If you want to get active you can check out the rock climbing wall, zip line flowrider (sure, simulator), laser tag, water, and dry slides, or the sports courts. If you're looking for something a bit more mellow you'll want to book a few services at Vitality Spa, curl up in the library with a book or kick back at the adults-only pool in the Sea Solarium.  There are also endless numbers of classes offered in everything from decorating cupcakes to dancing salsa. Take advantage of as much as you can.
Book Shore Excursions Early
You can book your shore excursion on the boat or even with the mobile app. However you choose to do it, just do it early. The trips can fill up and you want to make sure you get what you want on the days that work best for you. The one thing I did learn about booking the official Royal Caribbean Shore Excursions  is that if something were to go wrong while you're on land, the boat won't leave without you. That means if you book a tour with a local operator and something out of your control goes wrong you could miss the boat. This serves as your warning to know and pay attention to that call time.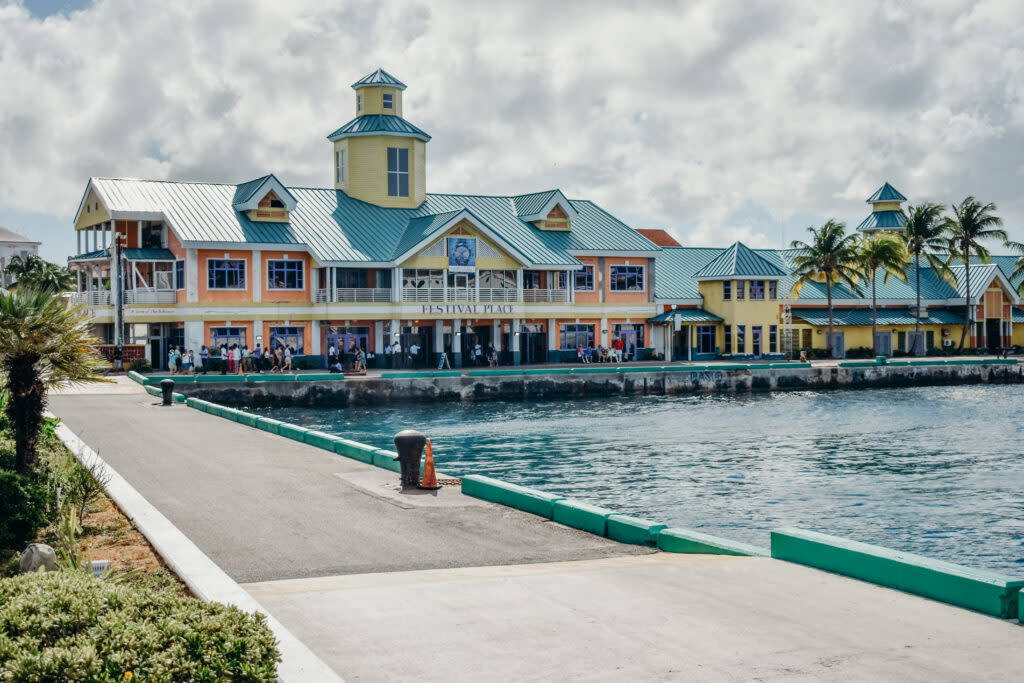 Be Prepared to Walk
This is the largest ship in the world after all. The sheer size and space of this thing is honestly mind-blowing. An oasis class ship like this allows for the nearly 6,500 guests and 2,000 crew members to move about without feeling stacked on top of each other. The other part of that is things are super spread out over the 18 decks. It's easy to rack up 10, 20 thousand step days crisscrossing from end to end. My recommendation is to plan the day out in advance to minimize all the back and forth.
Don't Stress Motion Sickness
Meg gets pretty serious motion sickness so this was something we were kind of unsure about. I'm happy to report she had no issues at all. What we quickly learned is on a boat this big you can feel almost no motion at all. We looked at each other multiple times in the beginning and asked, "Are we moving yet?" If having something with you for potential sickness eases your mind, these patches seem to be the product of choice.
Take Advantage of Port Days
An amazing tip we got from one of our servers and then confirmed with other seasoned cruisers is to take advantage of the ship on port days. With a large percentage of passengers flocking to land, the ship feels empty. If there's a stop that doesn't get you as excited, don't hesitate to stay on board. Ride the slides over and over without the wait or enjoy a tiny section of the pool deck all to yourself.
Plan Ahead for Disembarkation
If there was one part of the trip that we felt wildly unprepared for it was the disembarkation. There is a time that everyone has to be off the boat, times your luggage has to be at the door and times each section of the ship is supposed to get in line to leave. We showed up at the wrong time and waited in a massive line. There's not one of us who likes a line, so show up on time.  
Meg Cale is an LGBTQ+ travel advocate and community educator. Meg and her wife Lindsay run the number one lesbian travel blog, DopesontheRoad.com. Meg's LGBTQ+ subject matter expertise has been featured in the New York Times, Condé Nast Traveler, Cosmopolitan Magazine, Go Magazine, Out Traveler, Gay Star News, Buzzfeed, Matador Network, Elite Daily, Korea Observer, and India's The Quint. Her passion lives at the intersection of travel, queer culture, and new media. Follow her on Instagram or Twitter @MegCale. This article originally appeared on Dopes on the Road.