By Bill Malcolm*
Washington, D.C. is back open and better than ever. Plenty of outdoor spaces keep you COVID safe and, of course, the Smithsonian Museums are all free. Summer is the value season where hotel rates are reasonable. Plus, it is arguably one of the gayest cities in the United States. 

You can practically walk everywhere. And yes, you will run into famous folks. At the Victory Fund Brunch at the Grand Hyatt, I had the pleasure of meeting White House Deputy Press Secretary Kareen Jean-Pierre, a Haitian immigrant who was raised in New York City, as well as the Attorney General of Massachusetts, Maura Healy, who is running for Governor.  The Equality PAC also had a fundraiser at the Number Nine bar when I was there where I ran into my friend Arizona State Representative Daniel Hernandez, who is running for Congress in the 6th District (Tucson). Long story short, expect to run into someone famous in political circles in D.C.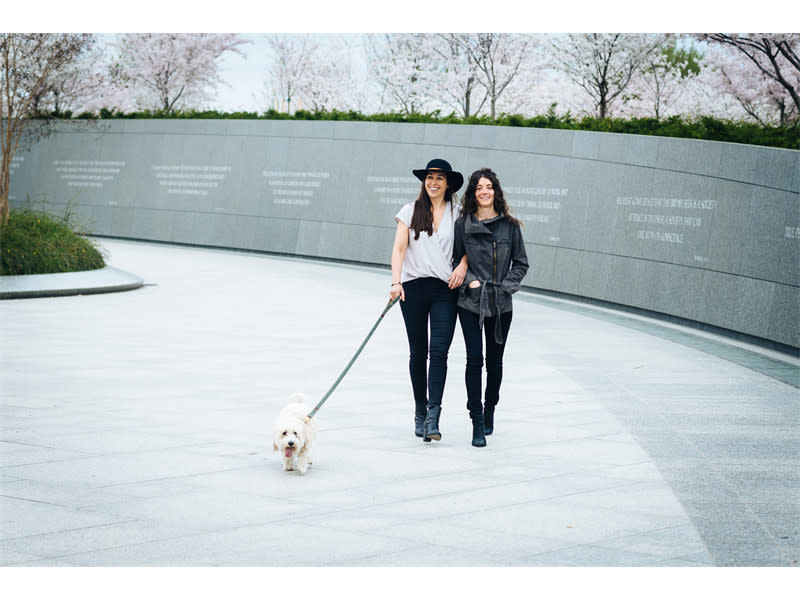 WHAT TO DO
Don't miss the Smithsonian's Portrait Gallery/American Art Museum for their orchid display in the atrium, the portraits of every U.S. President, and the new Watergate display. You will find them at Gallery Place/Chinatown Metro. The nearby Smithsonian Building Museum is another must. Check their websites to see if they require (free) tickets in advance and their hours of operation.

Walking around the Dupont Circle/Thomas Circle/Logan Circle neighborhoods is also fun with good people watching.

The U.S. Botanical Garden features orchids and a tropical garden as well as an outdoor garden that showcases mid-Atlantic native plants. The climate is so mild in D.C. that they even had a palmetto palm.

Meet up with the walkers at D.C. Frontrunners at 23rd Street/P Street NW (near Dupont Circle) Saturdays at 9:30 a.m. (or run with them at 10 a.m.). We walked around Georgetown and then down along the Potomac River. Usually, they walk or run up Rock Creek Park which goes up to the Zoo. They meet next to a statute honoring Taras Shevchenko, a Ukrainian poet. This friendly group is a great way to meet locals. D.C. folks are an interesting, highly educated bunch: lots of political types, etc. As a very transient city, it is easy to meet people from all over.

I snagged tickets to the spring White House Garden Tour. You can check with your Congressperson or Senator to see about White House Tours or simply walk around the National Mall and to the monuments on your own.

Don't miss the Sunday farmer's market in Dupont Circle where you can grab locally grown produce or sample the local coffee, Zekes. 
 
NIGHTLIFE

The LGBTQ+ scene is no longer in one neighborhood as in days past (when it was in Dupont Circle and then 17th Street NW). The new Kiki Bar at 919 U Street in the Shaw neighborhood has an upstairs dance floor and is the place for Sunday afternoon to see and be seen, and you can mingle with the Stonewall Kickball crowd. The next-door companion bar, the Dirty Goose, is also a lot of fun as is Nellie's, the sports bar across the street.

My favorite bar is the Number Nine on P Street NW (across from Whole Foods), which has something going on every night on their second floor. Around the corner is Trade (on 14th Street NW), which features a large outdoor patio.  The Green Lantern is another downtown bar that features a fun happy hour and other events. The As You Are bar on Capitol Hill is the newest addition to the scene. 
 
WHERE TO EAT
D.C. has a great restaurant scene with innovative dishes featuring chefs from all over. You cannot beat Sweetgreen, the fast-casual salad chain, including one on P Street NW. Try the fish taco salad with steelhead salmon. This concept restaurant was started in D.C. by two guys sick of dorm food at a local college and is now going national. 

Zaytinya is my favorite Mediterranean food. The small dishes let you sample a lot.

Rasika (633 D Street NW) is a must for the best Indian food in the United States, which my friend tells me is a showcase for Indian street food. 

The Red Bear Brewery in the NoMa neighborhood (209 M Street NW) had great IPAs. (The next-door REI Co-op is also a shopping experience in a historic recycled building that was once a music hall.) 

Try the new Planta vegetarian restaurant in nearby Bethesda. You can even bike up from D.C. 

Annie's Paramount Steakhouse on 17th Street NW is a long-time staple for the LGBTQ+ crowd and is great for people-watching or Sunday brunching. They have outdoor seating as well. 
 
WHERE TO STAY 

I always stay at the Comfort Inn Downtown DC/Convention Center at 1201 13th Street NW. It's close to the stores, restaurants, and shopping on 14th Street NW and an easy walk or Metro to the museums and other attractions. Other great options I have stayed at include the Washington Plaza Hotel, the Tabard Inn, and the Beacon House. 
 
GETTING THERE/ GETTING AROUND

I flew to convenient Reagan National Airport (aka DCA). It took just 35 minutes to get from the airport to my hotel via Metro (Convention Center, Mt. Vernon stop). D.C.'s Metro subway system is great, and the Metro Bus and the Circulator take you where the subway does not. 

If you want to combine a bit of Broadway into the mix, Amtrak features the Acela express train from D.C. to New York City's magnificent Union Station. The MARC commuter rail can take you to BWI (Baltimore) airport and other destinations. 

Under no circumstances rent a car. Parking is in short supply and the D.C. drivers have one hand on the horn at all times. You can walk everywhere or hop on the Metro.
 
HELPFUL HINTS

The Washington Blade (in print and online) comes out every Friday. Visit their website, washingtonblade.com.  Metro Weekly is your other source for LGBTQ+ information. Destination DC has the local happenings at Washington.org.  You will run out of time before you run out of things to do in this amazing city. Consider a trip to the DMV today (DC speak for DC/Maryland/Virginia).

*Bill Malcolm is a syndicated LGBTQ+ value travel writer based in Indianapolis. His column appears in publications and on websites around the country.  He writes as a hobby at no charge to publications to support LGBTQ+ journalism.  Special thanks to Destination DC for their travel tips and to my friends at the Comfort Inn Downtown D.C./Convention Center.