Tips for a Budget-Friendly D.C. Trip
Washington, D.C. is perfect any time of year for a visit. Late fall and early winter are especially good because the tourist traffic is light, hotels are reasonable, and there is a lot to do. 
The nightlife scene now includes two new bars in the trendy Adams Morgan district—Pitchers (a sports bar with a dance floor) and A League of Her Own (a new bar for women). The two bars sit side by side on 18th Street NW. In case you didn't know, D.C. rivals San Francisco as one of the most LGBTQ+-friendly cities in the United States.
WHAT TO DO 
Walk up Rock Creek Park to the National Zoo with the Frontrunners. They meet Saturdays at 9:30 a.m. (10 a.m. for the runners) at 23rd and P Street and then go to breakfast afterwards. It's a friendly crowd and I met my first Trump appointee who has a high-level position in the administration as well as a guy that works at PBS Newshour. Frontrunners is a great way to meet the locals. They also meet Tuesday night at Union Station.
Be sure and visit the Wharf in the newly renovated Southwest DC complete with Boardwalk. It features a fish market, kayak rentals and more. You can even catch a ferry to Georgetown or Alexandria from there. The newest location of the Politics and Prose Bookstore can also be found in Southwest.
Museum options abound, like the National Portrait Gallery (which has a nice cafe in the courtyard). Note that all the Smithsonian Museums are free. However, private museums like the Spy Museum and the Newseum (the news museum) charge a fee.
The National Building Museum at 401 F Street is very nice as is the new nearby National Law Enforcement Museum and the National American Indian Museum. Across the street, the U.S. Botanical Garden is another must. It has a great orchid display as well as a nice collection of regional plants. The new National Museum of African American History is another must although you have to reserve your (free) tickets in advance.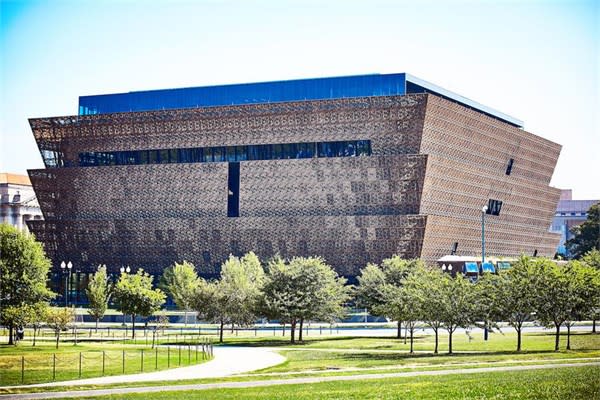 National Museum of African American History and Culture
There is also a lot to see nearby including Alexandria. Take the Metro to King Street Station and hop on the free trolley to explore Old Town. The historic village has great views along the Potomac River and bike rentals where you can ride south to Mount Vernon (home of George Washington). 
Nearby Mount Vernon also has a great restaurant with a colonial theme. Peanut soup anyone? You can get to Mount Vernon by taking the Yellow Line Metro to Huntington and then hopping on the Fairfax Connector 101 bus.
Movie buffs will want to take in the John Waters exhibit, "King of Trash," at the Baltimore Museum of Art (a quick MARC commuter train ride away).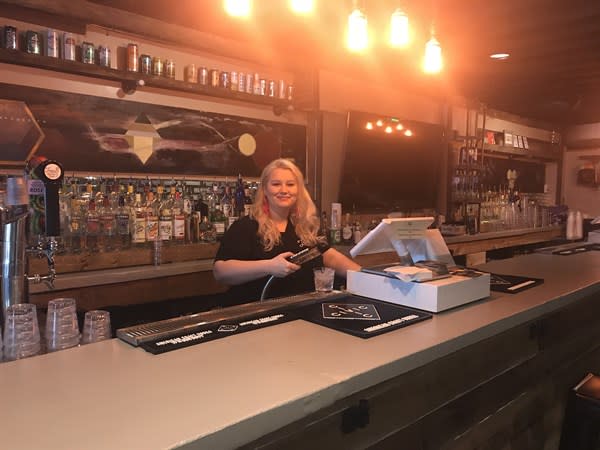 Ally Spaulding at A League of Her Own, newly opened women's bar in Adams Morgan
NIGHTLIFE
Who says LGBTQ+ bars are a thing of the past? Washington has two new ones: A League of Her Own and Ptichers. They are both at 2319 18th Street. League is the city's newest bar for lesbians, while Pitchers is a sports-themed bar that features dancing on the weekends. They are located in the Adams Morgan neighborhood. Trade Bar at 1410 14th Street is another fun option.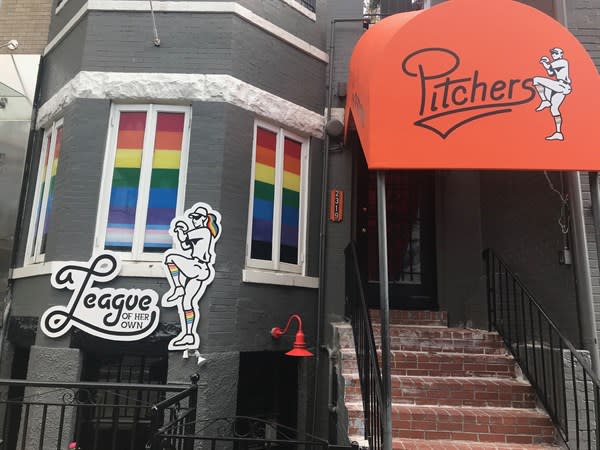 My favorite bar is the Number Nine (1435 P Street NW, off 14th Street NW), which features 2 for 1 drinks until 9 p.m.
WHERE TO EAT
Sweetgreens is my favorite, a DC-based salad chain featuring healthy, low-calorie dishes. They are around town including on P Street off 14th Street NW. Shake Shack has great burgers and fries and has 3 locations including on 14th Street NW. It is a New York chain.
Compass Coffee is the local coffee place. There is one on F Street near the Gallery Place Metro, 1335 7th Street NW. Try the vanilla-flavored, nitro-infused cold brew. Zaytina's has great Mediterranean food. You will find them on 9th Street NW. You can't beat Sunday brunch at Annie's Paramount Steak House, which is celebrating its 70th year and is in the original DC gayborhood, 17th Street NW.
In Old Town Alexandria, The Warehouse (214 King) had great salmon while nearby Magnolia's had great Southern cuisine.
GETTING THERE
I took American Airlines to Reagan National (DCA), which is a quick Metro ride into DC. On the way back, I took Southwest out of BWI which is a short MARC or Amtrak ride from Union Station. (Avoid the Southwest terminal at DCA as it is noisy and over-crowded and not near the Metro).
WHERE TO STAY
I like the Comfort Inn on 13th Street NW (near Mass Avenue) near the restaurants and bars on 14th and 17th Streets. It is a bargain and very handy. The Streets Market nearby has everything you could need for a quick bite or snack. I also stayed at the Alexandrian in Old Town Alexandria, handy to all the attractions.
FOR MORE INFORMATION
Metro Weekly is the weekly LGBTQ+ magazine. Celebrating 50 years, the Washington Blade newspaper is another must-read each week. Visit washington.org/lgbtq for more information and the official LGBTQ+ guide.
Bill Malcolm is a freelance LGBTQ+ syndicated budget travel columnist. He also writes the "Round the Ripple" column in the Broad Ripple Gazette and for All Aboard Indiana. He is based in Indianapolis and is a frequent visitor to D.C.