Written by: Edge Media Network
Originally Published: July 31, 2018 - Click here to view original article 
Our neighbor to the north is looking better by the minute. Tumultuous times on the home front have many Americans thinking that a Canadian migration isn't a half bad idea. And why not? Universal health care. Justin Trudeau. And one of the largest Pride festivals in North America. Sign us up! 

While a permanent move might be a bit dramatic, a weekend getaway to Quebec offers plenty of ways to experience how Canadians retain their charm and class. And with a visit to Montreal, specifically, a robust French influence feels like you've gone to Europe - for half the price.

Montreal overflows with culture, cuisine, and a rich history that imbues the city streets. Festivals throughout the year crank up the wow-factor with plenty of happenings that offer the perfect excuse for a weekend getaway. Regardless of the time of year, here are three experiences you won't want to miss:
Walk This Way -- Hit the streets with Spade & Palacio, a fantastic tour company that offers a range of walking and biking tours throughout the city. Expert guides navigate throughout various neighborhoods, providing plenty of photo opps and history. The Official Montreal MURAL Tour highlights massive public works of art along Saint-Laurent, including recent additions from this summer's annual festival including works by Drew Merritt, Sandra Chevrier, Smithe, and more. 
Gallery Hopping -- Technology entrepreneur Dax Dasilva (Lightspeed) founded Never Apart in 2015 as a community hub for "social change and spiritual awareness through cultural programming with global reach and impact." 

The gallery and event space, located in the Mile-Ex neighborhood, boasts 12,000-square-feet of exhibition, work, and archival space, including a 10,000 vinyl record collection. Current exhibitions include "Portraits" by Austin Young featuring some of our favorite drag superstars, and "Canadiana Icons," a curated collection of ten queer Montreal artists who were chosen to embody Canadian icons. (Both exhibitions are on display through September 22, 2018.)

Carb Craze -- Two must-eat foods in Montreal: poutine and bagels. Locals will momentarily shed their Canadian courtesies to ensure you choose their favorite. Regardless, you can't go wrong with the following:
Restaurant Chez Claudette is open 24/7 Thursday through Saturday for late-night poutine, best enjoyed after a night of bar-hopping. 
Fairmont Bagel will celebrate its 100th anniversary in 2019 as Montreal's first bagel bakery. Slightly sweeter and smaller than its New York counterpart, visitors and locals alike line up around the block for the hand-rolled bagel that is first boiled, then finished in a wood-burning oven.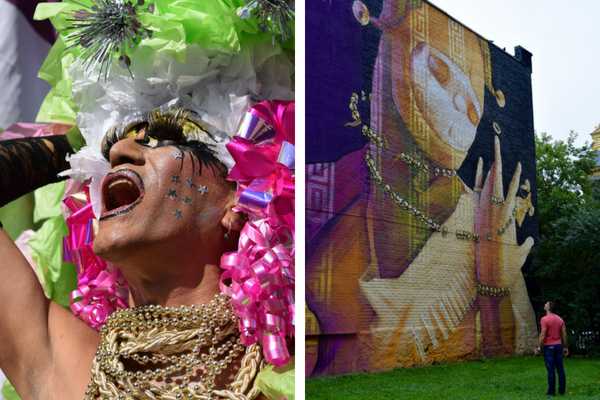 Montreal Pride
Returning for its 11th year, Montreal Pride welcomes a staggering 2.7 million participants for 11 days of revelry, activism, and awareness (though the first march dates back to 1979 and the efforts of La Brigade Rose, a local community group). This year's Festival Ambassadors include DJ Sandy Duperval and cultural influencer Jordan Dupuis. 

"Their ability to address issues related to sexual and gender diversity communities, combined with their personal experience, their own story, and those of the many and different people who have come together over time, make Sandy and Jordan exceptional ambassadors and, representing the ardor and constant growth of our festival," says Éric Pineault, founding president of the Montréal Pride Festival.

The Festival also boasts six grand marshals that represent global impact within the LGBTQ+ community, including Olympic skier Gus Kenworthy, AIDS activist Miss Major Griffin-Gracy, and Jacq Brasseur, co-founder the Rainbow Coalition of Yellowknife, the only queer and trans youth outreach organization in the Northwest Territories. 

Festival highlights include:
Cinema L, a film screening of various works about realities experienced by LGBTQ+ women. Monday, August 13
Drag Superstars featuring Bianca Del Rio. Thursday, August 16
The Parade: Following its traditional route along René-Lévesque Boulevard, the parade will begin at Metcalfe Street and end on Alexandre-DeSève Street. Sunday, August 19
Peaceful Slumber
Fairmont The Queen Elizabeth recently underwent an extensive renovation and now sparkles with contemporary flair while still maintaining its mid-century character. 

The massive property features 950 guest rooms and suites, but the pièce de résistance is #1742 - the famous John Lennon and Yoko Ono Suite, site of the 1969 "bed-in for peace." 

It was here that the duo recorded "Give Peace a Chance" and now, the suite has been completely reimagined to create an interactive experience for guests. Highlights include a Motorola television playing original footage, photos by Jerry Dieter, poster reproductions, and filing cabinet packed with surprises such as interview recordings. 
Nacarat, the elegant craft cocktail lounge, is an ideal spot to start or end the evening, with innovative libations created by Director of Mixology Nader Chabaane. Menu highlights include namesake Nacarat is the New Black (Midori, mezcal, citrus, orange bitters and squid ink), the particularly potent Toadka (vodka, white vermouth, sweet peas, Crème de menthe, mushroom, and wasabi tincture), and a wide variety of locally sourced beers and ciders. Nacarat also occupies the hotel's third-floor terrace in warmer months with a rotating roster of DJs, specialty cocktails, and barbecue. 

Birks Hotel, opening in September 2018, promises all of the bling synonymous with Maison Birks, a jewelry brand that dates back to 1879. The new digs will feature 120 rooms and a re-designed luxury retail store.
4 Can't-Miss Montreal Festivals Beyond Pride
True: Montreal Pride is a throwdown of fabulousness. 

Also True: Montreal boasts festivals all year long that pique the interest of the global queer community. Here is a taste of Pride alternatives:

Montreal Fetish Weekend -- What's your fetish? Never mind - choose them all at this weeklong fantasy celebration packed with events, workshops and parties. August 29 - September 4, 2018

Black and Blue Festival -- One of North America's largest circuit parties dates back to 1991 and has raised more than $1.4 million for HIV/AIDS-related causes. This year's main event is on October 7, 2018, and is relocating to MTELUS (formerly known as Club Metropolis) to increase capacity. Expect world-renowned DJs, live performances, and more. 

Image+Nation 30 -- This year marks the 30th anniversary of Montreal's LGBTQ+ film festival. November 2018

Montreal en Lumiere -- The temperature may drop but Montreal heats up with this illuminated celebration featuring site-specific installations. February 22 - March 4, 2019