April 18, 2019 by Adam Dupuis
This article was originally published in Instinct Magazine
Visit San Antonio is a proud IGLTA member
In my adult gay life, I've known Austin, Texas as the lonely liberal blue dot in all of the Lone Star State.  My vacations in Texas have been reserved to a birthday weekend and a weekend of pride, both in Austin, since that's what us gays outside of Texas have been told.  When visiting, all we heard from Austinites was that there's no other place we were welcome, besides their city.
Texas is a big state to check off the list as a DO NOT VISIT … except the blue dot with the slogan "keep it weird." So this past March, I decided to go at Texas with my big gay self and drag along a companion to see what the 4 other major cities had to offer … clap clap clap clap … deep in the heart of Texas.  We traveled to Galveston, Houston, and Dallas, but our first stop was SAN ANTONIO.
My first impressions of the city were not what I expected or had in my head for the seventh-largest and 3rd fastest growing city in the US, a city that attracts more than 34.4 million visitors a year. I prepared myself for big, tall, brown, desert-like city and landscape. But instead, San Antonio was impressively green, spacious, and not overly vertical.
We were happy to find the recently completed Hampton Inn & Suites San Antonio Riverwalk for our entire stay. The hotel's location could not have been in better to explore all of the San Antonio we had planned to see and two styles of complimentary breakfast helped us start each day on the right foot with a full belly.  Since the location is dual branded offering Hampton Inn & Suites and Home2Suites by Hilton, the great views of the river could be enjoyed for a weekend or a week or two.
Our direct flight from Fort Lauderdale arrived later in the afternoon so after a quick check-in, we headed just steps away to one of most well-known Latin restaurants in town, Ácenar. One of the largest and most innovative contemporary Mexican restaurants and bars on the San Antonio River Walk and Downtown area, Ácenar was where I would try goat for the first time.  We actually ordered a mole which is often hard to find. This restaurant provided great selections of Texas regional and Mexican dishes that are inspired by the history and heritage of the two cultures.
The biggest attraction in San Antonio and all of Texas, The Alamo, was on our agenda for the early morning and was a 10-minute walk from the hotel. We witnessed The Arrival of the Immortal 32 and learned about the 189 defenders and the last battle on March 6, 1836 (we were there on March 1). I highly recommend the guided tour of the Alamo where you will listen to a live guide as he brings you around the grounds of the old mission and into places where no other tourists were allowed.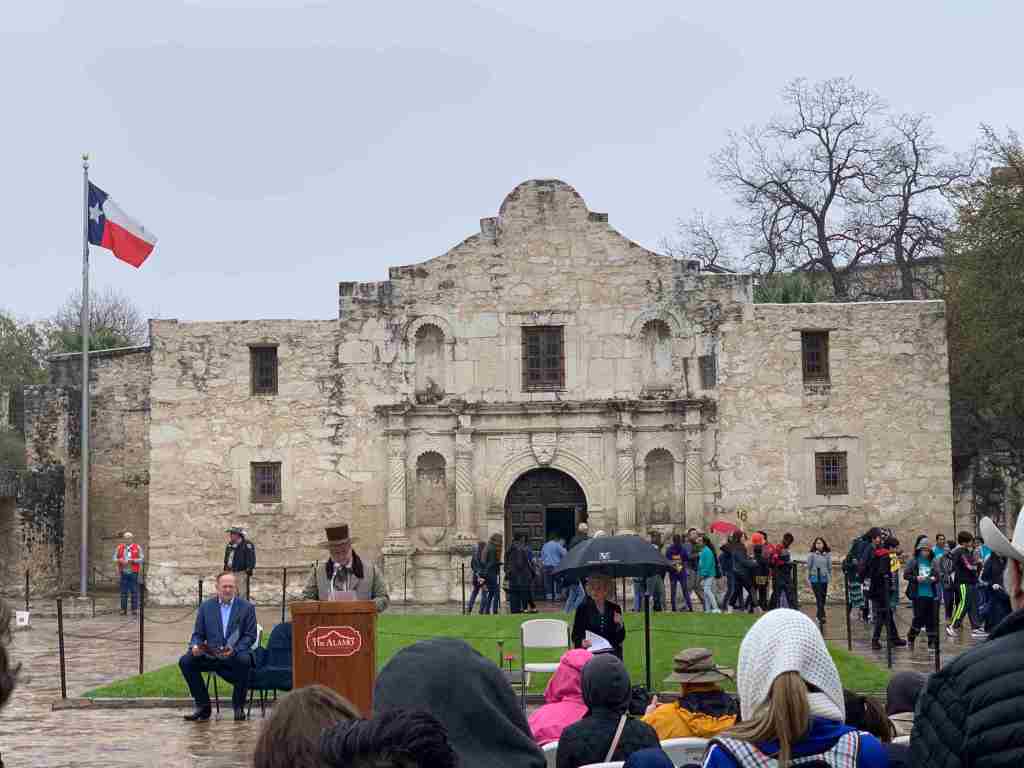 Keeping on the cultural foundation side of things, but going from old to new, it was off to the first museum of modern art in Texas. McNay Art Museum was named for its founder Marion Koogler McNay and the museum's collection has expanded to more than 22,000 works of art including significant collections of Medieval and Renaissance art, 19th – 21st century European and American paintings, sculpture and more.
I've been fortunate enough to visit some phenomenal museums in the past year. I am not sure if it is because museums are just realizing what people in 2019 are looking for or I've just been lucky. Organized by the McNay, "American Dreams: Classic Cars and Postwar Paintings" explores the ingenuity and innovation of postwar America. This period, known as America's Golden Age, witnessed the explosion of Abstract Expressionism, Pop art, and Op art; the mass production of automobiles; and increased wealth and consumerism. The exhibition presents 10 classic cars as modern sculpture, alongside paintings from the McNay's collection and select loans.  The curators matched the cars magnificently with paintings from the same time periods. The creativity behind this exhibit raised my expectations for the rest of the museum tour and I was not disappointed.
This summer, The McNay will present "Transamerica/n: Gender, Identity, Appearance Today." The exhibition is slated to run June 20 – Sept. 15.
First Friday Art Walk & Burgerteca
Friday night in San Antonio had us enjoying some creativity and excellent protein. The art scene is alive and strong in San Antonio and the First Friday Art Walk along South Alamo Street helps to make it so. Featuring arts, crafts, live music and food over many blocks, the event provides a time for art studios and galleries in the King William Historic District and the Blue Star Arts Complex to open their doors to the public. It was recommended that we get to the art walk early around 5:30 in order to get to see everything.
A simple jaunt just a little bit further down the Riverwalk (this thing goes everywhere!) we found Burgerteca where custom-made burgers influenced by the cuisine of interior Mexico on baked-fresh daily yeast buns made it to our bellies along with some molé fries.
The Saga
It was such a beautiful night in San Antonio that we said no to a ride-share and walked back along the Riverwalk to just a block away from our hotel to see The Saga, a captivating 24-minute video art installation on the beautiful façade of San Fernando Cathedral. We were amazed the history of San Antonio as it appeared in front of us on the cathedral with choreographed lights, music, and projections. It's a fun must-see for all ages and with show times on Tuesday, Friday, Saturday, and Sunday at 9 p.m., 9:30 p.m., and 10 p.m., you'll have many opportunities to squeeze it in.  We actually caught the end of one showing and then the beginning of the next. 
YourBikerGang.com
Having a warm breakfast in our bellies we headed off for what has to be one of the more memorable activities I've done in any city. I let someone else plan this event and all they said was that we would be doing a bike tour of the city.   I told them I was a little out of shape and they assured me that they were electric bikes with YourBikerGang.com: "Cruise downtown San Antonio with your very own electric mini bike gang."  I will do this again in another city or even San Antonio. Our tour guide was great (and hot) and cared that we all were comfortable on our "bikes" as we twisted and turned around town, beeping at the feeble Segway riders and others. I was not following along as to what part of town we were in as I was just having so much fun. Thanks YourBikerGang.com for something that keeps putting a smile on my face every time I think about it (now my profile pic, too).
Mardi Gras River Parade & Festival
When in San Antonio for Mardi Gras, what better way to see the Bud Light Mardi Gras River Parade & Festival than to be in it!  We had the chance to ride on The Original Mexican Restaurant's river parade float and we said YES!  I mean it was an actual float in the river! The group was fun, inviting, and actually made extra Mexican/Mardi Gras hats for us to wear.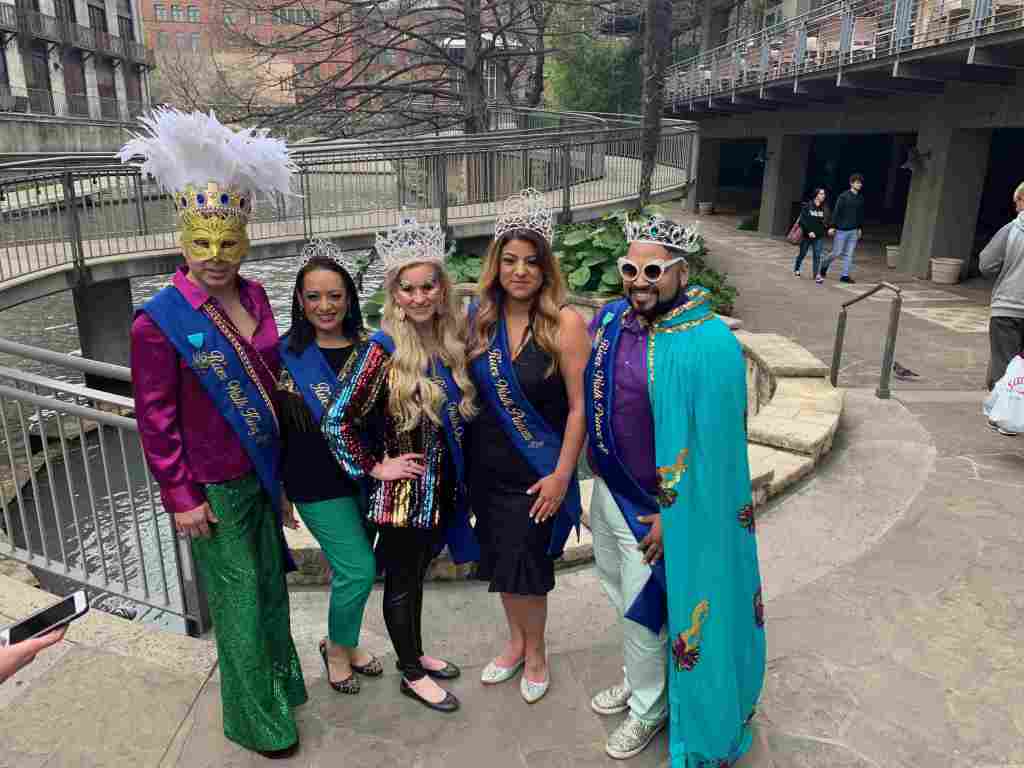 The Gays
Well of course there were some gay things to do in San Antonio.  Friday night we went to North Main Strip or Main Avenue where there were several bars in a nice walkable area. Having all the bars in the same area on The Strip made it easy to bounce around from Essence to see some men dance in their undies (don't ask for the Wifi password, they don't like that), and enjoy drinks and people watching at Pegasus, Sparky's Pub, Knockout, and Heat. There were other bars in the area, but we just ran out of time and liver space.
I have heard about the Bonham Exchange before I set foot in San Antonio. The building itself has a history going back to 1891. It opened in 1892 as a luxurious event center complete with bowling alley, gymnasium and grand ballroom called Turner Hall. The hall closed during the Great Depression, and the building was then used as a local USO. In 1980, the developer Arthur P. Veltman selected the building as the new location for his previous gay nightclub, The San Antonio Country. The Bonham Exchange opened in 1981 and has been one of San Antonio's downtown hot spots ever since.  What I heard about this location is true.  The gays made it a great place, the straight girls followed the great music, and then the straight men followed the girls. There is still space for everyone as the complex seems to go on and on. Even though the Bonham Exchange is one building and charges a cover, it still offers a great time, just like the Strip did.  I would recommend doing what we did, The Strip one night and The Bonham on another.  Thanks Jesse Cazares and @socializesanantonio for helping us with the nightlife of San Antonio.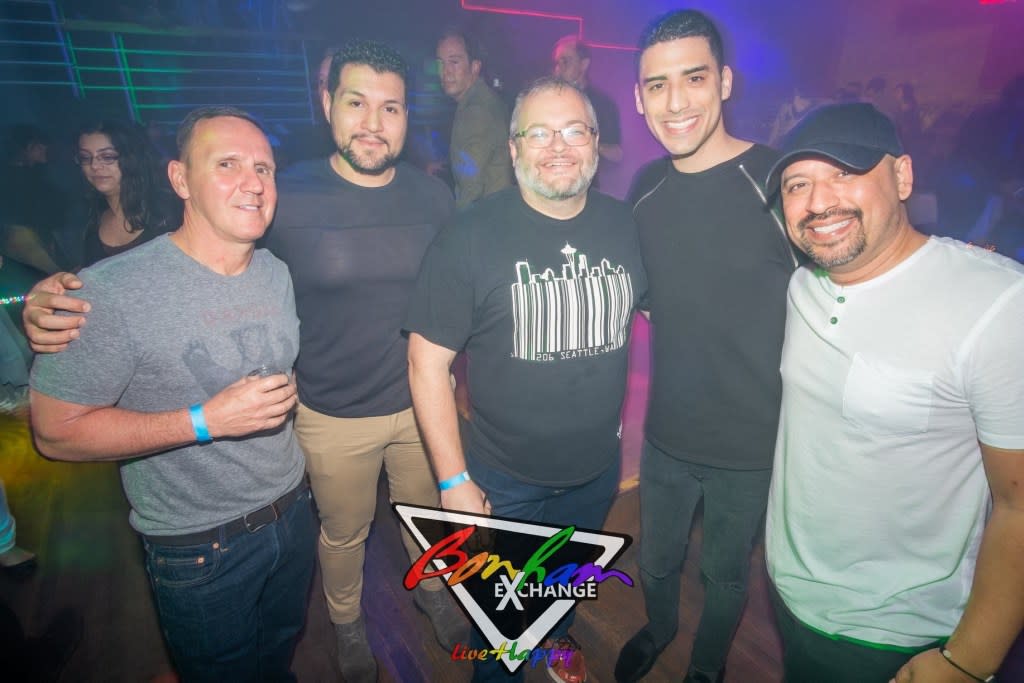 The last day we were in San Antonio, we skipped breakfast at the hotel and headed to the Rooftop bar Paramour.  Asking the Uber driver about the place, he said it was a place that had high-end cocktails and was one of the more upper class bars in town. The drinks were spot on yum, the decor was over the top fun, and the drag was a savory treat.  Having one of the best views of downtown San Antonio, the bar was a place I would love to go to again, but then make it Drag Brunch at Paramour and you'll want to go every weekend.  The theme of the show when we went, JLo.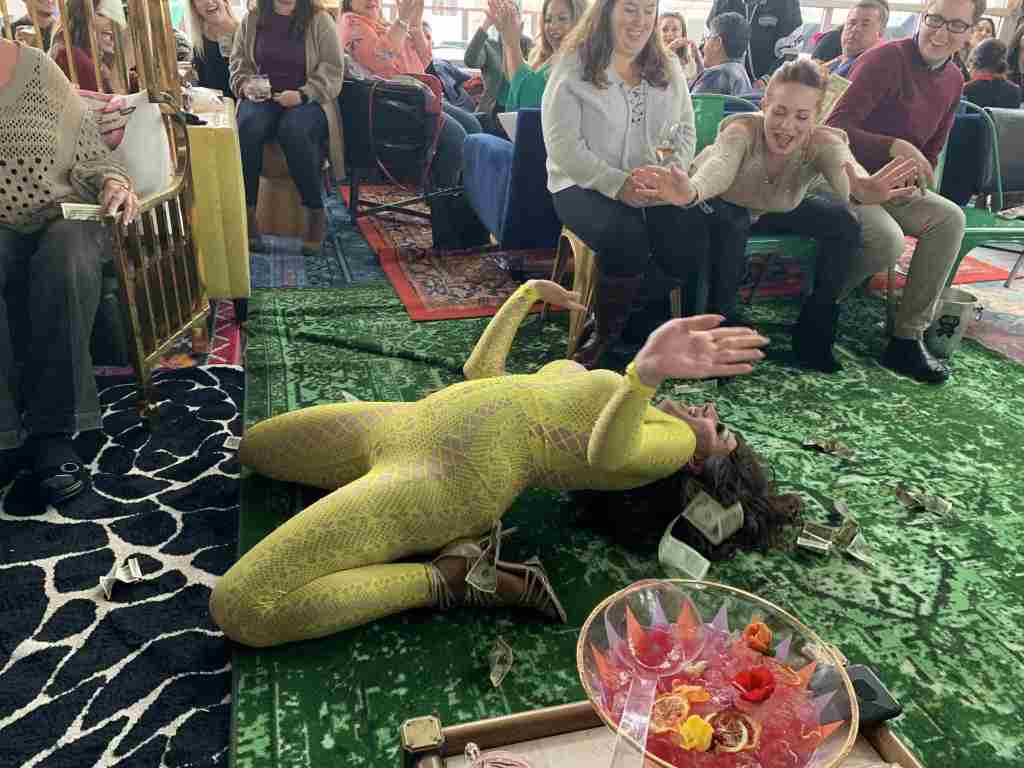 Our journey to San Antonio was one that must be done again.  Having the direct flight option from Fort Lauderdale will get me back there sooner than later.   Even though it is a very fast-growing city and one of the larger ones in the nation, it still feels like you are in a moderate-sized city, as the San Antonio population is spread out over a large area; but the downtown and Riverwalk are welcoming, well planned, and need another visit.
I was pleasantly surprised how much I did enjoy San Antonio. The people were welcoming, the gay bars were plentiful, and the city obviously had a gay presence in it.  I did keep hearing that progress often starts in San Antonio and spreads to Austin where weird and liberalism is magnified with the Austin name, and therefore Austin gets the recognition.
Other places to eat in San Antonio
The newest restaurant from the team of Andrew Goodman and Chef Stefan Bowers, this downtown pizzeria also goes above and beyond with more than pizza offerings and is "nostalgic, modern and playful." Goodman and Bowers have three other restaurants in San Antonio, Feast, Rebelle and Battalion, and are known for their playful concepts. As an homage to the former Playland Park, the bar program starts with seven cocktails featuring names like Tilt-a-Whirl and Bubble Bounce.  We loaded up on beverages as well as spilt a couple of unique pizzas.  The great service and original offerings made this a place to come back to again, may it be for a business lunch meeting or even a fun little date.
Fogo de Chão – San Antonio
Just steps above the River Walk, Fogo de Chão brings its rich Southern Brazilian tradition of churrasco to the Alamo City.  I am not sure I would have a first date here as a never-ending walking buffet of meat is constantly being shared by the Brazilian cowboy/wait staff.  I loved watching them all work as a team as they kept my belly overly full.  You don't have to overindulge, but when here, go for it.
Botika is a Peruvian-Asian restaurant located at Pearl. Led by Executive Chef Geronimo Lopez, Botika's menu features "Chifa" (Chinese-Peruvian) and "Nikkei" (Japanese-Peruvian cuisines, exploring the crossroads between South Asia and South America).  Pearl was in an area that I saw on the Uber ride from the airport and when we were on our biker gang journey.  I knew I wanted to go back to this growing, hip, a little more upscale neighborhood, so going to Botika was an easy choice.  We will need to go to the Pearl area again as there were several businesses that caught our eye.
San Antonio at a Glance – Fact Sheet
Seventh-largest and third-fastest growing city in the U.S.
Host to more than 34.4 million visitors a year, including 20.9 million overnight guests
Top industries include healthcare/bioscience, manufacturing, IT, tourism and aerospace
Home to the River Walk – a network of stone paths along the San Antonio River that connect hotels, shops, restaurants, theaters and more
Has the largest collection of Spanish colonial architecture in North America, designated a UNESCO World Heritage Site, that includes five 18th-century missions. The city also has the oldest active cathedral sanctuary in the U.S.
Home to Culinary Institute of America (CIA) – one of only three campuses in the country; focusing on Latin American cuisine
Known for the Alamo, the number one tourist attraction in Texas and one of the city's Spanish colonial missions.
Entertains with top theme parks: SeaWorld San Antonio, Six Flags Fiesta Texas and Morgan's Wonderland – the world's largest ultra-accessible theme park for those with special needs
Offers nationally acclaimed museums including two Smithsonian affiliates and the national center for Latino arts
Recognized for events including Fiesta San Antonio, Luminaria: Contemporary Arts Festival, Culinaria and the Conjunto Music Festival
Birthplace of Tex-Mex – experience it in the city's culture, art, music and cuisine
Destination for professional sports teams: San Antonio Spurs (NBA), Rampage (AHL), San Antonio FC (USL), and Missions (MiLB)
Leading golf destination with more than 50 golf courses, many noted among the nation's best
Host to eight universities including Division I schools University of Texas, San Antonio (UTSA) and University of the Incarnate Word, as well as the Alamo College System