Written by: Clark Massad
"It will be like a living object that will move in the wind and reflect the light. With its moving folds, the monument's surface will become sensual. People will want to touch the Arc de Triomphe." – Christo
Secret Journeys' most recent experience is centered on "L'Arc de Triomphe, Wrapped"—the posthumous work of artists Christo and Jeanne-Claude, on view in Paris for 16 days, from 18 September to 3 October 2021. My husband and I were fortunate enough to be part of a small group of lucky visitors to enjoy the inaugural edition of this experience.
We met up with IGLTA member Philippe Hertzberg, Founder of Secret Journeys, and the group—composed of Americans, Londoners, and other Parisians—on the opening day of the installation in front of the Publicis Drugstore, located meters away from the Arc de Triomphe on the famous Avenue des Champs-Élysées. It was 9 am on a Saturday under a sunny, cloud-speckled sky, the city was just awakening and Parisians were barely starting to emerge. Only a few brave souls were already waiting in the security lines at the Place de l'Étoile to be amongst the first to experience the installation up close.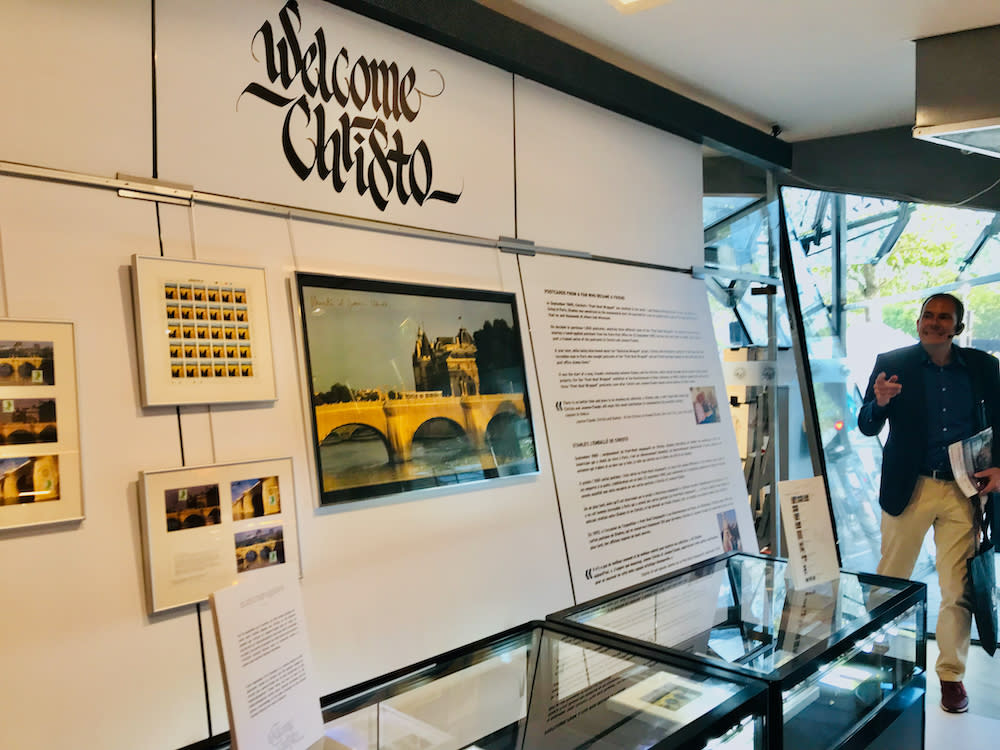 Our journey began with a brief history of the Bulgarian-born artist Christo and his arrival in Paris in 1958, where he met Jeanne-Claude, born in Casablanca to a French military family. They began collaborating in 1961, creating "Packages" and "Wrapped Objects" and installing works of art in public spaces, including the famous "Iron Curtain – Wall of Oil Barrels" on the rue Visconti in Paris in 1962. Throughout more than 50 years together, until Jeanne-Claude's death in 2009, the couple would continue to create wrapped objects and ephemeral large-scale art installations, notably "Pont Neuf, Wrapped" (Paris, 1985) and "Reichstag, Wrapped" (Berlin, 1995).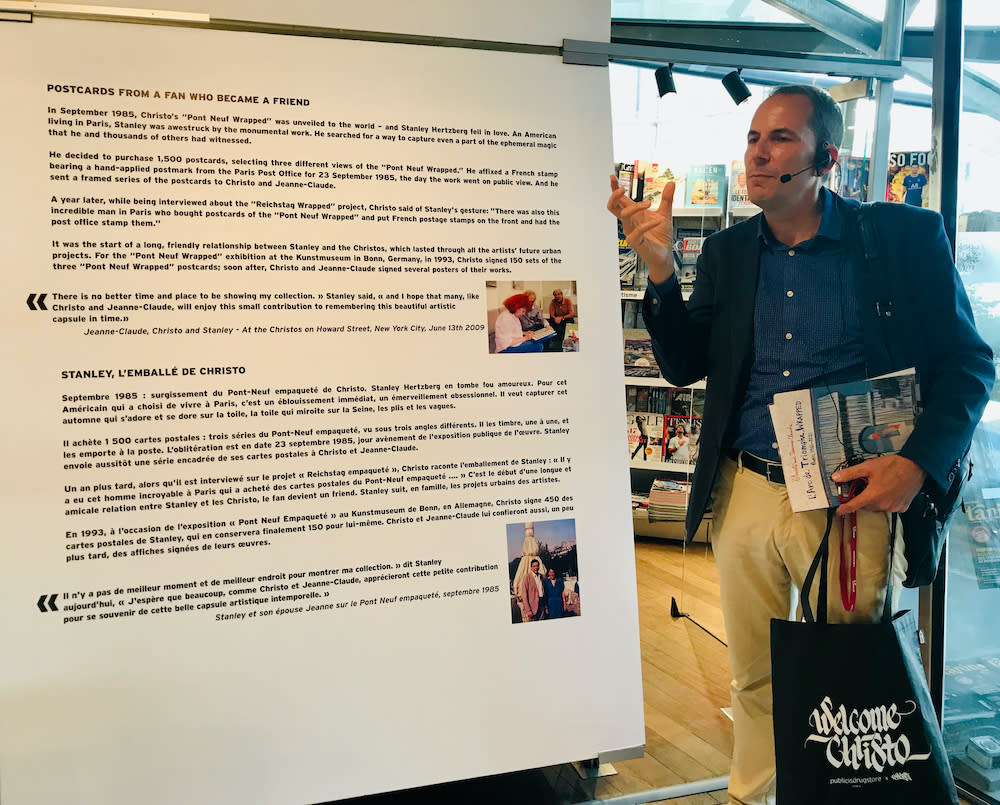 Philippe explained that Christo had first proposed the idea of "L'Arc de Triomphe, Wrapped" through a photomontage created in 1962 and again featured the project in a subsequent college in 1988. He began actively developing the project in 2017 and in 2018 it was officially submitted to the Centre des Monuments Nationaux in France by the Centre Pompidou during preparations for the exhibit "Christo and Jeanne-Claude, Paris!" which opened in July 2020. Final authorization to wrap the Arc de Triomphe was granted in March 2019 and although Christo died in May 2020, the project moved forward and was officially opened to the public on 18 September 2021—on the occasion of the Journées Européennes du Patrimoine, exactly 60 years after its original conception and in spite of the ongoing Covid pandemic.
Some interesting facts:
12,000 km (7,456 miles) of polypropylene yarn
25,000 m2 (82,020 square feet) of fabric
32 tarpaulins each weighing 1,000 kilos (1.1 US tons)
1 kilo (2.25 pounds) of pulverized aluminum coating
3km (1.86 miles) of rope
From there we walked to a vantage point offering an exclusive view of the wrapped Arc de Triomphe while Quentin, our storyteller, began recounting the history and symbolism of the triumphal arch, commissioned by Napoleon in 1806. As the sun rose over Paris and warmed the crisp morning air, the light played off the silver-blue fabric draping the Arch, drawing parallels with Monet's paintings of haystacks and the Rouen Cathedral.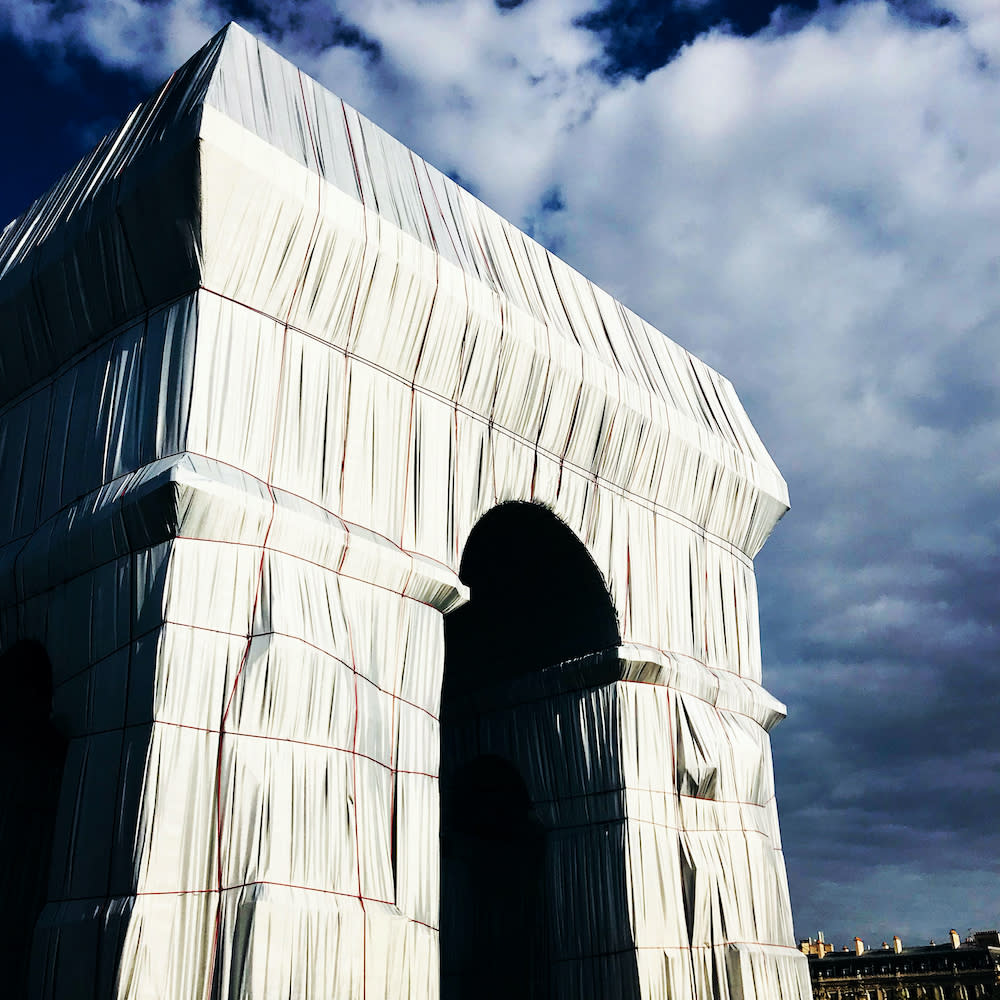 Afterward, we donned our masks, showed our vaccination cards, and passed through security to enter the Place de l'Étoile (thankfully closed to traffic during the two-week installation) taking photos, touching the metallic fabric, tugging on the red cords, and enjoying the installation up-close. Volunteers answered questions and handed out 3x3-inch squares of the aluminum-coated blue polypropylene fabric that was used the drape the Arch, to discourage visitors from cutting their own swatches.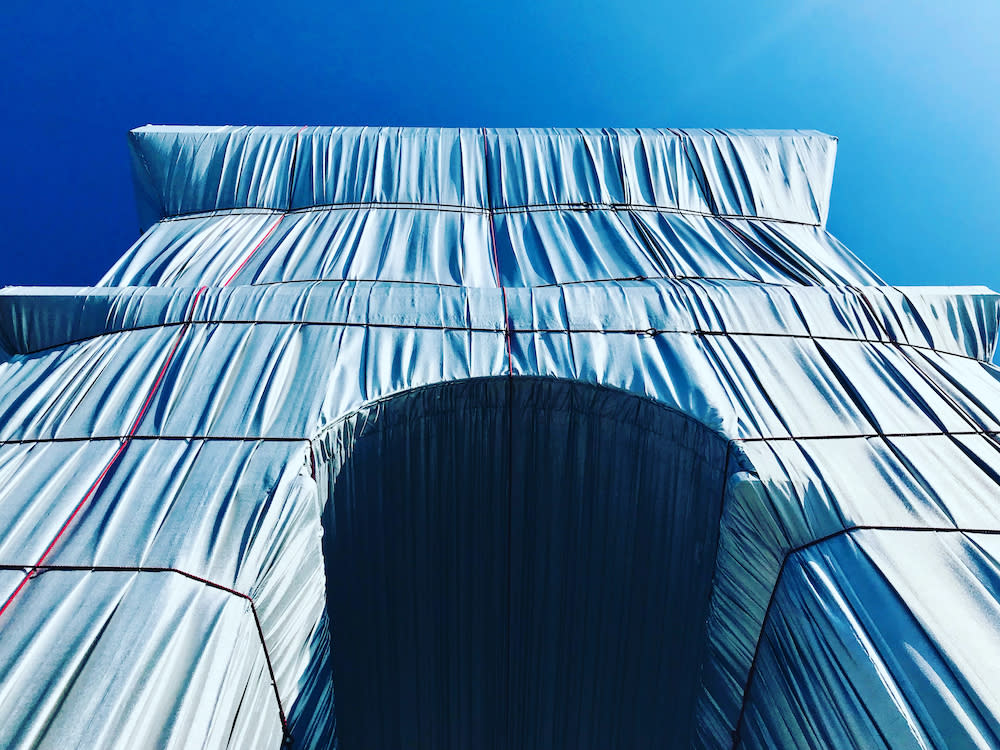 Afterward, we said goodbye to Quentin and returned to the Publicis Drugstore where Philippe told the story of his father, Stanley Hertzberg, an American living in Paris, who was so inspired by the "Pont Neuf, Wrapped" installation in 1995, that he purchased 1,500 postcards of the work. He affixed a French stamp to each postcard, bearing a hand-applied postmark from the Paris Post Office for the date of 23 September 1995, the day the work opened to the public. Christo later learned of Hertzberg's gesture and a long friendship ensued. Hertzberg's collection is now on display at the Publicis Drugstore in Paris and limited editions of postcards are available for purchase.
We then sat down for a glass of champagne and a petit-déjeuner discussion with American historian and journalist, Michael Cullen, known for being the instigator behind Christo and Jeanne-Claude's "Reichstag, Wrapped" installation. Cullen told fascinating personal stories of 50 years of collaboration with the couple, culminating with his contribution to the "L'Arc de Triomphe, Wrapped" installation. Cullen then signed copies of the Taschen catalogue chronicling the installation and Philippe offered us wax-sealed envelopes containing examples of postcards from his father's "Pont Neuf, Wrapped" collection.
With a café, a crispy croissant, and a coupe de champagne nestled snugly in our tummies, we ventured back out into the now bustling streets of Paris where Julien, a professional photographer, was waiting for us, camera-in-hand. Juggling pesky pedestrians and the increasingly dense traffic on the Avenue des Champs-Élysées, Julien managed to capture this special moment for each of us. Curious onlookers asked if we were stars or government officials. Philippe then handed out tickets to enter the Arc de Triomphe to allow us to experience the installation from the rooftop of the monument.
As we climbed the 300+ stairs and exited onto the rooftop of the Arc de Triomphe, we were overcome by the brilliance of the September sun reflecting off the thin layer of aluminum coating covering the blue polypropylene tissue. The clouds had burned off and it was a clear day with a breathtaking, 360° view of Paris and its other monuments. "L'Arc de Triomphe, Wrapped" glimmered like a beacon of hope in a world emerging from crisis, a modern symbol of victory and triumph.
Secret Journeys creates unforgettable experiences centered on French culture, gastronomy, artistry, and history. Each journey features exclusive access to monuments, museums, or sites coupled with the opportunity to meet the very people whose work and expertise bring each location to life. Through their unique team of media professionals and storytellers—some of whom are members of the LGBTQ+ community—guests are treated to memorable, once-in-a-lifetime moments. Some journeys even allow guests the opportunity to have privileged, personal encounters with members of the LGBTQ+ community ("Backstage at the Paris Opera House" and "Le Clos Montmartre: Red, rosé, and rebellion"). While it doesn't specifically focus on the LGBTQ+ community, the "Plaine Monceau: Belle Epoque art and elegance" experience cover a time period of sexual liberty and freedom in Paris, at a time when bisexuality was commonplace and cabarets were popular.