In 2014 the local administration of Palermo, headed by Leoluca Orlando, brought Palermo into the Rainbow Cities Network. Now the city is one of the gems of RCN, an Italian international network that connects municipalities fighting discrimination based on sexual orientation and gender identity and also promotes the fundamental rights of citizens. 
It's not a coincidence for Palermo to be at the forefront of the fight for civil rights. Many locals still carry the emotional scars from the fight with another tentacular monster, the Mafia. In the '90s, white sheets hung outside the windows of every house to denounce the Mafia's hold on the population.  Eventually, actions and words overcame the silence that resulted from crime, oppression and the sense of imminent death floating above this wonderful, cursed city.

In today's Palermo, we witness the rainbow revolution in the streets promoting the right to be free. There are even community resources like local maps and LGBTQ+ friendly activities, which have become important milestones for a city in continuous evolution.
From the wild and untouched yellow-sand beaches of Mondello to the natural reserve coast of Barcarello, Palermo has many activities for visitors just a few minutes away from the city center. You'll also find a collection of welcoming pubs, restaurants and other venues located throughout the city. LGBTQ-friendly activities, saunas and spas, hotels and B&Bs are in Palermo for a reason: They reflect the progression of tolerance and openness in the city, as do a number of public events geared toward the LGBTQ+ community.  
Palermo's road to LGBTQ+ acceptance is also seen in Palermo Pride, the rally that takes place every year toward the end of spring. The celebration grows each year and has become an important moment for the local LGBTQ+ community to share their points of view through special events, seminars and panels.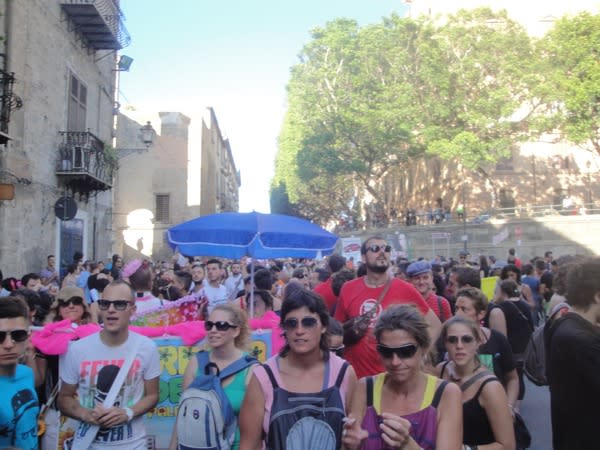 There are also several other LGBTQ-oriented events throughout the year in Palermo. The Sicilia Queer Festival is one of the most important events when it comes to cinematography with its transversal agenda, art shows, parties and movie screenings (late May/June). The DigraItaliainternational convention will take place in June 2018, focusing on women, the LGBTQ+ community and gender identity, and it also includes a special focus on videogames. From these events, the Teatro Bastardo was born, a cultural performance space and a melting pot of experiences about diversity. And on a lighter note, the party PopShock is hosted on special nights at various dance clubs with great DJs in an LGBTQ-friendly environment.
Want to experience it all? Come to Palermo.
The post was written by Wonderful Italy, who manages hundreds of vacation rentals and experiences in Italy that welcome travelers from all over the world. Visit their website to find out more about their houses and experiences in Palermo and all across the country.
"We believe in wonder. We are local and we come from the world. An Italian company with solid roots in our land. We are active in Sicily and in Apulia."
Photo credit: Rolf Dietrich Brecher via Flicker CC BY 2.0