By Bill Malcolm*
New York makes for a perfect weekend getaway, and there are many new things to see.
Getting there
I took Delta into LaGuardia where they have a bus that takes you to the subway to get to Manhattan; but LaGuardia is under construction and I liked my return flight from JFK better. It was also on Delta. JFK has been recently redone and you can see planes from all over the world—plus stay at the new TWA Hotel.
Where to stay
Most of the hotels tack on a $30 resort or amenity fee. I stayed at the Hampton Inn Times Square South, which didn't.  Other hotels I recommend which don't have the annoying fee include the new Moxy Times Square (no resort fee, you get your Marriott points, and great rooftop bar) as well as The Jane in the Meatpacking District (no resort fee but shared bathrooms).
All three were a bargain although New York is very pricey, resort fee or not.
Nightlife
While Chelsea and the historic Stonewall Inn bar are still there, most of the bars are in Hell's Kitchen just west of Times Square. My favorite bar is Flaming Saddles at 793 9th Ave. (also in West Hollywood) where the hunky bartenders country western dance on the bar once an hour.
Boxers, at 742 W. 9th Ave., is another fun bar with its sports theme and sexy bartenders. Posh, 405 W. 51st St., is also a lot of fun, as is the Atlas Social Club at 753 W. 9th Avenue. The latter has dancing.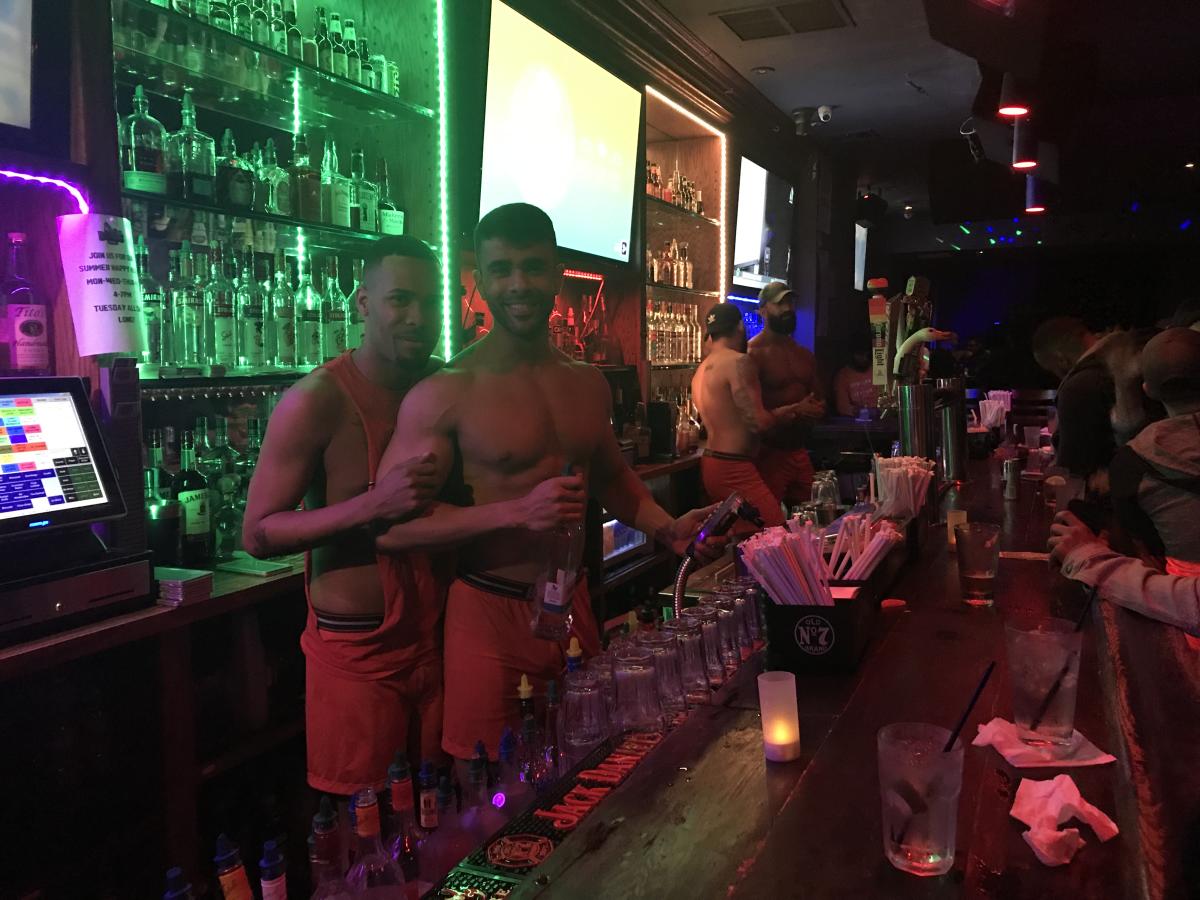 What to do
A walk through Central Park is a must.  The brand-new Hudson Yards features the Vessel, which you can climb for great views of NYC and the Hudson River. It is just off the new spur from the Highline Trail (an old elevated rail track that has been converted into a greenway). They also have a high-end shopping mall with plenty of places to eat in Hudson Yards and the architecture is stunning.  
Learn about Stonewall and the history of the LGBTQ+ movement via a walking tour.
Many museums have Pride exhibits to celebrate the 50th anniversary of Stonewall, which are still on in July and in some cases extend all the way to September:
At the Guggenheim, "Implicit Tensions: Mapplethorpe Now"
At the New Your Public Library, "Love and Resistance-Stonewall at 50"
At the Leslie-Lohman Museum of Gay and Lesbian Art- "Art After Stonewall"
At the Metropolitan Museum of Art: "Camp-Notes on Fashion"
At the New York Historical Society, "Stonewall 50"
For more information:
Gay mags include Get Out (GetOutMag.com) and MetroSource. The New York City edition of FunTravel Guides has ideas as well as well as maps of the city.
*Bill Malcolm is a freelance writer based in Indianapolis. This syndicated column appears in publications in Florida, California, and Illinois among other states. His opinions are his own. All or part of this column may appear in other publications.
Featured image by KGSImaging Flickr CC BY