Over the course of a decade, David Brown and Auston Matta have built Two Bad Tourists into one of the most popular gay travel blogs and brands, even offering curated sailing trips to Croatia and Greece. Commemorating their 10th anniversary, they've launched a podcast, "Queer Travel Chat With Two Bad Tourists," on the new iPhone app and website Callin — although they're quick to admit that serendipity played a big role in this development.
"It was not planned by any means!" laughs Brown via a Zoom call from Madrid, where the pair lives. "They basically reached out to us to create content," Matta recalls. "We have a contract for six months of weekly episodes, and it's open-ended with creative freedom. And thanks to the huge network of people we've met in the travel industry over the years, we have a bunch who agreed to be guest speakers and share their perspectives. I'm excited to share people's stories".
The Callin app launched in September 2021 and stands apart from other podcast platforms thanks to its real-time format, which allows listeners to call in live, as if it were a radio show (as well as listen to episodes after they're recorded and edited).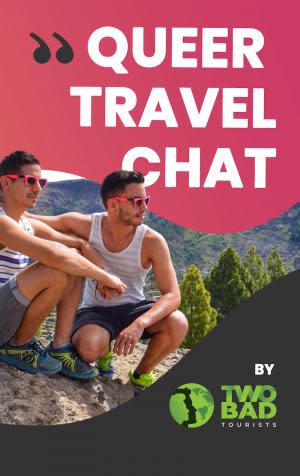 On what else will set the podcast apart from their blog, Brown says it will offer a far more personal window into their lives and literal voices. "On our blog, we're hiding behind the website, but because the podcast is our voice, that adds a personal aspect to it".
"Something that sets us a little apart from other bloggers is not everything is about us on the website," Matta notes. "What we try to do is help people have a good time traveling; that's what it's about. Sure, on social media, we'll post photos with our shirts off, but it comes down to being a practical resource for travelers. Also, what's unique about the podcast is its long-form content, so we can have a 30-minute or hour-long episode. When people read an online article of more than 1,000-2,000 words, they kind of want to move on, but when they listen to a podcast, they're there for entertainment value as well as the information."
The pair first met in 2006 at the University of Arizona, where they became members of a gay fraternity and married two years later. Although they broke up in 2018 (which they touch on in the podcast's first episode and discussed at length in a 2020 blog post), they remain besties and collaborators.
A year-long international backpacking trip in 2012 led to the creation of their gay-centric travel blog and its distinctive, hunty name, and they emphasize that a bad tourist isn't the same as a shitty, disrespectful one.
"For us, a bad tourist is someone who doesn't go see the sights they're supposed to," Brown explains. "So, if we went to Paris, instead of seeing the Eiffel Tower or Louvre, we'd get wasted at a club and sleep in the next day. There's pressure to see and do things like you've got to go there, you've got to eat this, which is fine — it's good to have suggestions, but sometimes it takes away from your own experience. We wanted the freedom to do whatever we want, so Two Bad Tourists is a way to say we write about travel, but we don't have to do anything, because it's in the name."
That said, the pair have placed research as a high priority for creating content over the years, including gay city guides, listicles, travel tips, and firsthand stories. Asked to name their favorite destinations from the 60+ countries they've visited so far, the pair reel off Japan ("it's got so much history, all these ancient temples, and yet so futuristic," Brown notes) and Reykjavik, Iceland, which the pair visited during gay pride. "The entire population is 300,000, and 100,000 come out for Pride," Matta notes. "It feels like you're on another planet, yet it's also gay-friendly. In what other country in the world does a third of the population come out for Pride?"
Spain also proved to be such a favorite that they relocated from Chicago to Madrid in 2013 and recently became permanent Spanish residents. "Madrid was a perfect amount of being gay-friendly, being based in Europe, and you could jump on a budget flight and within two hours you're in 50 different countries — and the free healthcare!" Matta says.
Also planned for this 10th anniversary, assuming COVID doesn't throw another wrench in the works, are three Two Bad Tourists sailing trips: Barcelona and Sitges in May, sailing the Greek Islands in June, and a 10-day Croatian sailing tour in August.
Asked about the one thing a gay man should always take along when traveling, on their excursions (or anywhere for that matter) Matta replies, "dating apps."
"It's one thing we didn't talk a lot about on our blog but use a lot," he admits. "Maybe this tip is for people who might be a little scared of dating apps or aren't the type for random hookups, but if you approach it as just trying to meet someone in a destination, be clear about that. It's really easy, and people seem eager to meet foreigners."
"We met a guy in Madrid [through Grindr] and saw him later in Portugal when we were there," Brown recalls. "We didn't have a car, but he was there with a friend who had a car and drove us around Lisbon! They showed us an experience we would never have had otherwise."
Laughs Matta, "we stayed in a backpacker hotel, and it turned into this fabulous vacation!"