Guest post from The Globetrotter Guys
Gay Pride in Cape Town was not what we expected at all! It really is quite unique compared to many of the other gay pride events we have been to and we highly recommend you add it to your pride bucket list.
We found Cape Town Pride to be so unique because of the people. We have never seen such a diverse and inclusive crowd at a pride festival! Most pride festivals we have been to were 95% men (which of course is nice for us!), however this is not the case for Cape Town at all.
There is an even spread across gender, age, sexuality and race—everyone is well represented, which of course is what pride is about. We spoke with the Festival Director of Pride, Matthew Van As, who said there is a common misconception that Cape Town Pride is just a festival full of the stereotypical white male crowd; the reality is completely different and as a result Cape Town Pride had a very diverse and local feel to it!
Take a look at all you need to know about Gay Pride Cape Town and let us convince you to get yourself booked for next year!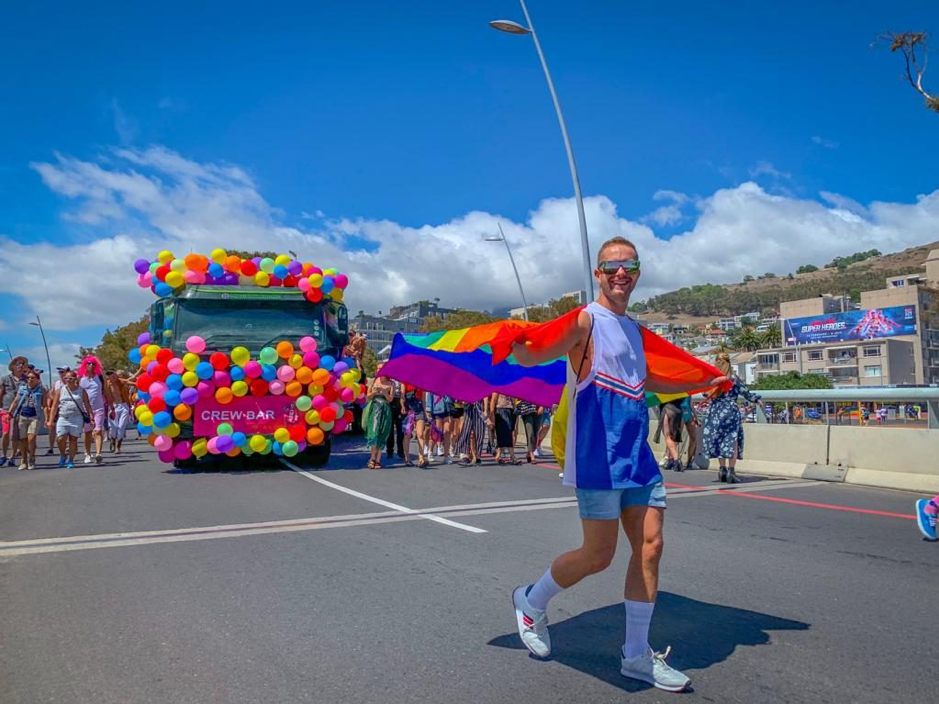 Gay Pride Cape Town: Background
Gay pride in Cape Town has been running for just over 17 years and attracted a crowd of about 9,000 people in 2019.
It is now the largest gay pride in South Africa, which is quite incredible when you consider the size of Cape Town compared to the likes of Johannesburg. The festival director estimates that they have been growing about 1,000 people each year and he has big plans to continue this trend with the aim of outgrowing their current venues.
For the last few years, gay pride in Cape Town has been well received by the public. When we were marching in the parade through the city everyone was watching from balconies, cheering and beeping their car horns!
The only backlash to Cape Town Pride in recent years has been some small protests of 5-10 people. These protests take place on and off, with no protests happening at all in 2019.
As per their website, Cape Town Pride's mission is to:
Be fully inclusive of all sections of the LGBT+ community.
Provide a celebration of LGBT+ life and a platform to continue the fight for equality and to challenge prejudice.
Establish Cape Town Pride on a sustainable footing and grow the festival over time to better serve the needs of Cape Town's LGBT+ community and promote Cape Town as a beacon to the world.
When is Cape Town Gay Pride?
Cape Town gay pride is held at the end of February/start of March. Events are held throughout two weeks, leading up to the Pride Parade and the main Mardi Gras Festival.
Keep an eye out for next year's dates to be released!
Cape Town Pride Events
Over the course of two weeks there are events for everyone, including different faith communities, pride pageants, fun runs in fancy dress, men's/women's nights, pool parties, poetry evenings, drag shows, bingo nights, comedy nights, professional networking mixers, parties—the list goes on!
The biggest events not to miss are, of course, the main pride parade, the pride Mardi Gras Festival and the official after party, all of which culminate on the final weekend.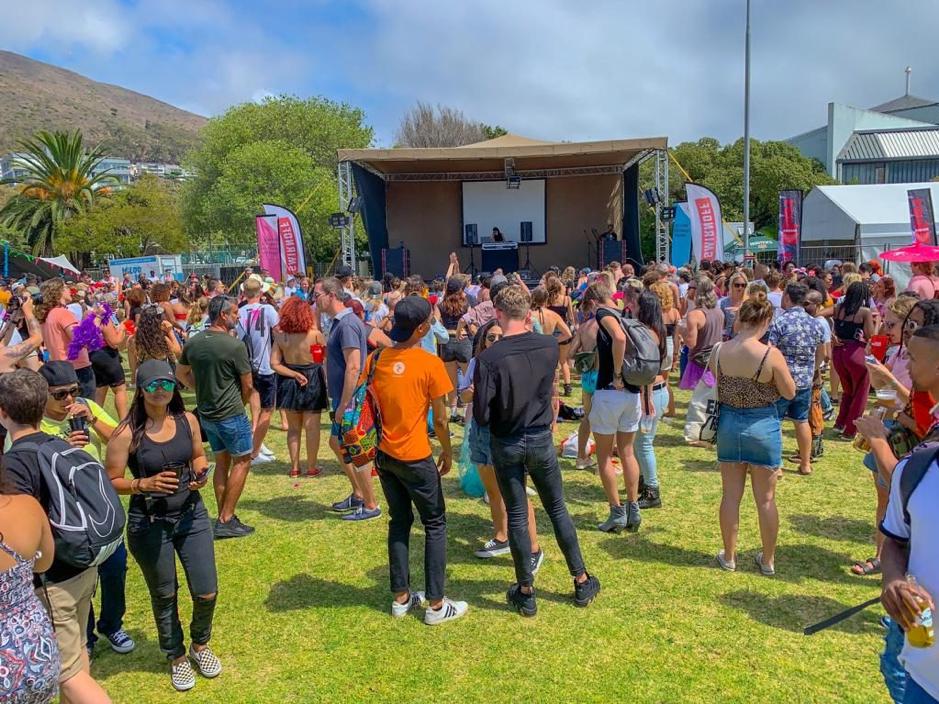 Cape Town Pride Parade
The Cape Town Pride Parade is usually held at midday on the final Saturday of pride. We were joined by thousands of people showing off their pride colours as they marched and danced through the city.
The parade starts at Prestwich Street and finishes in Green Point, where the Mardi Gras Festival is held.
Make sure you check out the float from Crew Bar for the hottest guys!
The Pride Mardi Gras Festival
The pride Mardi Gras Festival continues after the parade from 1pm through to 9pm, and costs 60ZAR (about US$4.20) to attend.
The event is held in Reddam Park, with plenty of pop-up bars, stalls, food venders, and of course, a main stage area.
We loved the atmosphere! Everyone was very friendly, the weather was perfect and it had a really positive vibe. You could sit back and chill on a bean bag chair at the bar, or (after a few vodkas) get up into the main stage area and dance to Beyonce!
The acts performing on stage are all purposefully kept local. The organisers only use local artists, speakers and DJs because keeping a local flavour is very important to them. In case you know your South African acts, this year they had Ceri Dupree, Jimmy Nevis, Craig Lucas, Manila von Teez, Zoe Zana, 3D, Lathiem Grabriel, 4 Tons of Fun and more!
We highly recommend this event—for us it was probably the highlight of our weekend! However, don't use up all your energy because afterwards we headed to the official pride afterparty…
Official Pride Afterparty
This is normally held in the popular gay bar called Crew Bar. However, this year the bar was being refurbished so they took over TAU instead. (For a full list of gay bars, check out our guide to Cape Town gay bars).
Entrance was free until 9pm provided you already held a Mardi Gras Festival ticket, and 50ZAR (US$4) afterwards. If 7 hours partying in the park is not enough for you, make sure to finish your day here!
The music here was mainly house and trance, which isn't our usual preference, but there was the occasional pop and chart song remixed in. However, the hot topless bartenders more than made up for this, which made it worth staying out!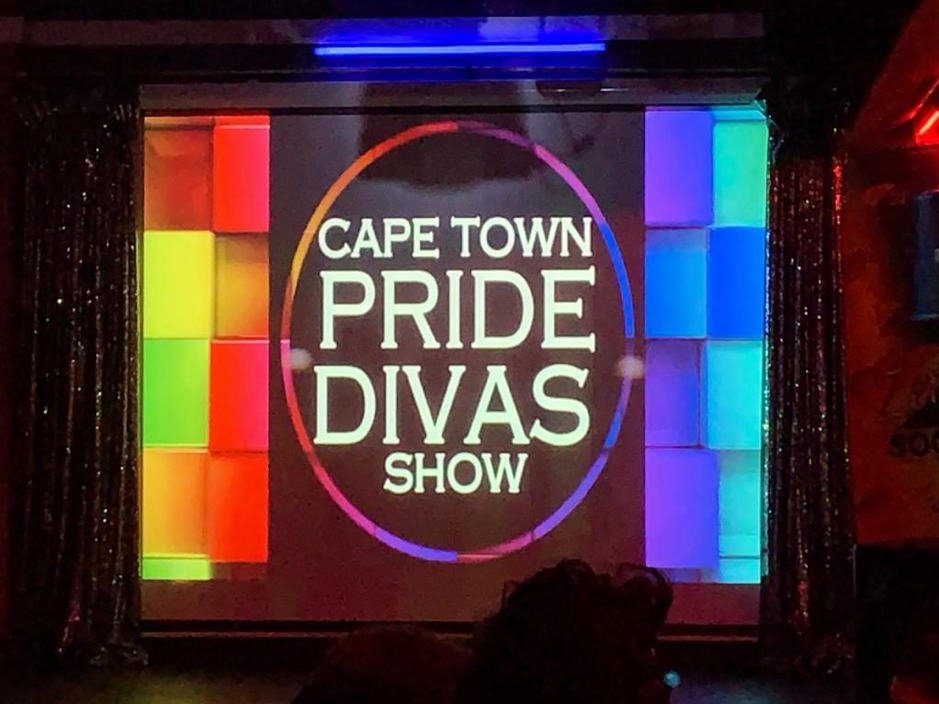 Where to stay for Cape Town Pride?
Cape Town does have a few different options that are specifically gay-owned or known for being LGBTQ+-friendly. Take a look at these options:
Cactus House
This is a small exclusively gay male guesthouse. It hosts dinner parties and South African style barbeques (braais) where you can enjoy good food, exquisite wine and great company.
It is located a bit further away from the waterfront but Ubers are very cheap to get around.
Address: Cactus House 4 Molteno Road Oranjezicht, Cape Town, 8001 RSA
Price: US$70-$135 per night depending on season
The Twelve Apostles Hotel and Spa
If you feel like treating yourself, head to the beautiful Camps Bay and check out Twelve Apostles. This is a luxury hotel with exceptional service, friendly staff, outstanding food and incredible views. They also offer a shuttle bus taking you into Camps Bay and the V&A Waterfront.
Address: Twelve Apostles, Victoria Road, Camps Bay 8000 South Africa
Price: Approx. US$400 per night depending on season
Cape Town Gay Pride was certainly something special. We ended the week at a smaller pride event, which was an afternoon mixer at a beachfront bar in the stunning Camps Bay—the perfect way to finish the weekend.
Not only that, if you have not yet been, Cape Town is my (Sion's) favourite destination. It has incredible scenery from Table Mountain to beaches and national parks, the best food we have ever tried, exciting things to do, and for most international travellers, it is very affordable.
Let's finish with a final message from the Festival Director Matthew: "Come, see and experience the natural beauty of South Africa and enjoy the diverse and inclusive city of Cape Town—see you in 2020!".
We hope you will get yourself booked for next year! Maybe we will see you there!