Royal Caribbean International's Symphony of the Seas, which debuted in 2018, is the largest cruise ship in the world to set sail. It has an impressive total capacity of 6,680 guests, with 2,759 staterooms, 18 decks, 25 pools, and 2,200 international crewmembers. Despite the number of guests, the ship is so vast that you don't feel crowded at all, and you can still find lots of quiet spots if you are looking for it. 
The ship offers an amazing array of activities, shows, restaurants, shops, and bars that will delight guests of all ages. Here are some of the coolest things you need to know about the Symphony of the Seas: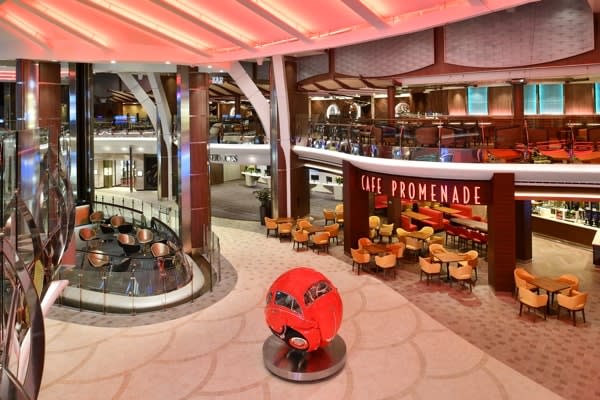 Neighbourhoods
The cruise ship is divided into seven neighbourhoods and each one has its own unique character. That alone is reason enough to visit the Symphony of the Seas. 
Boardwalk – This is an open-air plan zone where you will find the handcrafted carousel, a Johnny Rockers diner, Sugar Beach candy and ice cream shop, and Playmakers Sports Bar & Arcade. This is also where you will find the AquaTheater and dazzling aerial aqua performances.
Pool and Sports Zone – Located at the top of the ship, it is home to five types of pools and has a lineup of the most active adventures, including the Ultimate Abyss—the tallest slide at sea. 
Central Park – This is an open-air Royal Caribbean signature neighbourhood featuring lush plants, boutique stores and restaurants. 
Royal Promenade – This is the heart of the ship, where you first step on board and where you will find a variety of shops and bars.
Entertainment Place – Filled with life and energy day and night, this is where you will find the Royal Theater and Studio B. You can even take part in a glow-in-the-dark laser tag adventure called Battle for Planet Z.
Youth Zone – For adventurous tots and teens.
Vitality Spa and Fitness Center – This is where you can rejuvenate yourself. It is also home to a fully equipped gym and running track.
The Ultimate Family Suite
Symphony of the Seas' ultimate family suite is a two-level, 1,346 square feet suite filled with awesome thrills, including an in-suite slide, floor-to-ceiling LEGO wall, private cinema (complete with popcorn machine and video game library), air hockey table, full-size whirlpool and a tennis table. 
Lively Entertainment
Royal Caribbean has taken entertainment to the next level with a variety of shows, including the new Flight: Dare to Dream, a one-of-a-kind journey through the past, present and future of air travel and space exploration. Hairspray, the Broadway production, can also be found onboard at the Royal Theatre. The outdoor aqua show, HiRo, is a must-see at the AquaTheater, featuring high-flying feats, unexpected stunts and amazing acrobatics!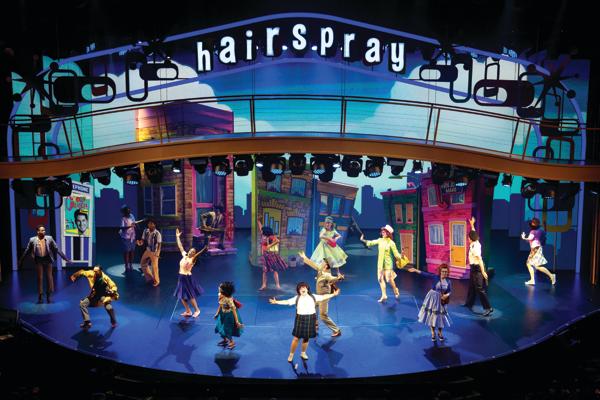 Dining
Symphony of the Seas will have your taste buds tingling with more than 20 restaurants from bow to stern. There's a little bit of everything, from the Hooked Seafood restaurant with fresh, New England-style favorites to made-to-order Mexican "street fare" at El Loco Fresh.
Bars
There are 42 bars and lounges on the Symphony of the Seas. One of the coolest is the Bionic Bar, which has two robot bartenders that make drinks to order with a combination of 30 spirits and 21 mixers. The Jazz on 4 is a favourite for live performances; set in an intimate room with plush seats, it's a relaxed place to unwind after a long day. One of the liveliest bars in the evening is the On Air karaoke bar, where you can show off your singing skills or just sit back and watch.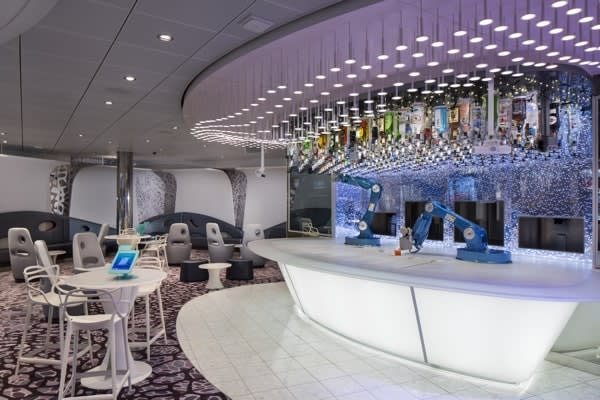 Slides
The Ultimate Abyss, located at the rear of the ship, is the tallest slide at sea—a 10-story test of courage. This is a dry slide where you hurtle downward on a mat. The slide is a dark tunnel with sounds and flashing lights all the way down. If you are looking for a splash, the "Perfect Storm" is a trio of thrilling multi-story waterslides named Cyclone, Typhoon and Supercell.  There are also two FlowRider surf simulators. 
Whether you love adventures or just want to lay back and relax, the Symphony of the Seas will surpass your expectations. From accommodations to entertainment, dining and bars, the Symphony of the Seas is more than just a cruise ship—it is an experience of a lifetime.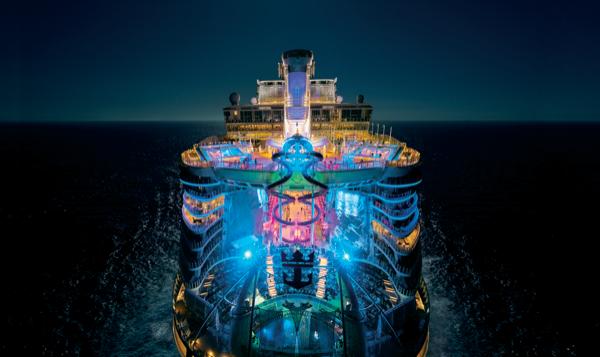 Barry Joy (aka asianmapleleaf) is an ambassador of all things travel. Barry was born and raised in Toronto and currently lives in New York City. Follow his adventures with his boyfriend, Teraj, on asianmapleleaf.com or on Instagram @asianmapleleaf.