By Bill Malcolm*
Stunning modern architecture, a vibrant LGBTQ+ scene in a gayborhood (Midtown), the incredible Botanical Garden in Piedmont Park, the new BeltLine Trail, old-growth forests in Fernbank Museum and Park, and the Ponce City Market (located in a former Sears Building) are among the many reasons to visit Atlanta. This region of 6 million is actually in the foothills of the Appalachian Mountains and is at 1,000 feet above sea level. You cannot beat the ATL (aka Atlanta, Georgia) for a long weekend or extended stay. Indeed, the weekend before I was there was Black Pride, the weekend I was there was Beer Fest, and the following weekend featured a two-day music festival in Piedmont Park. Then following that was Out Night 2.0 at the Georgia Aquarium.
 WHAT TO DO
The new Beltline Trail runs from Piedmont Park south to the Ponce City Market. Perfect for a stroll followed by a meal in the Food Hall.
Also in Piedmont Park is the incredible Botanical Garden, which mixes art and plants. Don't miss the Earth Goddess, a giant statue made of plants. The Fuqua Conservatory and Orchid Center is another option in the Garden.
Nearby is the High Museum of Art (high.org). "Picturing the South: 25 Years" opens November 5.
The Georgia Aquarium downtown is another must. See the new shark exhibit.
Nearby is the new National Center for Civil and Human Rights. It chronicles the amazing life of Martin Luther King Jr. and his struggles for racial equality and human rights.  Called "the city too busy to hate" by longtime Mayor Hartsfield, the city's rich history is indeed fascinating. (civilandhumanrights.org)
A short bus ride east will take you to the incredible Fernbank Museum of Natural History and Forest, which also has an old-growth forest for hiking. Who knew Eastern Hemlock and other deciduous trees thrive this far south?  
A CityPass will get you into many of the top attractions for less and makes entry a breeze.
GETTING THERE
I took Delta Airlines, rated #1 among airlines by JD Power. It is their hub and also home to the incredible Delta Flight Museum, which chronicles the carrier's interesting history and acquisitions. Who misses the free champagne on Western Airlines before Delta merged with them? I do.
GETTING AROUND
Buy a MARTA Breeze Card for a trip on their subway. From the airport, get off at Arts Center Station for most midtown hotels. You can get around Atlanta by walking or taking MARTA although Uber/Lyft is another option.
WHERE TO STAY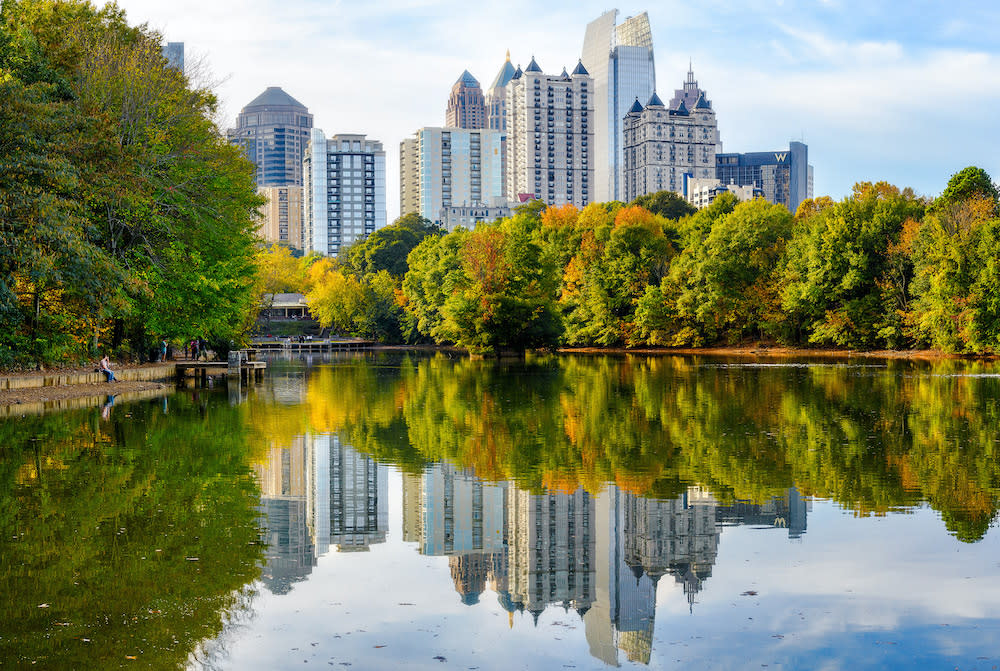 I liked the Hotel Midtown (formerly the W Midtown, soon to be a Hilton Curio collection) especially for its location in Midtown. It's just steps from Piedmont Park, and the Colony Square office and retail complex is next door—where you will find Sweetgreen, the DC salad fast-casual chain. Try the blackened catfish salad.
Farther west is the new Bellyard Hotel in West Midtown, which has a fun bar in a post-industrial setting.
WHERE TO EAT AND DRINK
Midtown has a lot of great choices including Zocalo Mexican on 10th Street, Henry's (perfect for brunch), and more. Blake's on the Park is ideal for a cocktail. You will find them at 22 10th Street NE. Midtown Moon is very popular (1492 Piedmont NE) in nearby Ansley Park. It serves dinner and drinks, has drag shows and karaoke. Women and men will love My Sister's Room on 12th Street. You also cannot beat the Heretic. The nightclub is celebrating its 30th year. (hereticatlanta.com)
INSIDER TIPS
You will need a mask for indoor activities. The conference I attended required proof of vaccine or a negative COVID test.
Work out with the gang at the LA Fitness in the Ansley Park Mall.
There are 55 streets named Peachtree, so be mindful if you are on Peachtree NE or Peachtree NW. It's confusing.
FOR MORE INFORMATION
Who says print media is dead? Atlanta has three great print LGBTQ+ publications packed with more ideas for your visit: Q Atlus (TheQATL.com), Peach Magazine (PeachATL.com), and the Georgia Voice (TheGeorgiaVoice.com). The Voice also puts out Destination Gay Atlanta, the city's official LGBTQ+ travel guide.
The Atlanta Convention and Visitors Bureau (DiscoverAtlanta.com) also has great ideas for your visit and has a special LGBTQ+ traveler's guide.
Atlanta is surprising and wonderful. It will exceed your expectations and you will wish you had more time to explore this friendly southern metro.
*Bill Malcolm is America's only LGBTQ+ value travel writer. His syndicated column has appeared in LGBTQ+ publications around the country. Special thanks to the International LGBTQ+ Travel Association (iglta.org) for allowing me to attend their annual convention in Atlanta as well as the Atlanta Convention and Visitors Bureau for their hospitality. Check with governmental authorities for current COVID-19 travel restrictions and warnings.