by Ivan Quintanilla
This post originally appeared on EDGE Media Network
Cycling through Atlanta on a guided tour, the city feels both significantly historic and vibrantly modern.
The sun shines as I pass newly painted murals along with the Old Fourth Ward; pedal through the Sweet Auburn neighborhood, a hub of the American civil rights movement in the 1950s and 60s; and experience the landmarks in Martin Luther King, Jr. National Historical Park.
Our guide, Robyn Elliott, explains each spot's significance and, sensitive to my interests, expand her traditional Journey for Civil Rights bike tour to include Atlanta's convergence of Black and queer cultures. After all, the city is both the "cradle of the civil rights movement" and the unofficial LGBTQ+ capital of the South.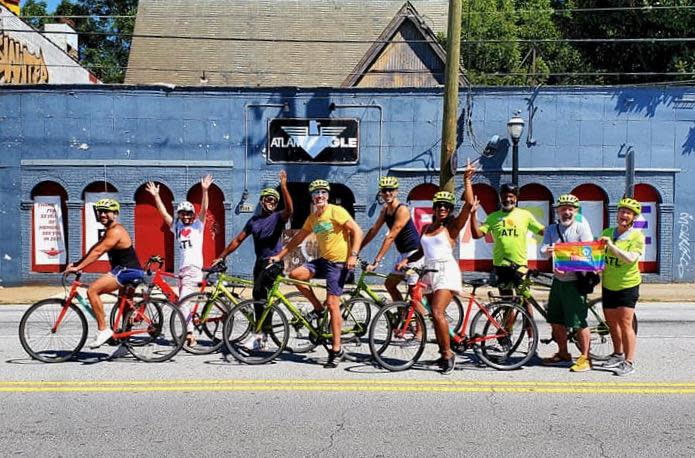 In addition to its civil rights-focused tour, Bicycle Tours of Atlanta launched a Queer History tour this year that explores the city's LGBTQ neighborhoods, nightlife culture, and even the establishments that helped launch the career of a drag queen named RuPaul. Maybe you've heard of him?

That tour is curated by Charlie Paine, who chairs Historic Atlanta's LGBTQ Historic Preservation Advisory Committee, a group focused on the preservation of LGBTQ significant sites and responsible for the historic landmark designation of the (currently closed) Atlanta Eagle, a popular photo-op on the tour.

For the queer community, Atlanta has often been the embracing beacon of the American South, an area of the United States not always associated with inclusivity. The city has a perfect score on the Human Rights Campaign's Municipal Equality Index, its first LGBTQ Advisory Board created by Mayor Keisha Lance Bottoms and — just in case you had any doubts — a permanent rainbow crosswalk at the epicenter of the Midtown gayborhood.
In the 2020 election, the Atlanta vote was instrumental in delivering President Biden's win and flipping the U.S. Senate blue by electing Jon Ossoff and Rev. Raphael Warnock, the first Black senator to represent Georgia.

This year, Mayor Bottoms designated all city-owned single-user restrooms as all-gender restrooms, creating over a hundred safe spaces for trans and nonbinary people.

Fighting for marginalized communities is imprinted in the city's DNA.

To honor this history while further expanding its reach, The National Center for Civil and Human Rights opened in 2014. Part museum, part human rights organization, The Center documents the history of the U.S. civil rights movement while linking the struggles of that era to the ongoing fight for human rights around the world today, including the creation of The LGBTQ Institute.

"The principle that civil and human rights movements are inextricably linked with one another is embedded in our research and education programs; with a focus on those who work at the intersections of sexuality and racial, gender and economic justice," says Ryan M. Roemerman, The LGBTQ Institute's Executive Director.
Atlanta Pride, All Year Long
Every Labor Day Weekend, nearly 200,000 people celebrate that same intersectionality during Atlanta Black Pride Weekend, the largest Black Pride event in the country, according to Melissa Scott, the Managing Partner of Atlanta Black Pride Weekend. Though the majority come from the United States, about 30 percent are international attendees. The city also hosted this year's International LGBTQ+ Travel Association's conference, bringing together hundreds of queer travel leaders and allies from around the globe.

"What I've learned from the feedback is that a lot of other countries don't have Black Prides so they find a space where they're able to identify a little differently when they get to Atlanta," says Scott.

"Atlanta Black Pride is family. It is fellowship. It is a coming together for us to address needs specific to Black LGBTQ people. Everybody is welcome; everybody has always been welcome. But this particular event is for us, by us," says Darian Aaron, Communications Director of Atlanta's Counter Narrative Project, an organization committed to shifting narratives about Black gay men.
Though this year's Black Pride festivities were scaled down to comply with COVID protocols and the Atlanta Pride Festival and Parade were canceled, as I explore the city's nightlife, it's abundantly clear that Atlanta needs no special occasion to party.

"Atlanta is a gay town seven days a week — if you're an LGBTQ person here, you can have a good time," says Scott.

Blakes on the Park by the rainbow crosswalk in Midtown has been an Atlanta gay staple for more than three decades. Less than a mile away, Ansley Square is basically an LGBTQ+ shopping and entertainment center and home to Midtown Moon, Mixx and behind the mall (as its name suggests), The Hideaway, a friendly neighborhood bar catering to a scruffy, age-diverse crowd. And for the ladies, Atlanta is one of the few cities to boast a thriving lesbian bar, My Sisters Room.

To an outsider's eye (and ironic for a city so integral to the civil rights movement), Atlanta's LGBTQ scene appears racially separated.

"Speaking from a historical lens of how nightlife has operated in the city of Atlanta, it is very much segregated. You have your Black clubs and your white clubs," acknowledges Aaron.

Everyone (of varying races) I discussed this with had a different take on it: from hoping for greater unification to being comfortable with the status quo. However, no one expressed this as a detraction from their love of Atlanta or their loyalty to its LGBTQ+ community as a whole.
For Scott, a venue's crowd is about the music. "You take an establishment that has traditionally 80% white people, and you put hip hop in it, it flips." When discussing the differences between the Pride festivals, Scott contends that Atlanta has room for both: "One unified Pride would be beautiful but, in all honesty, there's definitely different cultures, different music, it's just a different vibe."

"I think, as any major city, we are diverse, and some people stick to what they know. But at the end of the day, we are one Atlanta. I think the strength that Atlanta has had is that we've always been able to come together over our differences for a common cause and common value," says Malik Brown, the city's first full-time Director of LGBTQ Affairs, chosen by Mayor Bottoms within her first 100 days in office.
A Future For Everyone
Atlanta's queer businesses stretch way beyond nightlife — from limited-edition apparel to queer-focused theater to award-winning restaurants.

[READ MORE: Black LGBTQ Entrepreneurs Find Success, Community in Atlanta]

Black- and gay-owned Virgil's Gullah Kitchen and Bar was on everyone's recommendation list and now is at the top of mine. Celebrating the cuisine of the Gullah Geechee people, descendants of Central and West African enslaved people on the Southeastern U.S. barrier islands, Virgil's has a DJ on the weekends, an emcee hyping the crowd, and fantastic food and drinks every night.

For Aaron, restaurants like Virgil's have "kind of become a de facto gay center for Black folks... we can go and be ourselves and be among family." As a gay Latin man, I felt extremely welcomed and plan on visiting Virgil's on any upcoming Atlanta trip.
Not one to rest on its progressive history, Atlanta continues the push for equality with a renewed focus on its LGBTQ+ community. In addition to the Mayor's LGBTQ Advisory Board, the city has also designated LGBTQ+ liaisons to the Police Department, Fire Department and Department of Corrections.

"A lot of the work that we've been doing at the LGBTQ Advisory Board over the last four years has been building infrastructure where it did not exist before," says Brown. "We are the LGBTQ capital of the South. There is no southern city that has this function in their government and there isn't a southern city that has a mayor that is this out-front on our issues."

If you plan on visiting Atlanta's most popular tourist attractions, including The National Center for Civil and Human Rights, the Atlanta CityPASS is the easiest and most cost-effective option.