Recently, my partner and I had the privilege of traveling aboard the M/V Zafiro, a luxury Peruvian Amazon River Cruise offered by the niche travel company Rainforest Cruises. A river cruise is arguably the best way to discover the mighty Amazon in supreme comfort. Aboard the Zafiro, we found ourselves getting lost in the natural habitat of the rainforest, all whilst snuggled up on our perfect private balcony, overlooking the Amazon River. This experience provided us with some of the most remarkable memories in this precious area of South America.
Inclusivity On Board
Kindly invited by Jungle Experiences, our own luxury jungle experience was certainly noteworthy. The Zafiro Amazon Cruise is not limited to LGBTQ+ travelers, but is more than welcoming to all gender identities and orientations. Although we were traveling in sheer luxuriousness aboard a river cruise, we were still a little nervous! However, the whole experience couldn't have been less nerve-racking. The overall attitude of the crew and guides is to keep everyone smiling; their attention is always centered around your satisfaction. Other passengers on board ranged from older couples to families with children, from all areas of the world; little focus or attention was drawn to us being a couple. Often concerned about feeling self-conscious when traveling, we were delighted to find the crew members were non-discriminatory and a pure pleasure. Steph and I felt comfortable, safe and free to be a couple. In addition, the public bathroom on board is singular and therefore gender neutral.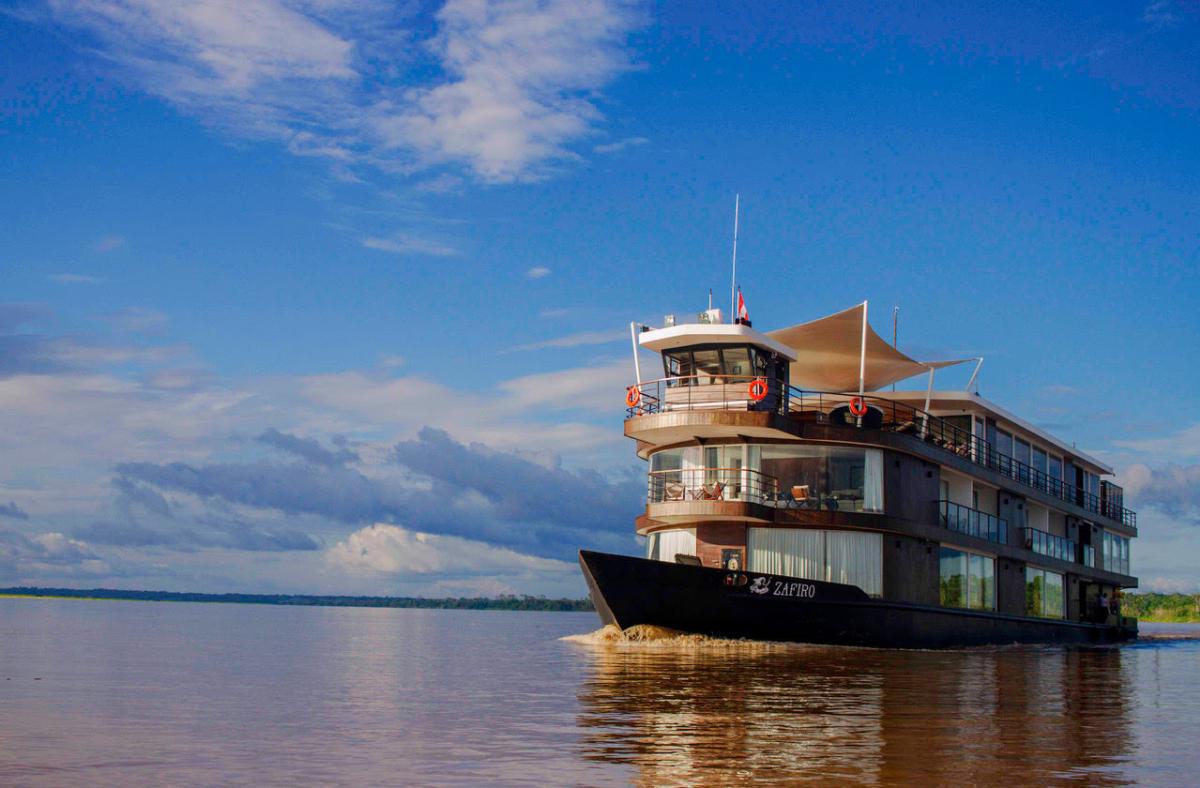 Sweet Suites
Beginning the moment you step on board, the cruise directors take pride in welcoming you to your home for the next 4, 5 or 7 days (specifically 5 for us). We were like kids on Christmas, as we followed the illuminated staircase toward new levels of discovery. Each deck has suites equipped with your own private bathroom, air conditioning and private balcony. Little elements like finding re-usable water bottles with our names on them when we opened our door, were the kind of personalized touches that left us feeling special. If you are lucky enough to bag yourself the distinguished Zafiro Suite, you will even find your own Jacuzzi-style bathtub complete with telescope inside the room. The tremendous floor-to-ceiling windows in every suite, provide completely undisturbed views of the Amazon Rainforest, and there is nothing quite like admiring the sunrise before breakfast.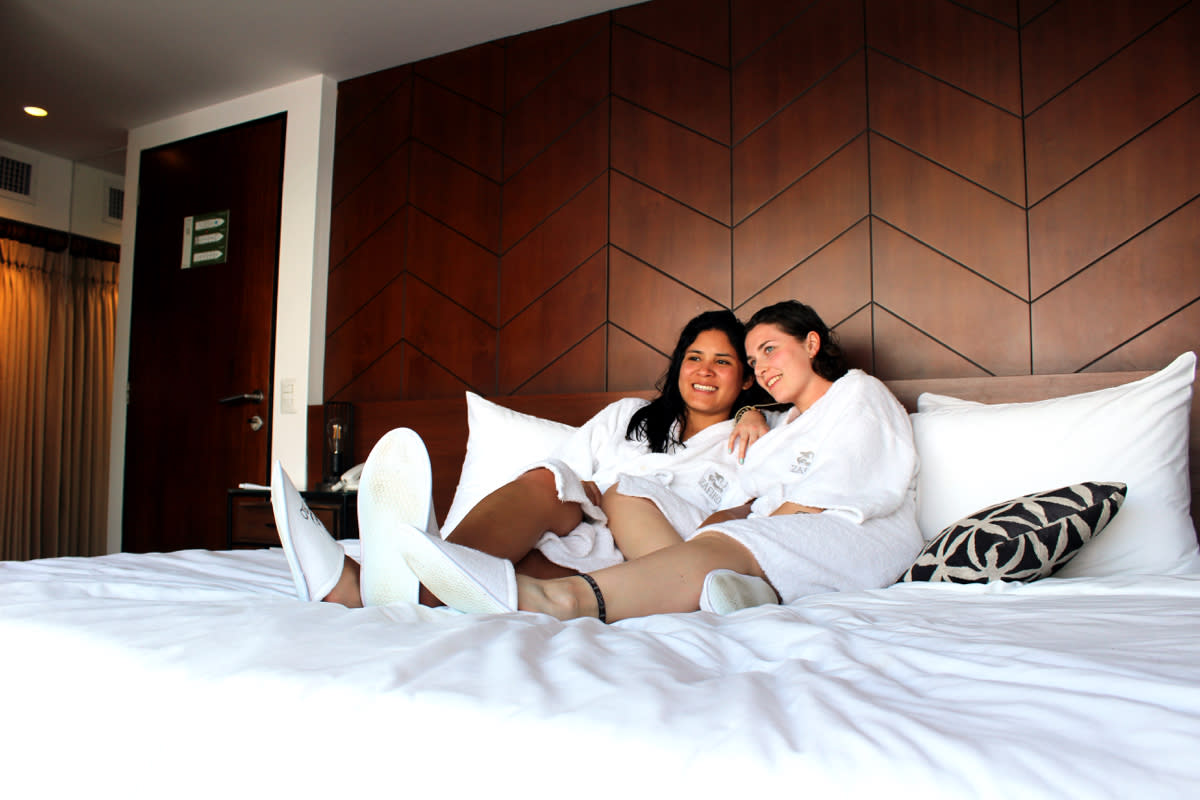 Cruising in Style
Speaking of views, a stroll up to the observation deck shouldn't go amiss! As far as we were concerned, grabbing a glass of wine and retreating to the outdoor jacuzzi was the sweetest way to relax between excursions. The spa is another alternative, and they have a gym too! The band's lively music managed to get us up on our feet and dancing before dinner, as entertainers whirled around us in stunning native costumes. Fellow foodies take note: Amazonian flavors resonate in each on-board dish, as most ingredients are locally sourced to create a different menu every evening. Perhaps the most interesting snack was the piranha (we caught that day)!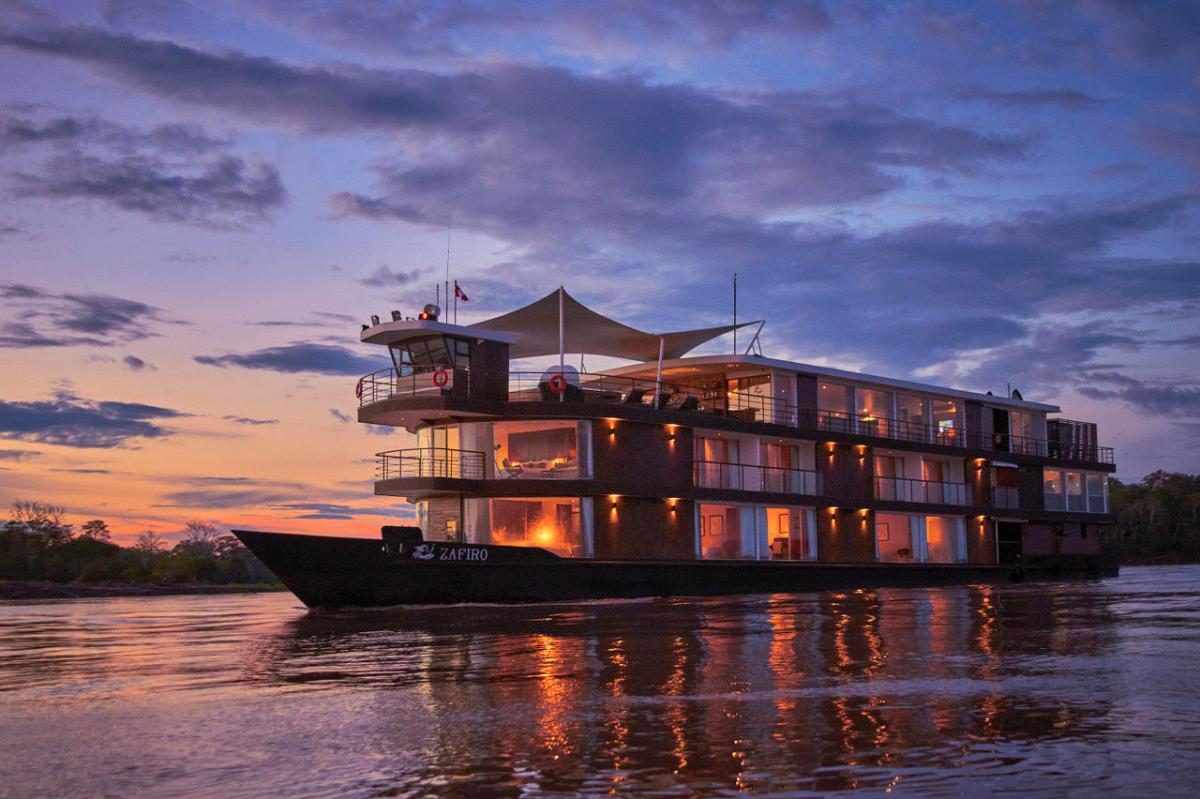 Adventures In The Amazon
There is undoubtedly no shortage of fun on this itinerary. Steph and I couldn't believe our eyes as we spotted countless indigenous birds, sloths, monkeys and even the rare Amazonian pink river dolphin. You should take every excursion on offer as you never know what animals will choose to appear, even during the mystical night expedition. English-speaking naturalist guides (most which have been born and raised in the Peruvian Amazon) conduct the daily activities. We took advantage by asking questions any chance we got. Highlights of our trip were: piranha fishing, swimming together in the Amazon River, spotting dolphins and paying a visit to the Shaman and adorable children in the nearby village. Our personal favourite location was the breathtaking Pacaya Samiria National Reserve. After our experience, it's a wonder anyone would ever want to leave.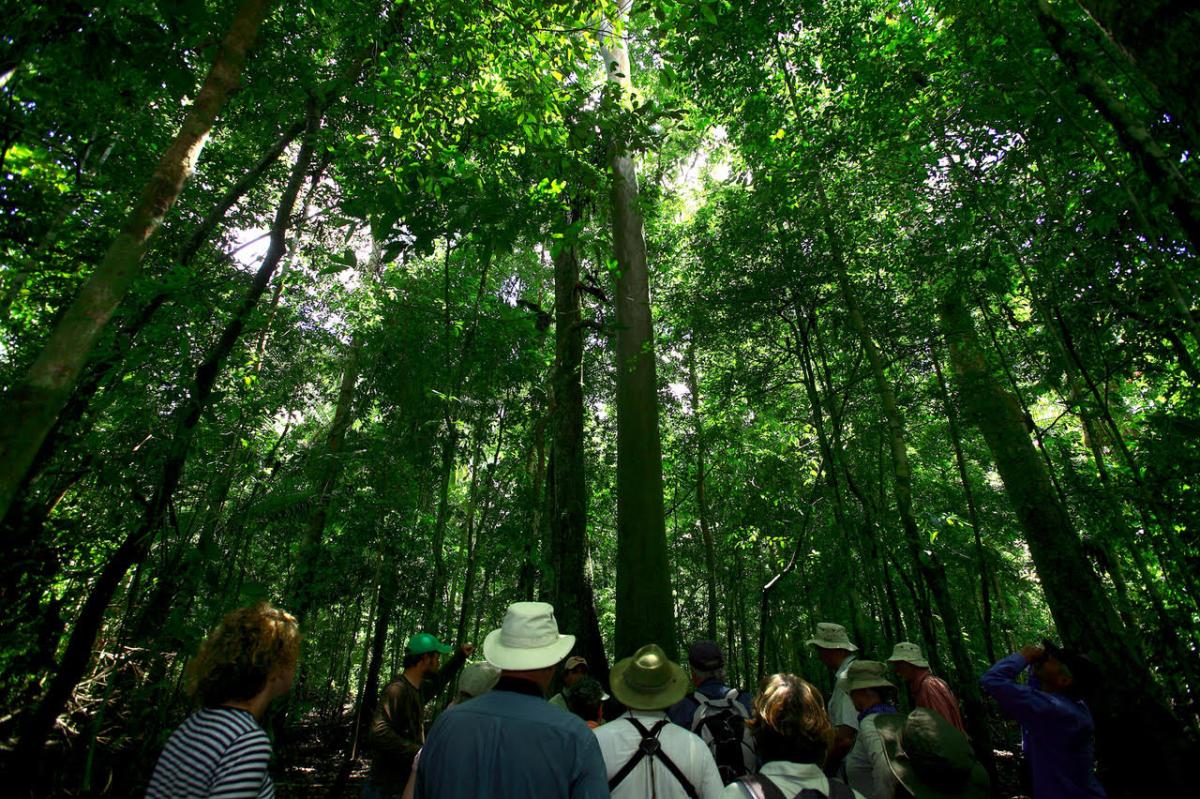 Getting There
Getting to the Peruvian Amazon is easy, especially when you have amazing agents taking care of you. The journey flows from Lima to Iquitos via plane, after which your transport is ready and waiting to take you to the designated cruise port. This would honestly be a great time to check out more of Peru, perhaps organizing a tour to Machu Picchu or the Sacred Valley as an extension around your cruise. 
Contact Information
Rainforest Cruises is an LGBTQ+ friendly boutique travel company specializing in expedition cruises and custom land extensions. They offer exciting cruise options throughout South America and Southeast Asia, including the Galapagos Islands.  For enquiries, please write cruise@rainforestcruises.com 
Ebony and Stephanie are a couple both working in the luxury travel industry, constantly on the lookout for exciting new experiences inclusive for all LGBTQ+ travelers.