Written by: Edge Media Network
Originally Published: November 27, 2018 - Click here to view original article 
If you want to experience the epicenter of America, head to Oklahoma City. Equal distance from Los Angeles and New York City, OKC literally popped up overnight, thanks to legislation passed by President Benjamin Harrison in March 1889, which opened up Unassigned Lands to more than 50,000 homesteaders in a mad rush to plant stakes and start life anew. 

Today, the metropolitan population soars over 1.3 million, but in many ways, Oklahoma City still retains that small town feel. A recent visit revealed a robust culinary and craft brewery scene, cultural and historical attractions, and an emerging LGBTQ+ community that's increasingly attracting regional and national attention. Here are seven reasons why OKC beckons to be your next weekend getaway.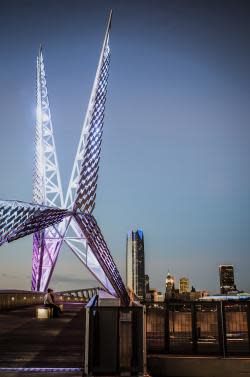 Skydance Bridge  (Source:OKC CVB)
1. MAPS 
In an era when our federal government is touting tax cuts and other big business incentives, Oklahoma City has proven that small contributions can have a long-lasting impact. In 1993 voters approved a limited one-cent sales tax to fund city projects without going into debt. 

The bold move has transformed OKC and is now completing its third phase. Projects have included new and upgraded entertainment and convention facilities, a complete overhaul of the city's public school system, improvements to the Chesapeake Energy Arena (home to the Oklahoma City Thunder), a senior health and wellness center, and more. 

Mayor David Holt has called upon city residents to submit their ideas for phase four, saying, "MAPS has changed our city forever, and we have the opportunity, perhaps even the obligation, to continue building a city that our kids will want to call home. We have the opportunity to continue our city's momentum and ensure that it is felt by all."

2. Boathouse District 
If you thought that OKC was landlocked, think again. The Oklahoma River runs right through the city and inspired founder and executive director Mike Knopp to dream up Riversport OKC and the Oklahoma City Boathouse Foundation. The public/private partnership includes Riversport Adventure Parks, which includes whitewater rafting, adventure courses, zip lines, climbing walls, and more; as well as a U.S. Olympic and Paralympic training site for whitewater and flatwater canoe/kayak and rowing. The river provides the only lighted course in the world, but more importantly for Knopp, the range of experiences and activities, "helps people become something more than they thought they'd be."
"Dale Chihuly: Magic & Light"  (Source:Matthew Wexler)
3. Can't-Miss Cultural Attractions
Oklahoma City Museum of Art — This small but mighty collection dates back to the early 20th century and officially incorporated as a private institution in 1945. Museum highlights include "Dale Chihuly: Magic & Light," an alluring display of works from one of the world's most renowned glass artists; and the upcoming "Ansel Adams and the Photographers of the West," a stark exploration of our country's landscape (February 1 - May 26, 2019). 

Two soon-to-be featured LGBTQ+ artists include Alfonso Ossorio's "INXIT," which will appear in "Off the Wall: 100 Years of Sculpture" (December 22, 2018 - May 12, 2019) and "Apichatpong Weerasethakul: The Serenity of Madness," a video installation that will appear in its own gallery beginning in May, 2019. 

Oklahoma City Zoo and Botanical Garden — Go wild at the OKC Zoo. Recent additions include the newly expanded Sanctuary Asia, home to the zoo's Asian elephants, Indian rhinos, Komodo dragons, red pandas, and more. The Lotus Pavilion's two-level restaurant offers panoramic views of the zoo's 140 acres. The zoo recently welcomed the birth of a new elephant, Kairavi, the third calf born at the zoo. Those who want a "wild encounter" can book behind-the-scenes experiences with grizzly bears, sea lions, Galapagos tortoises, flamingos and elephants. 

Oklahoma History Center — Want to take a deep dive into Oklahoma history? Head to the Oklahoma History Center for a revolving calendar of exhibits that draw upon thousands of artifacts. Musical theater fans will be shouting O-K-L-A-H-O-M-A! from the rafters after visiting the center's exhibit celebrating the musical's 75th anniversary. "Oklahoma!" was practically the "Hamilton" of its day, playing 2,212 performances and becoming the first Broadway musical to record an original cast album. The installation includes archival materials from the show's development, as well as historical items that reflect the turn-of-the-century homestead that inspired the musical's creation.
4. Best Bites
Consider extending your OKC visit by a day just to squeeze in all the good eating, but if you're in a pinch, here are three spots to include on your must-eat list. 

The Jones Assembly — This soaring concert and culinary venue located in Oklahoma City's emerging Film Row district spans 20,000 square feet, but don't let the size intimidate you. What was once part of the Fred Jones Manufacturing Complex is now turning out modern fare with global influences under the watchful eye of Brittany Sanger. Highlights (of which there were many at a recent visit) included Thai chile glazed octopus, beautifully charred and served with cooling labneh, mint, and lime; wood-fired chicken with roasted vegetables and soft-poached egg; and housemade tagliatelle with braised pork ragu and herb ricotta.

Pho Cuong Restaurant — This unassuming Vietnamese restaurant is one of many Asian restaurants that can be found throughout OKC, which have continued to pop up over the past 40 years. For less than 10 bucks you can get a steaming bowl of pho, topped with various cuts of beef, fresh mint and bamboo shoots. Toss in a few slices of jalapeno for an extra kick and you'll be in pho heaven. 

Tucker's Onion Burgers — The onion burger dates back to the Great Depression as a means to get more bang for your buck out of ground beef. Cooked on a searing hot flattop griddle with plenty of thinly shredded onions, the burgers are quintessential OKC grub. Tucker's uses Creekstone Farms Black Angus beef, and if you've got the appetite (and no cholesterol worries), go for the Mother Tucker, a one-pounder slathered with onions and your choice of toppings. 
Ryan Fogle, Ride OKC Bike Tours  (Source:Matthew Wexler)
5. Bikes and Brews with Ride OKC Bike Tours
The newly launched Ride OKC Bike Tours is peddling its way to becoming one of the city's most coveted experiences. Husband and wife team of Ryan and Ashley Fogle operate the small business with the help of a fleet of custom-built bikes to zip around the streets of OKC. The three-and-a-half-hour tour showcases the city's architectural highlights, along with some terrific brews. 

Sours seems to be all the rage in OKC, and two tap rooms that you may want to return to after tour's end include Prairie Artisan Ales (don't miss Vape Tricks, a sour ale aged on cherries, or Bomb!, an Imperial stout aged on coffee, vanilla, chocolate and chiles) and Stonecloud Brewing Co., which occupies the historic Sunshine Laundry Cleaners Building and offers a rotating roster of terrific concoctions such as Temptation of Adam sour cider hybrid and Bramble on Foeder, an aged raspberry sour.

6. 21c Museum Hotel Oklahoma City
What once served as an assembly plant for Ford Motor Company has been reinvented as a boutique hotel and contemporary art museum. The high ceilings and lofty vibe provide an ideal backdrop for changing works as well as a few signature installations. This isn't an artsy hotel with a few paintings on the wall, but rather, a purposefully built 14,000-square-foot exhibition space. 
"Pop Stars! Popular Culture and Contemporary Art" is on display through February 2019, but be sure to check out some of the permanent pieces, such as James Clar's "River of Time," a pulsating whirl of conveyor belts, acrylic sheets, and digital integration that pays homage to the building's history while also providing a cultural commentary on the impact of technology. Free docent tours are typically offered on Wednesdays and Fridays at 5 p.m.

The various rooms and suites designed by New York City-based architecture firm Deborah Berke Partners reimagine the space for the 21st century, particularly with interior rooms that showcase a sculptural lightwell through a glass block wall. 

7. When the Sun Sets - LGBTQ+ nightlife
Oklahoma City has more LGBTQ+ bars than you might expect! Befriend a local to find out which one is hopping on any given night, but stand-outs include Apothecary Thirty-Nine, a cozy watering hole with well-made drinks and a chatty crowd; Phoenix Rising for fun drag shows; The Copa for dancing and go-go boys; and The Boom for Sunday gospel drag brunch featuring Kitty Bob Aimes and Norma Jean Goldenstein.