Naples is a fascinating city and it makes for an interesting trip during your visit to Italy. You can enjoy the diversity, a southern climate and welcoming locals. It's also close to Pompeii, Capri and Sorrento, making it a great starting point for exploring the region. Interested in learning more? Here are five experiences to enhance your visit.  
Prayer Walk
Naples has historically been a religious city. Santa Chiara Church is one of the most striking churches and is a part of a large complex that includes a monastery with beautiful cloisters with Majolica titles and frescoes as well as an interesting archaeological museum. You can also visit Gesù Nuovo, which stands on the opposite side of the square. Santa Maria del Carmine is located nearby as well, just off Piazza Mercato, one of Naples's great public gathering spots.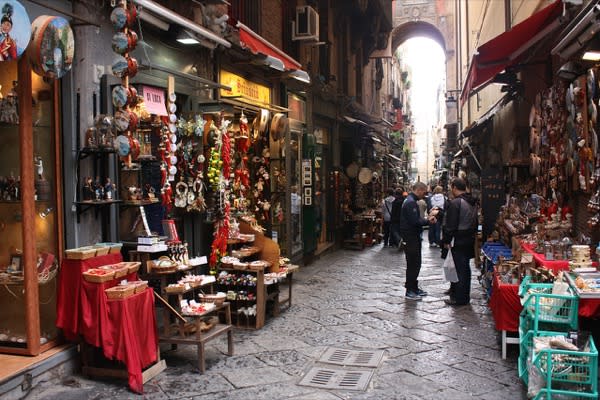 See the Square, Take a selfie, Put on a Blindfold
Plebiscito Square is the most important square in Naples and it is a truly fantastic place to visit, breath in the history and take a selfie alone or with your best friends. But what else should you do once you arrive? You can have a coffee, eat a babà or enjoy a fresh lemon granita, admire the view of numerous attractions or play a game. What kind of game, you ask? Just stand in front of the palace facing the semicircular columns in front of the basilica, put on a blindfold and attempt to walk across the square between the two horsemen statues. It only sounds easy…
Eat, Drink, Love
Here you can experience Neapolitan life at its best. The district of Santa Lucia, located to the west of the Piazza del Plebiscito, has narrow cobbled streets and offers crafts, vintage shops and good restaurants. Try Borgo Antico and order a glass of local wine, eat the best mozzarella or the fish of the day. It's also an excellent place to make conversation with the staff because they know everything about the city.
A Castle with a Secret
Castel dell'Ovo is a very special place. Legend says that the famous castle takes its name from the poet Virgil who is rumored to have hidden a golden egg inside of a case. It is one of the most famous and oldest castles in the city, located between the quarters of San Ferdinando and Chiaia. Up until now, nobody has found the magic egg and the place where it would have been tucked away. You want to roll the dice?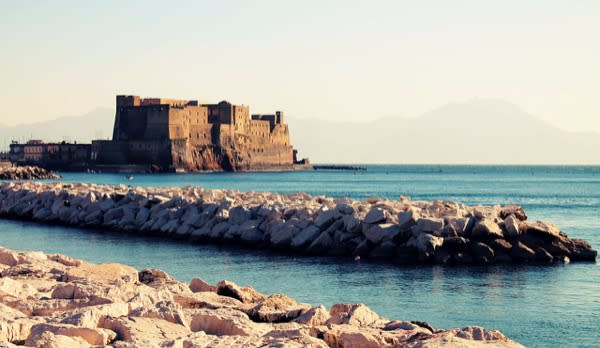 LGBTQ+ Scene
You will find at Piazza Bellini, the meeting point of the gay community, lots of bars and special shops. Naples' popular gay party is the Same Party. It features a bar, dance floor and great music by rotating DJs. The famous event also hosts various collaborations with the main LGBTQ+ Italian clubs. Naples has a vibrant gay life and its people are gay friendly. You will never, ever forget this city. Jamm'ja.