29 April 2021 | 11:00 am EDT | IGLTA Members Connect | IGLTA 2021 Global Convention Atlanta
The IGLTA Annual Global Convention is the world's premier educational and networking event for LGBTQ+ tourism professionals. The 37th edition of the conference will connect tourism suppliers and buyers through its hosted buyer and scheduled appointment program, numerous educational workshops and networking receptions. 
 
Are you interested in attending our Atlanta 2021 convention? Join us on Zoom for our monthly IGLTA Members Connect Series. This month's sessions will focus on the IGLTA convention. You'll get a preview of the program plus gain insights into how our host city is preparing for the big event. 
All attendees will be entered into a drawing for a free convention registration. We'll announce the winner at the end of the session, but you must be present to win.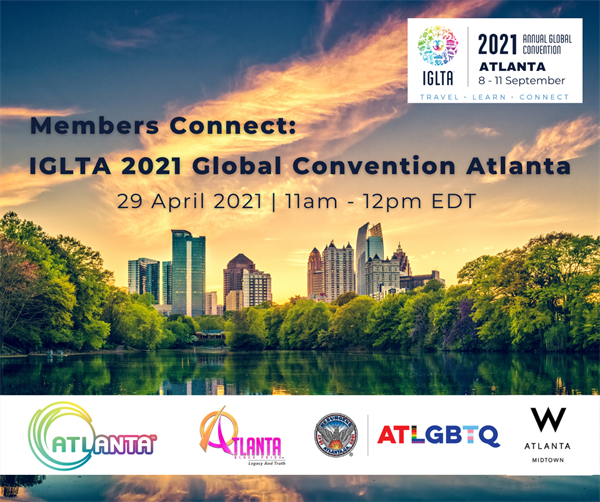 Featuring :
Apoorva Gandhi | Vice President for Multicultural Affairs and Business Councils | Marriott International
As Vice President for Multicultural Affairs and Business Councils for Marriott International, Apoorva Gandhi is responsible for creating and executing an externally-focused global strategy that builds reputation, preference, and loyalty from diverse customer segments and communities for the Marriott portfolio of brands.  He helps ensure the company's communications, marketing, sales, and operations consider and reflect multicultural markets and public affairs as Marriott continues its aggressive growth throughout the world. In addition, Mr. Gandhi supports and leads Marriott's 104 Worldwide Business Councils focused on delivering our four pillars of Culture, Government Affairs, Market-Driven Initiatives, and Social Impact.
Mr. Gandhi has nearly 30 years of proven strategy, business process, program management and organizational change skills, leadership, and delivery expertise.  He also has extensive management and delivery experience working with diverse business clients and a solid track record delivering measurable success to clients across various business disciplines.
Prior to his current position, Mr. Gandhi was senior director for organizational capability where he led the company's global reorganization program in Europe, the Middle East, Africa, and Asia.  He has held other positions with Marriott, beginning as a front desk associate when he first completed college.  He also worked as vice president for global lodging services where he helped deliver critical brand initiatives. 
Before joining Marriott, Mr. Gandhi was a senior consulting manager in Accenture's Communications and High Tech practice for more than a decade, where he managed merger and integration programs as well as process reengineering efforts for large telecom clients.  He also led diversity programs at Accenture.
Mr. Gandhi is an honors graduate of the University of Maryland, School of Business and Management.  He is a member of the J.W. Marriott, Jr., Diversity Award committee, Delta Sigma Pi Business Fraternity, and Omicron Delta Kappa Leadership Society. Apoorva lives in Bethesda, Md. with his wife and three children. In his free time, he enjoys travel, playing ice hockey, and listening to music (loudly).
Malik Brown | Director of LGBTQ Affairs | Mayor's Office of Equity, Diversity & Inclusion  
Malik Brown is an LGBTQ advocate and political strategist, a first-generation American, and a lifelong Atlantan. Appointed as the City of Atlanta's Director of LGBTQ Affairs by Mayor Keisha Lance Bottoms, Brown is the first full-time official in Atlanta to focus on better connecting the LGBTQ community with Atlanta City Hall. In this role, he advises the Mayor on policies, programs, and initiatives affecting the LGBTQ community.
During the 2021 Georgia runoff election, Brown was recruited by the historic U.S. Senate campaign of Reverend Raphael Warnock to serve as the Special Advisor on LGBTQ+ Engagement.
Shannon Peters | Director of Sales and Marketing | W Atlanta-Midtown 
Shannon Peters is a Director of Sales & Marketing at Marriott International, responsible for the strategic direction, vision, growth, and performance of W Atlanta – Midtown. As a seasoned professional with more than 15 years of hospitality experience both on and above property, Shannon is known for developing talent and delivering financial performance. As a former member of the Howard University women's soccer team, Shannon enjoys playing and watching sports and volunteering within the HBCU community.
David Mcauley | Director | Washington, D.C. Area Office at Atlanta Convention & Visitors Bureau   
A native of Atlanta, David was born on Peachtree Street and has been selling the city ever since!  A 25-year veteran of Atlanta Convention & Visitors Bureau (ACVB), David leads the CVB's Washington, D.C. Area Office where he is responsible for booking some of the largest conventions for Atlanta from major trade and professional associations that are based there.  Shaping Atlanta's image as a tourism destination is at the core of ACVB's mission and David manages the CVB's partnership with IGLTA to help enhance the city's destination appeal.
Melissa Scott | CEO of Traxx Girls Inc
Melissa Scott born in Augusta, Georgia but raised in Baltimore, Maryland. She is a graduate of Paine College with a Bachelor of Science in Mathematics. Melissa spent over 16 years as a Technical Architect for a document automation company in Atlanta, Georgia.
Augusta is where she learned the promotions business as a young child from her father who owned and operated nightclubs. While in college Melissa made a name for herself as an elite DJ and party promoter in Augusta's nightlife; gaining the nickname, "DJ M".
Fueled by her ambition she set her sights on Atlanta. Unafraid and Unapologetic. Melissa quickly started to make her presence known in the Atlanta nightlife. She began to DJ every weekend at special events and parties for Atlanta's elite nightlife and the LGBTQ+ community.
Her weekly promotions in Augusta continued and her reputation soared. Promotional companies lined up to collaborate with her. This is when she teamed up with Traxx Atlanta a 25+-year-old GLBT promotional company with a long history in Atlanta. They needed her to offset a growing female clientele, "Another Family Affair" was born. Gaining this instant success launched, Traxx Girls Inc. in 2006.
Traxx Girls with over 15 years of experience has created an award-winning, international name.
Melissa has spearheaded events in Puerto Rico, Cancun, Las Vegas, Canada, Chicago, Los Angeles and has sights on London. Celebrities have graced her events from Lil Kim, Cardi B, to Ciara just to name a few. She hasn't stopped there as a serial entrepreneur Melissa owns a host of other companies. Such as Party Bus Animals an elite party bus company that offers a unique for proms, birthday parties, bachelor & bachelorette parties or just a night on the town. She is Co-Owner of Atlanta Black Pride Weekend LLC., Co-Founder of The Pure Heat Community Festival, Founder of Pure Heat Community Foundation; servicing Atlanta LGBTQ+ youth. She most recently launched Traxx Gear, a clothing line, in 2020. With all of her success, her passion has led her to take on a community initiative by partnering with other non-profits such as Toys-For-Tots, feeding, and clothing Atlanta homeless, to back to school drives.