IGLTA offers a variety of ways to promote your business through our website and online channels. If your business is LGBTQ+ owned, you can promote this as an added benefit to your business listing on the IGLTA website. While all IGLTA members are welcoming to the LGBTQ+ community, travelers understand that an LGBTQ+ owned business offers a more intimate connection and understanding of the LGBTQ+ travel community.
If your business is LGBTQ+ owned, you can log in to your profile on the IGLTA website and select the category "LGBTQ+ Owned" to select the designation, which will add a badge to your profile.

Example: LGBTQ+ Owned badge added to business listing
Step 1 – login into your account, view and open your listing.

Step 2 – select the LGBTQ+ Owned option under the Categories tab.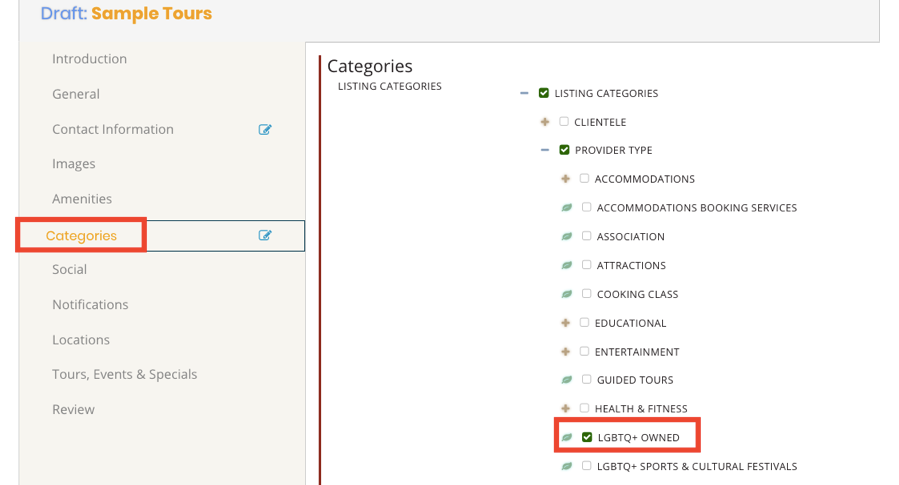 Step 3 – click the Save & Submit for Review button.

How Do I Access or Update My Profile?
Below is a link to several how-to guides, which will assist you in accessing and updating your profile:
Members are highly encouraged to take advantage of these website listings as they feed our consumer promotions via our homepage, consumer newsletter and social media campaigns.
Need Help?
For more information and assistance in updating your profile or creating events, tours or specials, please review this blog post or contact our membership department (membership@iglta.org) for support.
Featured image by @vacationmyway via Instagram