Hilton - 100 Years of Hospitality
Hilton was founded 100 years ago with the vision to "fill the earth with the light and warmth of hospitality." They see the core of what they do as people serving people and throughout their long history, they have made comprehensive efforts to support ALL communities and ensure every team member and guest feels cared for, valued and respected. While this commitment has always been embedded in Hilton's DNA, nearly a decade ago the company enhanced its commitment to the LGBTQ+ community by becoming an IGLTA Global Partner. This almost 10-year relationship makes Hilton one of IGLTA's longest global partnerships. 
Since then, Hilton has been a catalyst for change when it comes to LGBTQ+ inclusion in the hospitality industry—as a vocal LGBTQ+ advocate, IGLTA sponsor, and ally to LGBTQ+ guests, team members, and organizations worldwide. In fact, Hilton's Jon Muñoz, Vice President, Global Diversity and Inclusion, has been working with IGLTA since 2013 and was recently elected as Chair of the Board of Directors.
IGLTA recently had the opportunity to learn more about Hilton's history, drive and commitment to support the LGBTQ+ community, and their 100th anniversary celebration.

Why are you proud to be an IGLTA Global Partner?
For 36 years IGLTA has been working tirelessly to advance LGBTQ+ travel around the world. We have admired their courageous leadership over the years and are incredibly proud to be able to support them in this important mission.
What aspects of the LGBTQ+ market are important to you?
Research by Community Marketing & Insights, Inc. conservatively estimates the United States' LGBTQ+ travel industry to be around $115 billion—that's a huge segment of our industry! It goes without saying it makes strong business sense to support this community to remain globally competitive. From an internal perspective, the work we do to ensure Hilton remains an employer of choice is one of the primary ways we are ensuring the LGBTQ+ community feels valued and appreciated.
What would you like LGBTQ+ travelers to know about Hilton?
For nearly 100 years, Hilton has been guided by the principles of diversity and inclusion. Our hotels welcome team members and guests from all over the world, regardless of race, ethnicity, gender, religion, and sexual orientation or gender identity. Our properties are places that bring people together, whether that's for weekend Pride getaways to family vacations to marriage celebrations and explorations of popular destinations around the world.
Is your organization currently engaged in other LGBTQ+ marketing efforts, and if so, what are you doing?
Our marketing efforts include Pride events, which are near and dear to our hearts at Hilton. To celebrate Pride month, team members demonstrate Hilton's support of the LGBTQ+ community by participating in some of the largest Pride festivities in June and throughout the summer and fall. In the U.S., Hilton will participate in Capital Pride in Washington, DC and WorldPride in New York City. We participated and sponsored additional Pride events in our corporate offices as well as numerous locations across the country, including Chicago, LA, Houston, New Orleans, Orlando, San Francisco, Portland and Seattle to name a few. Many of our LGBTQ & Friends chapters incorporate guest speakers and community engagement, in addition to the Pride celebrations, as part of their signature celebrations.
Just last year, Hilton introduced a new Pride logo and landing page so that we can celebrate Pride year-round—because the world is a brighter place when we all shine together. Our new Pride offerings are an evolution of our "Stay Hilton. Go Out." program introduced in 2012 to engage LGBTQ+ travelers by celebrating the rich history, culture and nightlife in destinations around the world. The program has grown to include consumer packages at participating Hilton properties worldwide to help LGBTQ+ travelers set the stage for every travel occasion.
Is your business currently a member of any other LGBTQ+ organizations?
We are proud to collaborate with some of the LGBTQ+ community's most influential organizations on leadership, advocacy and sponsorship. In additional to IGLTA, this includes but is not limited to signing on to the United Nations LGBTI Standards of Conduct globally. Hilton was a signatory on the Human Rights Campaign Business Coalition for the Equality Act and in Support of Transgender Equality in the U.S. Hilton was the first and only hospitality company to join the U.S. State Department Global Equality Fund, an initiative that advances and protects the human rights of LGBTQ+ persons around the world.
We also partner with numerous organizations at both a corporate and hotel level around the world, including: Family Equality Council, GLAAD, Human Rights Campaign, Matthew Shepard Foundation, National LGBT Chamber of Commerce, National LGBTQ Task Force, Out & Equal Workplace Advocates, Point Foundation, and Reaching Out MBA.
How are the employees of your organization currently engaging with the LGBTQ+ team members?
One of the most exciting ways our employees are involved is via our LGBTQ & Friends Team Member Resource Group (TMRG). We launched TMRGs in 2012 and are very proud of what they've become. The groups have a number of purposes: They provide leadership with unique perspectives on internal business practices and external market factors, they provide members with networking and development opportunities, and they provide opportunities to engage with local diverse communities via service projects and partnerships.
As well as a number of smaller events, each TMRG also hosts an annual Signature Event that is open to a broader audience. This could range from participation in Pride parades, celebrating GLAAD Spirit Day or hosting guest speakers.
What does diversity and inclusion look like to your company?
Our commitment to diversity and inclusion is clear. It's embedded in our culture and our values to lead with integrity and offer hospitality to all. Our award-winning diversity management approach is to leverage and promote diversity and inclusion through our global framework of Culture, Talent and Marketplace initiatives and programs to foster innovation and create a globally competitive business. It's a critical part of why we've been named the #1 best company to work in the U.S. and #2 workplace in the world, as well as the #1 best workplace for diversity in the U.S. and #4 on the DiversityInc Top 50 Companies for Diversity in the U.S. In addition, Hilton has earned a 100% score on the Human Rights Campaign Corporate Equality Index for the last six consecutive years, and has been listed by the National Business Inclusion Consortium as one of the Best-of-the-Best Corporations for Inclusion. And although we're extremely proud of these accolades, we know we must continue the work of fostering a respectful and inclusive environment for our team members and guests from all over the world.
In 2019 Hilton is celebrating its 100th anniversary, what diversity and inclusion efforts and policies from the last 100 years is Hilton most proud of?
We're most proud of our holistic view of diversity and inclusion—our efforts range from setting measurable diversity goals, to working closely with our team members to tap into their unique viewpoints, to policy and advocacy work. We also lead the way when it comes to supporting our team members. For example, in 2014, we introduced our comprehensive LGBTQ Team Member & Dependent Benefits coverage and transgender reassignment surgery, and in 2017, we introduced an adoption assistance program where we reimburse team members for adoption expenses up to $10,000 per child. This is complemented by industry-leading parental leave policies, which includes fully paid parental leave for all new parents, including adoptive parents.
Our 100th year of hospitality presents an opportunity to celebrate our many successes, but we also see it as an important moment to raise the bar even higher. The journey to foster a respectful and inclusive environment for all team members and guests is one that we're committed to for the long term.
What does the next 100 years look like to Hilton?
At Hilton we like to say that innovation is in our DNA. Over the past century Hilton has pioneered many firsts, including the first hotel to introduce room service, the first guest rooms with in-room televisions and in-room air conditioners, the first airport hotel and the creation of the piña colada, Waldorf salad, red velvet cake and eggs Benedict. Our core business will always be people serving people but we have no doubt there will be many more 'firsts' over the coming century.
How does Hilton plan to celebrate its 100th anniversary?
Our celebrations started last year when we did some research into what has been termed 'The Hilton Effect.' This reflects Hilton's global impact that has always been a source of transformation and positive change in communities around the world. In our first century, we served 3 billion guests, employed 10 million team members and contributed $1 trillion in total economic impact. With 5,700+ hotels globally, Hilton is in a privileged position whereby our scale can really make a difference to the communities where we live and work, and we have an award-winning Supplier Diversity Program and support many LGBTQ+ owned businesses.
While we reflect on that achievement, we also appreciate any excuse to celebrate at Hilton! There will be global celebrations across our corporate offices and hotels and many of our properties are celebrating by offering special cocktails and food menus and free art displays.
We have also released our 100th anniversary logo!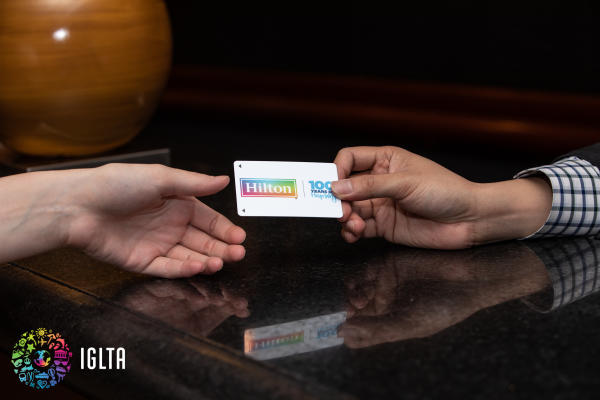 Hilton 100th Anniversary logo in rainbow colors, used on IGLTA's 36th Annual Global Convention key cards as pictured above. Photo Credit: Rachel Covello, OUTCOAST Photography 
This year, Hilton hosted its third IGLTA Annual Global Convention. What does this mean to Hilton, especially considering it was the first time in IGLTA's history that the convention took place in New York City, and it coincided with the 50th anniversary year of the Stonewall Uprising, widely considered the catalyst for the modern LGBTQ+ rights movement.
Hilton was proud to welcome IGLTA to New York City for the first time, and to host the 36th Annual IGLTA Global Convention at the New York Hilton Midtown. In addition to being a Global Platinum Partner, Hilton provided incremental support as an official convention sponsor.  We were able to leverage the work being done in support of the 50th anniversary of the Stonewall Uprising and WorldPride to celebrate our 100th anniversary with convention attendees. With almost 700 attendees representing 49 countries around the world, Hilton was proud to be part of IGLTA's most successful convention to date. We were also proud that Jon Muñoz, Vice President, Global Diversity and Inclusion was elected to serve as Chair of the IGLTA Board of Directors.
This year's host hotel was the New York Hilton Midtown. What makes this hotel unique?
We hope many people reading this had the opportunity to stay in one of the nearly 1,800 rooms in the hotel during the conference! The historic building is in the heart of New York City and has been home to some memorable moments throughout the years. In 1971, John Lennon and Yoko Ono stayed at the Hilton Midtown, where Lennon penned the lyrics to "Imagine" on hotel notepaper. The hotel has also hosted every president since John F. Kennedy and in 1973, the world's first handheld cell phone call was made at the hotel.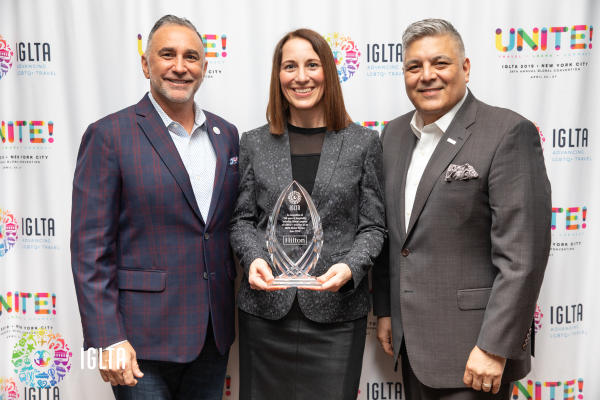 Hilton representatives recognized for 100 Years of Hospitality from IGLTA at the New York Hilton Midtown during IGLTA's 36th Annual Global Convention. From Left to Right: John Tanzella, CEO & President, IGLTA; Amy Martin Ziegenfuss, Vice President, Global Brand Marketing, Hilton and Jon Muñoz, Vice President, Global Diversity and Inclusion, Hilton. Photo Credit: Rachel Covello, OUTCOAST Photography
About the author
Rachel Covello is an award-winning speaker, writer, diversity marketing consultant, and photographer. She was the Founder of LGBT Equality Alliance, a Pennsylvania nonprofit organization, and is currently the CEO of OUTCOAST, an online LGBTQ travel website marketing the Gulf Coast of Florida as an LGBTQ-inclusive place to VISIT, CELEBRATE, and LIVE. Rachel is also an avid event photographer and has captured photos for LGBT organizations around the world, including the IGLTA. To follow Rachel's adventures, follow her on instagram at @rachelcovello or at @outcoastfl