Altanta is the epicenter of the LGBTQ+ South. Home to a vibrant gay community, Atlanta boasts numerous must-visit establishments and can't-miss events. With such a rich culture filled with festivals, arts and fine dining, it's easy to see why Atlanta is a top destination for LGBTQ+ visitors.
Established in 1913, Atlanta Convention & Visitors Bureau (ACVB) is the official destination marketing organization for the city and serves to favorably impact Atlanta's economy through conventions and tourism.
A private, not-for-profit organization, ACVB bolsters Atlanta's $15 billion hospitality industry which generated 53 million visitors in 2017.
ACVB is very proud to be an IGLTA Global Partner to promote the city as one of the most welcoming destinations in the world. Here is what they had to say about their IGLTA Global Partnership.
What led your organization to become an IGLTA Global Partner?
Atlanta prides itself as a destination that welcomes all with Southern hospitality. Partnering with IGLTA offers ACVB an incredible platform to engage and connect with LGBTQ+ travelers.
Is your organization currently engaged in other LGBTQ+ marketing efforts, and if so, what are you doing?
Published in partnership between ACVB and the city's LGBTQ+ media outlet, Georgia Voice, Destination Gay Atlanta is the official LGBTQ+ travel guide to highlight our vibrant community. The free guide is available in hotels and restaurants across the city. Travelers will find more information on things to see, places to stay and where to eat.
How are the employees of your organization currently engaging with the LGBTQ+ community?
ACVB's sales team bids on a number of LGBTQ+ conventions, sporting and social events to bring visitors to the destination. ACVB staff volunteered at Atlanta Pride's 48th festival in 2018, manning a booth activation to share destination information and welcome guests to the city. Our more than 850 member organizations continuality strive to make Atlanta the most hospitable destination in the world.
Does Atlanta have anything planned for 2019 specifically surrounding Pride or LGBTQ+ Events?
Atlanta has pride year-round with LGBTQ+ programming and events. The city's annual Pride is a weeklong celebration in October and is the largest in the Southeast. The event draws thousands of members of the LGBTQ+ community, allies and advocates for parades, marches and rallies. Atlanta's Out on Film is one of the oldest LGBTQ+ film festivals in the country, dedicated to supporting the exhibition of film and video art forms.
We look forward to welcoming you to Atlanta, where y'all means all and Southern hospitality is always included!
For more information on ACVB, visit https://www.iglta.org/Partners/Partner-Details?ListingContact=21862.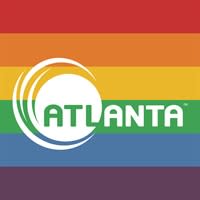 About the author
Rachel Covello is an award-winning speaker, writer, diversity marketing consultant, and photographer. She was the Founder of LGBT Equality Alliance, a Pennsylvania nonprofit organization, and is currently the CEO of OUTCOAST, an online LGBTQ travel website marketing the Gulf Coast of Florida as an LGBTQ-inclusive place to VISIT, CELEBRATE, and LIVE. Rachel is also an avid event photographer and has captured photos for LGBT organizations around the world, including the IGLTA. To follow Rachel's adventures, follow her on instagram at @rachelcovello or at @outcoastfl