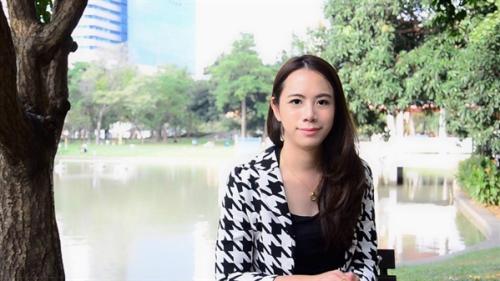 Collaboration takes Hong Kong Polytechnic University tourism student to the International Gay & Lesbian Travel Association's Annual Global Convention in Toronto
TORONTO (11 April, 2018)—The IGLTA Foundation has partnered with the Pacific Asia Travel Association to provide a unique opportunity for a Hong Kong Polytechnic University tourism student to attend the International Gay & Lesbian Travel Association's 35th Annual Global Convention, 9-12 May in Toronto. Thanakarn (Bella) Vongvisitsin has been selected to attend the conference, considered to be the premier educational and networking event for the global LGBTQ+ tourism industry.
"The IGLTA Foundation is honored to partner with such a distinguished organization as PATA to provide opportunities to deserving young individuals in their pursuit to further understand and to strengthen LGBTQ+ global tourism," says IGLTA Foundation Board Chair, Gary Murakami, CMP, CMM, of MGM Resorts International. "We believe strongly that access to education and networking opportunities at the IGLTA Annual Global Convention is a pillar of the Foundation's efforts and working with PATA is a key to our success."
Vongvisitsin, a Thai national, is working on her PhD at the School of Hotel and Tourism Management at The Hong Kong Polytechnic University and is active with ILGA, Youth Voices Count and the Asia Pacific Transgender Network. The conference scholarship provides an all-expenses-paid trip and conference registration to the event.
"It is my greatest honor and opportunity for me to be awarded with PATA/IGLTA Scholarship that fully supports my travel to attend the world's biggest LGBTQ+ tourism convention!" Vongvisitsin said. "I am so thrilled to integrate my direct experience as an LGBTQ+ advocate, a member of the transgender community and my research background in tourism and hospitality management to fully contribute to LGBTQ+ tourism research. I feel that this scholarship is the kick-off for me, and this chance will help me to learn the best practices from LGBTQ+ tourism experts."
This is the sixth year the IGLTA Foundation has offered its Building Bridges Scholarship Program to tourism students and small business owners, and it is the second time the non-profit has collaborated with another organisation on the project. IGLTA and PATA formed a partnership in 2015 and the application process for this joint sponsorship was open to students attending educational institutions that are PATA International members.
"PATA holds the fundamental belief that all travel and tourism stakeholders have an equal voice that should be heard, and we continually work to establish bridges for all people of goodwill from all countries to access and empathise with each other. In addition, we have always been a strong advocate for the development of young tourism professionals within the region. This scholarship highlights our commitment to both these endeavours," said PATA CEO Dr. Mario Hardy. "I would like to personally congratulate Bella on being selected for this tremendous opportunity to gain a deeper understanding of the travel and tourism industry, and the significant impact gay and lesbian tourism has socially and economically across the globe."
The successful partnership between PATA and IGLTA has allowed both organisations to share knowledge through research and publications, provide reciprocal participation at events, support mutually agreed advocacy positions, and enhance access for the benefit of members of both organisations.
The IGLTA Foundation Building Bridges Scholarship Program was created to support the next generation of LGBTQ+ travel professionals (and allies). Scholarship recipients participate in the entire IGLTA convention program, ensuring they will have the opportunity to network with travel industry leaders from around the world, receive mentorship from professionals in their areas of interest and attend educational sessions. For more on the conference, please visit iglta.org/convention.
About IGLTA & the IGLTA Foundation
IGLTA, the International LGBTQ+ Travel Association is the leading member-based global organization dedicated to LGBTQ+ tourism and a proud Affiliate Member of the United Nations World Tourism Organization. IGLTA's mission is to provide information and resources for LGBTQ+ travelers and expand LGBTQ+ tourism globally by demonstrating its significant social and economic impact. The association's membership includes LGBTQ+ and LGBTQ-friendly accommodations, destinations service providers, travel agents, tour operators, events and travel media in more than 75 countries. In 2012, the philanthropic IGLTA Foundation was launched to support the mission of the association and its membership through education, research and leadership development. For more information, please visit iglta.org or iglta.org/foundation and follow on social media @IGLTA or the IGLTA Foundation Facebook page.
About PATA
Founded in 1951, the Pacific Asia Travel Association (PATA) is a not- for profit association that is internationally acclaimed for acting as a catalyst for the responsible development of travel and tourism to, from and within the Asia Pacific region. The Association provides aligned advocacy, insightful research and innovative events to its member organizations, comprising 95 government, state and city tourism bodies, 25 international airlines and airports, 108 hospitality organizations, 72 educational institutions, and hundreds of travel industry companies in Asia Pacific and beyond, as well as over a hundred young tourism professional (YTP) members across the world. Thousands of travel professionals belong to the 36 local PATA chapters worldwide, while hundreds of students are members of the 20 PATA student chapters globally. The chapters and student chapters organize travel industry training and business development events. Their grassroots activism underpins PATA's membership in Uniting Travel, a coalition of the world's major Travel & Tourism organizations dedicated to ensuring that the sector speaks with one voice and acts in unison on the major issues and includes ACI, CLIA, IATA, ICAO, WEF, UNWTO and the WTTC. The PATAmPOWER platform delivers unrivalled data, forecasts and insights from the PATA Strategic Intelligence Centre to members' desktops and mobile devices anywhere in the world. PATA's Head Office has been in Bangkok since 1998. The Association also has official offices or representation in Beijing, Sydney and London. Visit www.PATA.org
PATA contact: Paul Pruangkarn, +66 2 658 2000, communications@pata.org