Sustainable Travel Champion: An Inspiring Interview with Brett Massoud, Founder of Dadamanga, 2022 IGLTA Foundation Impact Award Recipient 
During the 2022 IGLTA Global Convention, we had the honor of recognizing Dadamanga as the recipient of our prestigious Impact Award.
As part of the launch of this year's edition of the Impact Award, the IGLTA Foundation had the privilege of conducting a brief interview with Dadamanga's owner Brett Massoud, an esteemed entrepreneur with extensive expertise in the tourism industry. His unwavering commitment to exceptional customer service has garnered him widespread recognition as one of the most reputable travel professionals in Madagascar.
In 2010, Brett established Dadamanga with the vision of offering unparalleled travel experiences that highlight the distinctive beauty and rich culture of Madagascar. His active involvement in the tourism sector is evident through his contributions as a board member of both the National Office of Tourism and the Regional Office of Tourism of Anôsy. Brett's dedication to sustainable practices, social responsibility, and ensuring his clients' satisfaction have firmly established him as a travel industry leader, inspiring future entrepreneurs around the world.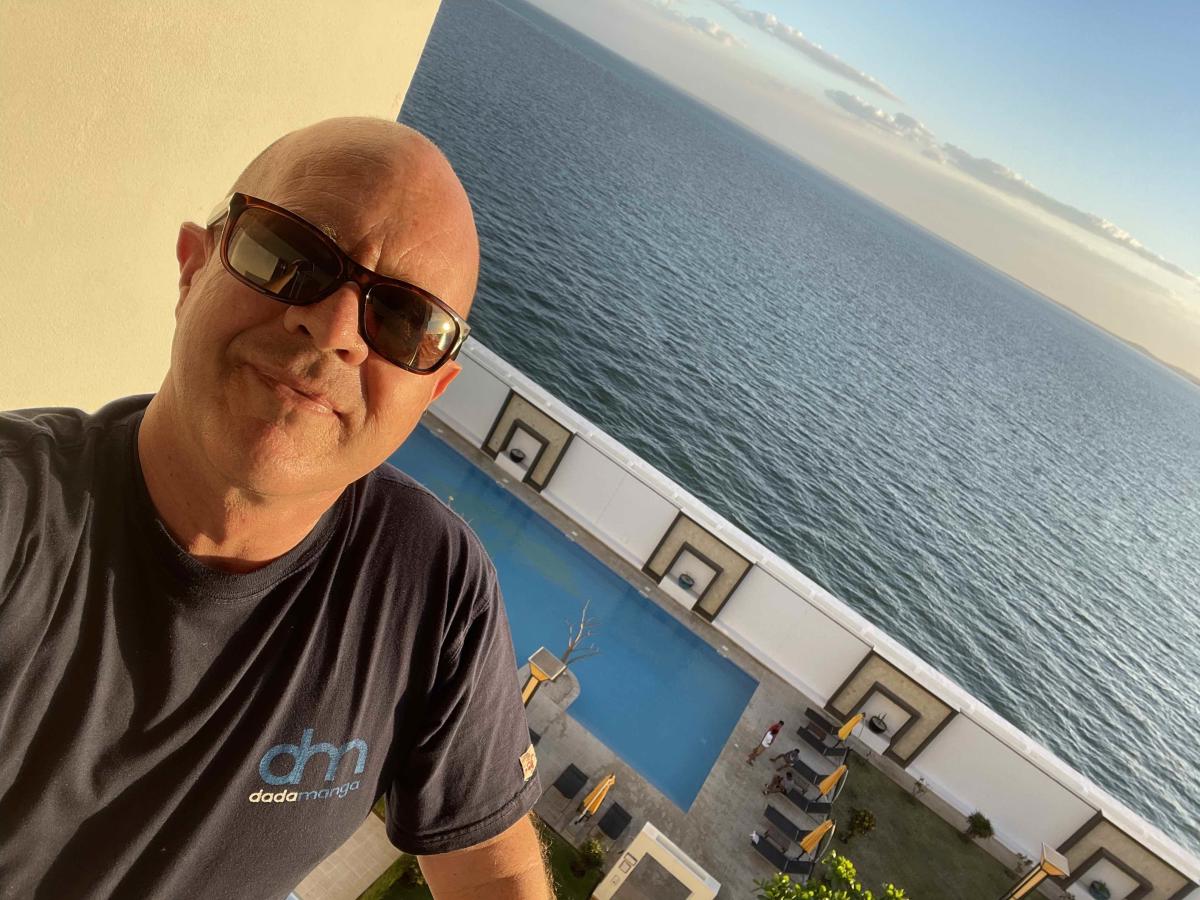 Can you share with us the inspiration behind the founding of Dadamanga and its mission to promote responsible tourism development in Madagascar?
After spending 15 years running an environmental NGO in Madagascar, I saw an opportunity in the tourism industry, particularly in serving the English-speaking market. With my background in both tourism and understanding the local challenges, establishing Dadamanga as a responsible tourism business was a natural progression. From the very beginning, we prioritized measuring our impact on the community and environment, in addition to financial success. Recognizing the importance of professional and personal growth, we carefully integrated diversity and inclusion into our operations, ensuring a sensitive approach.
In Madagascar, a significant portion of the LGBTQ+ community remains discreet about their sexual orientation or gender identity, resulting in limited exposure for the local population. So, the absence of openly LGBTQ+ individuals, along with the lack of positive representation in mainstream media, has hindered the formation of informed opinions among many people. So we did not know what to expect, or how people would react.  But, we needed to ensure that our staff members not only understand these matters but also be personally open to welcoming all clients with equality, kindness, and respect. Therefore, we proactively engaged in conversations about sexual orientation, gender identity, and diversity with our entire team
At Dadamanga, we strive to create an inclusive environment where everyone feels welcome and valued.
 Environmental protection, community engagement, and diversity and inclusion are key focus areas for Dadamanga. Can you tell us about some of the remarkable initiatives you have undertaken in these areas?
Dadamanga is dedicated to environmental protection, community engagement, and diversity and inclusion. Here are some highlights of our initiatives:
Sustainable Practices: We encourage clients to adopt sustainable habits during their visit, minimizing single-use plastics and packaging. Instead of providing bottled water in single-use plastic bottles for our clients, we stock cars with drinking water for road trips in 5-liter refillable jugs. We do this in collaboration with an innovative company (https://tatirano.org/) that sells filtered rainwater in refillable containers.

Company-wide Sustainability: Inspired by Kaizen principles, we constantly seek small changes to make our processes and products more sustainable.

Conservation Efforts: We set up a local conservation non-profit Filana about ten years ago, and through that organization, Dadamanga has funded the planting of tens of thousands of native trees, including the mangrove rehabilitation of a 2 km-long stretch of river.  We at Dadamanga fully fund currently eight permanent local staff to do this work. 

Carbon Offset: To counteract travel-related emissions, we plant 30 long-lived trees for each client, contributing to carbon offsetting.

Responsible Wildlife Practices: We do not promote any tourism products that we recognize to be destructive to wildlife and natural habitats, and we promote responsible wildlife viewing practices.  Every client receives a downloadable PDF guide to animal welfare and responsible wildlife viewing practices, with live links in the PDF so they can research these matters more deeply for themselves

Support for Local Communities: We collaborate with local communities on tourism initiatives, including visits to conservation projects and businesses that support the local economy.

Fair Trade and Local Development: We prioritize sourcing from local suppliers and suggest stops at local businesses, promoting fair trade and contributing to economic growth.

Sports and Community Support: We love supporting sports.  In a very poor country like this, healthy distractions from the heavy burdens that many people carry can be life-saving.  For me, I look at sports as medicine for mental well-being.  This year we are participating heavily at our regional level and have set up a football (soccer) team with our staff.  We won our first "Team Dadamanga" soccer match, yippee.  We are also the major sponsor of the local surfing league in our town.  We sponsor long-distance runners and basketball. 

Education and Empowerment: We support an amazing charity that helps girls to stay in school.  Nofy I Androy  is a program designed to empower adolescent girls, based in Ambovombe, near our head office, in the southeast corner of Madagascar.  Here, girls are married off as young as 12, to reduce the financial burden on the family. Recognizing the challenges faced by girls in these rural communities, their program aims to provide girls with essential life skills, body awareness, and educational support. Nofy i Androy enables them to stay in school and resist societal pressures for early marriages, premature pregnancies, or risky relationships. Through this program, young girls are allowed to become confident change leaders, breaking the cycle of poverty and driving the positive transformation of communities. We have for many years given $10 to Nofy i Androy for every client.  

Cultural Exchange and Diversity: Facilitating authentic cultural experiences that promote understanding and respect for diverse cultures and belief systems has been imperative for me, in both directions, from Madagascar to clients and from clients to Madagascar.  We have the (sometimes uncomfortable) conversations with our team, and with our providers, and always broach any subject to do with diversity in a very direct and matter-of-fact this-is-the-real-world manner.  Even winning the Impact Award was a challenge in itself.  I notified the national tour operator association, the Confederation of Tourism, the regional director of tourism, and the minister of tourism, about the award.  The information about the award was greeted with silence - no response, no words of praise, no congratulations.  So, it can be a grind here, but we remain determined.  We continue to refresh diversity training every year with our team and we proudly display the IGLTA logo on our website... We keep trying.
   Could you share any challenges or obstacles you have encountered along the way, and how you have overcome them in your journey of promoting responsible tourism?
I think I have more or less covered this question.  I think the main challenge has been the views of some of the population being influenced by ancestor worship, a conservative interpretation of Christianity, and a lack of experience.  While these challenges can be daunting, I would just say that our approach has always been: heads held high, chest out; speak openly, directly, and calmly when explaining your position; be honest, and stay strong.
  What message would you like to convey to other businesses in the travel industry about the importance of responsible tourism and its potential to create positive change?
If you are in the tourism business, then responsible tourism is a moral imperative for you.  Period.  
We all profit by sharing the cultural, natural, and intellectual capital of others.  We have a moral obligation to give back.
If we all prioritize environmental stewardship, socio-cultural respect, and community empowerment, and work with a view to long-term sustainability, and in open collaboration with local people in the areas where our respective companies leave footprints, then we all collectively shape a more sustainable and inclusive future for the travel industry and the destinations we serve.  
I acknowledge that I am in a place where wages are low, and it is easier for me than it may be for some, to have an impact with a dollar.  But, I would say to every travel professional who does not already have an established giving policy... just do it.  Give, give, and give again. Put aside a percentage of your profit, even just a few dollars per client, and see how much good you can do with it.  Treat your staff as generously as you can afford, be kind to everyone, listen carefully to local people who live where your company has a footprint, tread gently, avoid exploitative practices, and inform your clients about the culture and the challenges in the areas that they will visit.  
 Watch the video below to see Brett's acceptance speech and be inspired by his passion for making a positive impact through travel.