This article is written by Santiago Aguirre-Montoya, IGLTA's Global Membership Manager. Santiago identifies as non-binary and their preferred pronouns are they/them. International Non-Binary People's Day was on 14 July 2022.
Non-binary identities tend to go very unseen because our society is structured in a way that constantly reinforces the gender binary. This can make non-binary people feel unheard and invisible and this can often lead to anxiety, depression and other forms of mental illness.
As a genderqueer person, who falls under the umbrella of non-binary identities, I wanted to share with you some tips on how we can do better. 
TIPS & ADVICE
Don't assume anyone's gender because of how they look. Non-binary people don't owe society endogeneity or a certain way of appearing or expressing themselves. Ask people how they want to be referred to, ask them for their pronouns and use yours publicly every chance you get.
Help make non-binary people seen! Recognizing and respecting non-binary people's pronouns and identity is a great start, additionally, giving them spaces, where their experiences can be voiced, is a great way of recognizing and helping others naturalize non-binary identities.
Non-binary people can use gender-neutral pronouns or a combination of all pronouns. If you aren't sure of someone's gender identity or pronouns, use they/them as you would in any other context in the English language.
Are non-binary people transgender? In theory, yes, transgender people are those who don't identify with their sex assigned at birth, so non-binary would fit this definition, but not all non-binary people refer to themselves as trans so make sure to ask before assuming someone's gender identity. 
Are non-binary identities a new trend? No! Non-binary identities have always existed, in non-western societies, they have had different names, two-spirit, muxe, hijra, etc. What is newer is the category 'non-binary' as a way of encompassing these identities.
If you are organizing an event, ask for gender-neutral bathrooms to be included, if the venue doesn't have them, request that they install temporary signage for the duration of your event. Having to choose between male and female can be extremely uncomfortable for a non-binary person. This, unfortunately, happens a lot while traveling and during day-to-day activities, like trying on clothes at a mall, for example.
Other languages are also including gender-neutral forms. In Spanish, LGBTQ+ and feminist movements are strongly pushing for the use of E at the end of gendered words. So, using terms like: Bienvenides or Todes is quickly becoming more common, especially among younger generations. 
Some famous representations of non-binary people are Sam Smith, Demi Lovato, Jonathan Van Ness, Indya Moore, Alok Menon, and many more. We're everywhere!
We're also seeing more and more representation of non-binary people in the media and in shows like Billions, Sex Education, Degrassi: Next Class, Steven Universe, The Umbrella Academy, Star Trek: Discovery, &Juliet (the upcoming Broadway Show, currently playing in Toronto, etc.).
I also wanted to let you all know (some of you already know this), that my preferred pronouns are they/them (elle in Spanish). Even though I don't feel misgendered when referred to as he/him, I feel much more validated in my identity when referred to in a gender-neutral way.
I know for some of you this is your first direct contact with someone who uses gender-neutral pronouns, which is why I welcome you to feel free to explore your learning process with me, judgment free!
RESOURCES
Here's a visual guide of non-binary identities: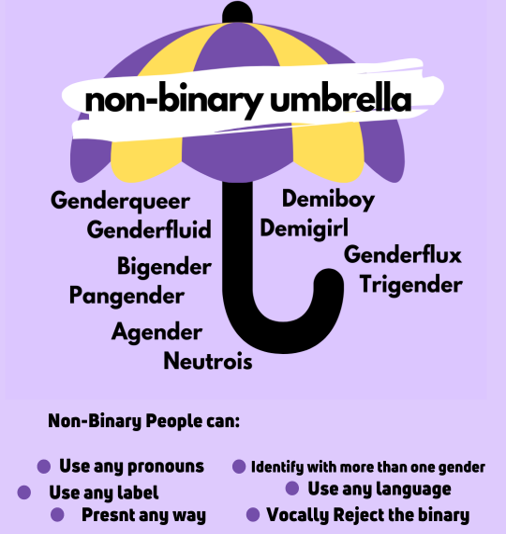 If you want to explore other resources on your own, this book helped me through my understanding of non-binary life experiences and in finding my own path towards gender freedom. 
This article from the Guardian might also be helpful if someone in your circle has come out as non-binary.
If you have any questions about this, I am happy to answer.
You can contact Santiago here.