Featured image: ELLA Winter Davos, Switzerland
John Tanzella, IGLTA President/CEO, iglta@iglta.org
"LGBTQ+" is a powerful term on its own. But behind each of those letters is an identity. And individuals who align with each letter of our famous acronym may subscribe to a particular sense of community—even within our greater community.
For lesbians, owning the "L" is important. Cis and trans women face particular struggles based on their gender, and lesbians unfortunately endure still more bias. So is it any wonder that they may pursue travel based on a level of comfort, security, and pleasure curated especially for them?
Here at IGLTA, we want our sisters to feel that they are respected and accommodated wherever they go in the world. The good news is that many of our travel members and partners are looking out for them and finding more ways to serve their travel needs.
One of our proud members, OUT Adventures, is launching three lesbian-centric travel tours in 2020. Their fully female-first experiences will be led by gay women, with female tour guides, chefs, and other entrepreneurs introducing travelers to Croatia, Peru, and Iceland. The Peru tour is even being led by former IGLTA board chair (and current IGLTA Foundation board member) Tanya Churchmuch, who is sure to guide a seamless experience to Lima and Machu Picchu in August.
IGLTA also has long partnered with annual lesbian-focused events like the ELLA International Lesbian Festival (held each summer in Mallorca, Spain). And we're proud to have recently announced our new partnership with Aqua Girl, the annual October LBTQ+ women's charity weekend in Miami Beach (U.S.). On a personal note, I have enjoyed visiting Provincetown, Massachusetts (U.S.) during the destination's long-running Women's Week.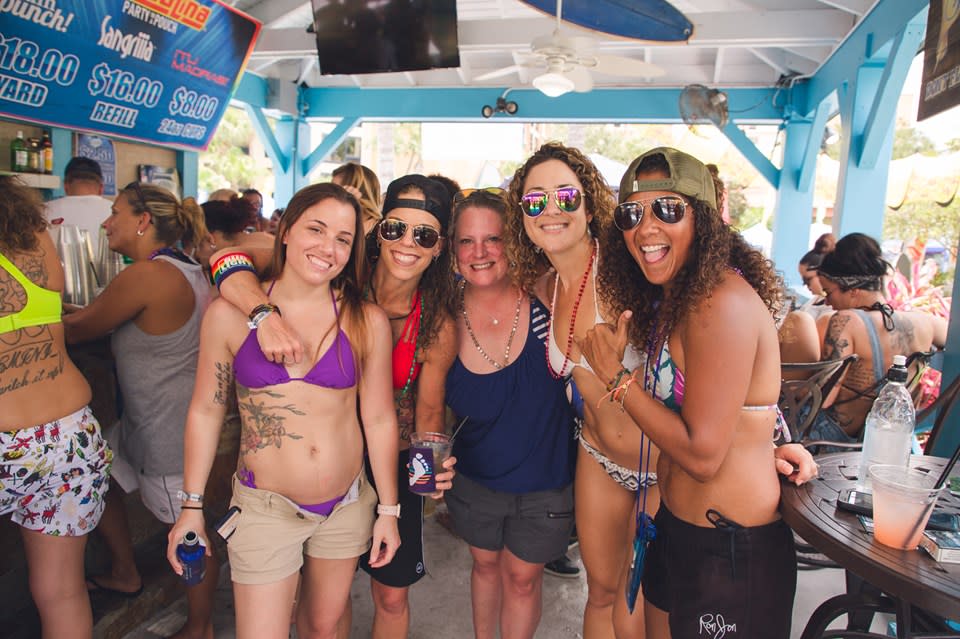 Girls in Wonderland produced by Aqua Foundation
At our annual convention (the next one heading to Milan in May 2020), we've found growing interest in our Women in Business session. In that forum, attendees are able to discuss important tourism and hospitality ideas and issues related to female travelers. The session also is a prime opportunity for women to network among one another, and with male allies—because after all, connection is one of the key elements of both the IGLTA Global Convention and travel overall.
Another important way that IGLTA engages lesbians and female allies is through our Board of Directors. The IGLTA board consists of 14 members—including Shiho Ikeuchi, President/CEO, Pink Soleil in Japan; Sandi Robinson, Director of Sales, The Godfrey Hotel Chicago; and Maria Tuttocuore, Senior Executive of Sales & Marketing, Monaco Government Tourist Office—who lend their voices to our association's strategic planning. We would love to welcome more women to the board who have the skills and connections to lead the association into a strong, inclusive future. The IGLTA association board nomination process will open in early 2020. To express interest, please email iglta@iglta.org.
To better serve and support the L representatives of IGLTA, we also need to hear about the specific needs and concerns of lesbian travelers and business owners. How are lesbian travelers' needs evolving? How can we cultivate a more inclusive atmosphere for lesbians? Our board, our partners, and our members want to know! We welcome feedback at any time at iglta@iglta.org. We are open to ideas with the potential to reinvent how we think about female and lesbian travelers, and to give the Ls in our community all the care they deserve.