There's something powerful about a fresh look. It can be a new outfit, or haircut, or luggage. Whatever it is, change is reinvigorating, and it can open doors.
This week, IGLTA is unveiling its new look in the form of our beautiful new logos—one for IGLTA, one for the IGLTA Foundation. We couldn't be more proud of these logos, and of our new website (more on that in my next blog).
IGLTA has been serving LGBTQ+ travelers and tourism businesses since 1983. Our association is stronger than ever, and every year we are gratefully earning prominence across the industry and our community. Perhaps that's why we saw a need to update our "face." As we continue to grow, we want ours to be a recognizable brand, and one that sends a positive, empowering message about LGBTQ+ travel around the world.
For our new logo, we turned to R&R Partners. With our creative direction, the design team was challenged to produce a visual identity that, in essence, condenses IGLTA's mission into a single image. We are inclusive and diverse, as is reflected in our new logo's rainbow. We're also modern and unique, so our spectrum is its own array of colors. Our name is our core, so it's part of our new logo—yet the image can stand alone as a multicolored globe, surrounded by symbols of discovery and adventure.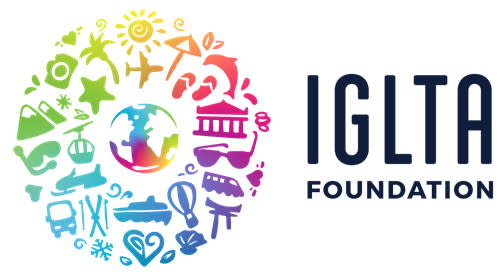 IGLTA also is modernizing its language. We want to respect our community members' preferred pronouns, and you'll see choices for those when registering for our Annual Global Convention, as well as in other places. We've also adopted a new tagline to sum up our mission in three simple words: Advancing LGBTQ+ Travel. When you see our name spelled out these days, it's the International LGBTQ+ Travel Association.
Speaking of our 2019 convention, it's a big one. It's headed to New York City, 24-27 April, and will be among the first major LGBTQ+ conferences leading up to WorldPride NYC in June. This, however, is a milestone year that marks a half century since the Stonewall uprising of 1969. With "Stonewall 50," we're especially proud to launch our new visual identity, and remind the world that the struggle for equality continues—and that travel is a vital means to connect with global communities.
Many IGLTA members and partners tell us how they use our logo across their digital and print materials. They say that aligning with our association is like a badge of LGBTQ+ pride and inclusiveness. How glad we are to share that sentiment, and for our logo to serve that purpose.
Just remember, even though our look is new, we remain true to our mission. We exist to help promote equality and safety for our LGBTQ+ traveling community, and we want everyone to know it. With our new logo, our next evolution promises to push open the world's doors even more.