The Best Things to Do in Queer-friendly Nice Côte d'Azur!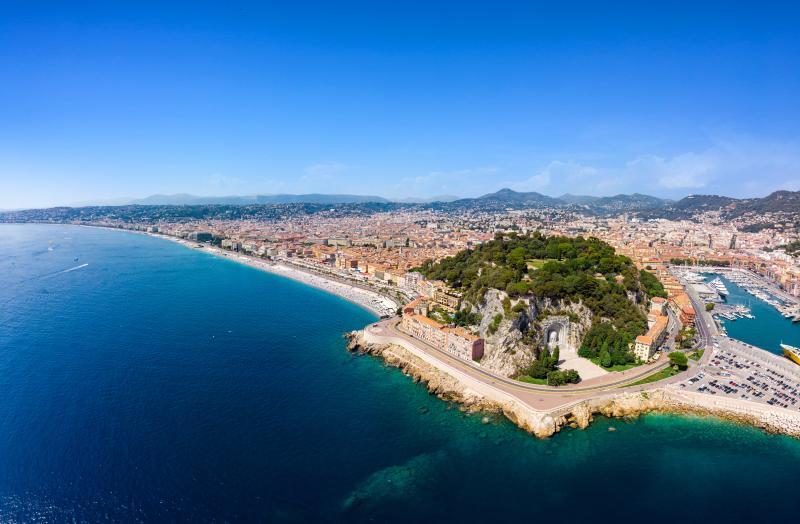 Between sea and mountain, Nice Côte d'Azur is a vast and diversified area comprising 51 towns and villages, stretching from the Mediterranean Sea to the peaks of the Mercantour National Park with its seven mountain resorts.  Nice Côte d'Azur is also a safe and welcoming destination for LGBTQ+ travelers.
You can explore it for yourself with our friends at Delta Air Lines. Delta's daily service from Atlanta to Nice started in early May 2023, and this new route, which will operate on a Boeing 767 aircraft, marks the first time that Delta will connect customers between Atlanta and the coastal French city in over a decade. This article is part of a three-city series. Delta flies to many LGBTQ+ welcoming cities from its major US hubs.  Click here to book a flight.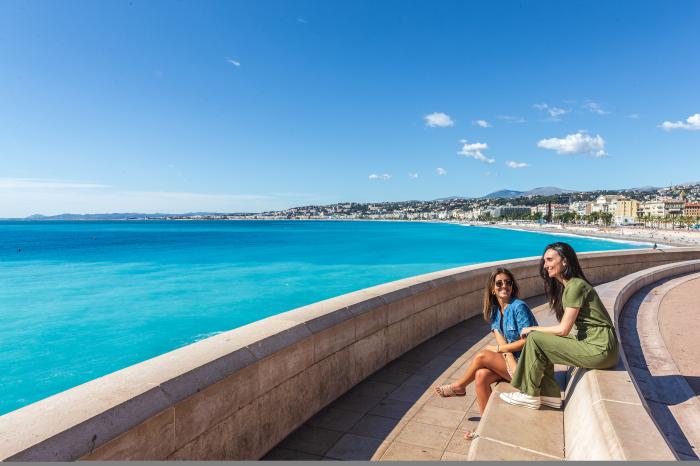 A Brief Guide To LGBTQ+ History In NICE
UNESCO Recognition
In July 2021, Nice, the esteemed Winter Resort Town of the Riviera, was honored with inclusion in the UNESCO World Heritage List.
Nice as an LGBTQ+ Destination
As the capital of the Côte d'Azur, Nice serves as an important hub for LGBTQ+ travelers. This vibrant, authentic city, illuminated by its emblematic "Nice Côte d'Azur, a natural iridescence" label, offers an incomparable setting where lifestyle and festivities flourish.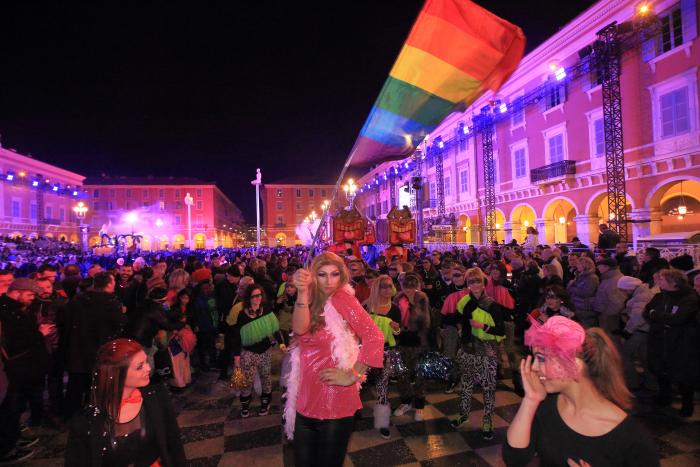 Nice: A City of Light and Diversity
Nice beautifully encapsulates all the aspects of an ideal holiday destination, with its stunning locale, pleasant climate, rich historical and cultural heritage, ease of access, and year-round events. As a city of diversity and inclusivity, Nice has an array of LGBTQ+ oriented establishments and programs, including beaches, museums, vibrant nightlife, and lively events.
The Active LGBTQ+ Community in Nice
Nice is home to a substantial LGBTQ+ community and has a robust network of proactive associations.
Introduction of the "Nice Côte d'Azur, a natural iridescence" Label
In partnership with local LGBTQ+ associations, the Nice Côte d'Azur Metropolitan Convention and Visitors Bureau initiated the "Nice Côte d'Azur, a natural iridescence" label in 2011. This label aims to endorse and catalogue the quality of gay-friendly tourism services.
Certification Standards for Establishments
To obtain the "Nice Côte d'Azur, a natural iridescence" label, establishments need to assign a representative who is required to undertake an OTM-provided training course titled "Engaging in a proactive approach to welcoming LGBTQ+ clients to their establishment Nice Irisée Naturellement."
IGLTA Membership
Since 2011, the Nice Côte d'Azur Metropolitan Convention and Visitors Bureau has held an esteemed membership with IGLTA.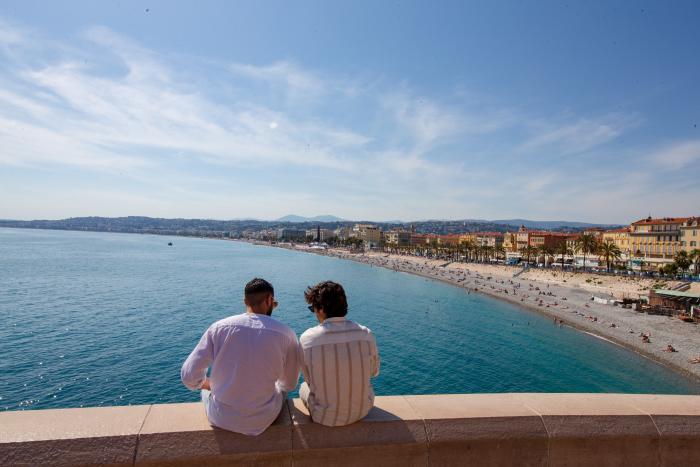 Why Visit and When to Go
Nice Côte d'Azur is a versatile destination that welcomes visitors throughout the year, regardless of the season. Owing to its exceptional geographical position, nestled between sea and mountains, Nice Côte d'Azur presents a wide array of activities. 
From skiing at the mountain resorts, a mere 1.5-hour drive from Nice during winter…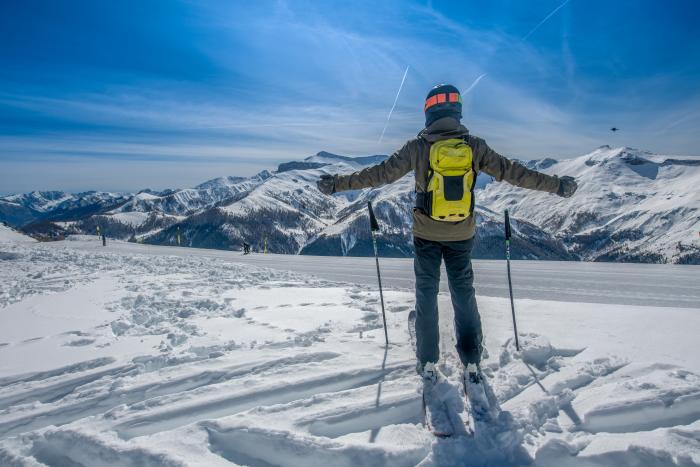 … to indulging in water sports during the summer months, it's a place that truly offers something for everyone.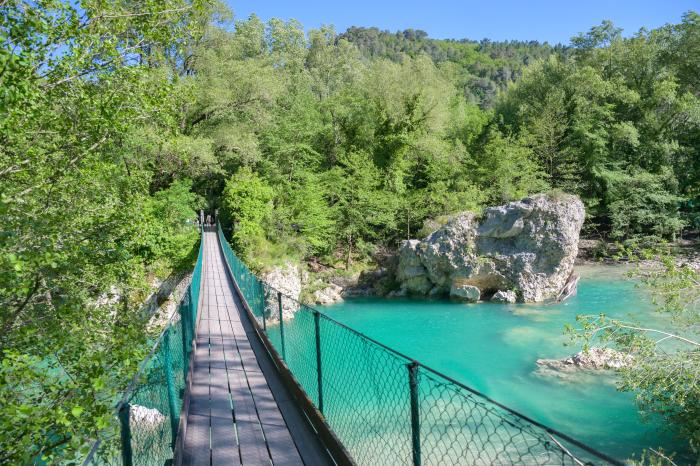 The Top 10 things to do in Nice 
1) Park of the Castle Hill
Occupying 20 hectares, this expansive green sanctuary towers over Nice, providing a sweeping vista of the entire Baie des Anges. Easily accessible from Old Nice and Place Garibaldi, one can either choose the Art Deco-inspired elevator or take the Lesage stairway, which concludes at the Quai des États-Unis, for a delightful ascent.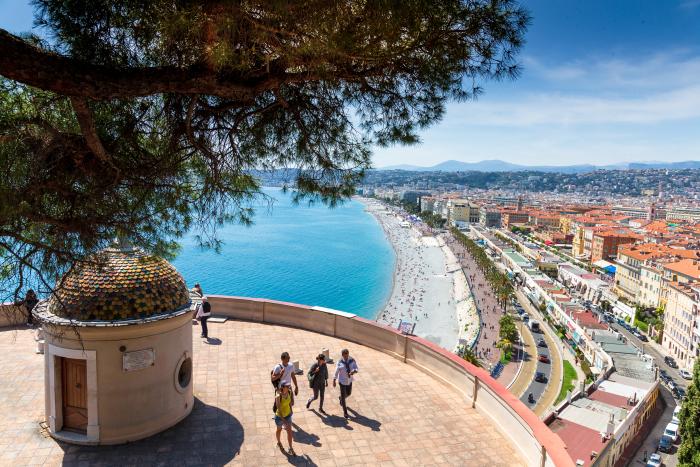 2) Promenade des Anglais 
Spanning an impressive 7km, the Promenade des Anglais is a celebrated landmark in Nice, recognized globally for its charm. Locals and tourists alike frequent it for leisurely strolls, workouts, or peaceful sea-gazing escapades. This iconic promenade narrates the history of Nice through its legendary hotels and singular ambiance. Be sure to capture your memories with a snapshot at the #ILoveNice installation, proudly overlooking the splendid Baie des Anges!
3) Old Nice
Old Nice is a sensory carnival! Its winding lanes, golden-hued buildings, artisan workshops, quaint stores, bustling eateries, and vibrant plazas weave a tapestry of charm that throbs with life, day and night. A highlight is the Cours Saleya market, ranked among the most extraordinary markets in France, and an experience you shouldn't miss.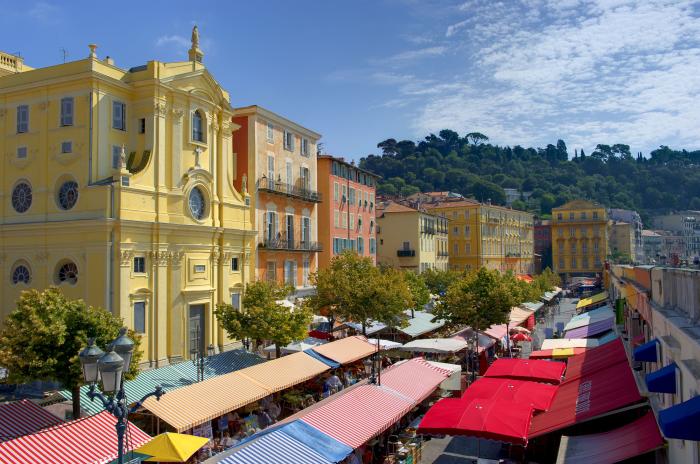 4) Dine Out
With its hearty salads, succulent grilled fish, seasonal produce, and local wines, Nice's cuisine is a radiant celebration of simplicity and quality. Olive oil, sourced from hills bearing the Protected Designation of Origin (AOP), forms the backbone of this culinary heritage. Adorned with the "Cuisine Nissarde, le respect de la tradition" label, it is now a part of France's intangible cultural heritage and is under consideration for UNESCO's Inventory of the Intangible Heritage of Humanity. Whether in a cozy bistro, a gourmet eatery, or on a terrace with views of the harbor, Old Nice, or the Baie des Anges, the diverse flavors of Nice are ready to be savored.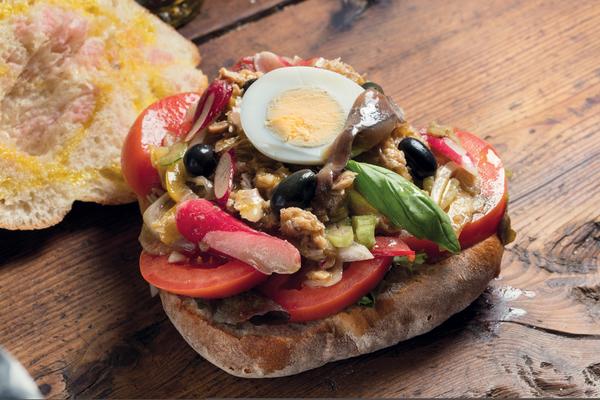 5) The Place Masséna
Known for its vibrant red facades, the Sun Fountain, and distinctive black and white pavement, Place Masséna is a bustling hub at the heart of Nice where locals of the Côte d'Azur often gather. Established in 1840, this renowned square continually reinvents itself. It serves as the nexus where Old Nice converges with the Promenade des Anglais, the commencement of Rue Masséna — famously known as "la zone piétonne" or the pedestrian zone — and the start of Avenue Jean Médecin, a thriving shopping thoroughfare.
6) The Promenade du Paillon
Referred to as the "Coulée Verte," the Promenade du Paillon is a verdant oasis spanning 12 hectares, perfectly situated in the core of downtown Nice. It forms a scenic link from the Musée d'Art Moderne et d'Art Contemporain (MAMAC) to the renowned Promenade des Anglais, threading its way through Place Masséna en route.
7) Port Lympia, Heaven of Tranquility
Located just a few steps away from the Quai des États-Unis and at the foot of the Castle Hill, the Port de Nice Lympia is a must for all visitors and locals alike, all the more so as numerous antique shops and restaurants contribute to the attraction of the area. Both a commercial and a pleasure port, it is home to yachts, sailing boats and nearly a hundred colorful traditional wooden boats (known here as "pointus"). A perfect place for a stroll!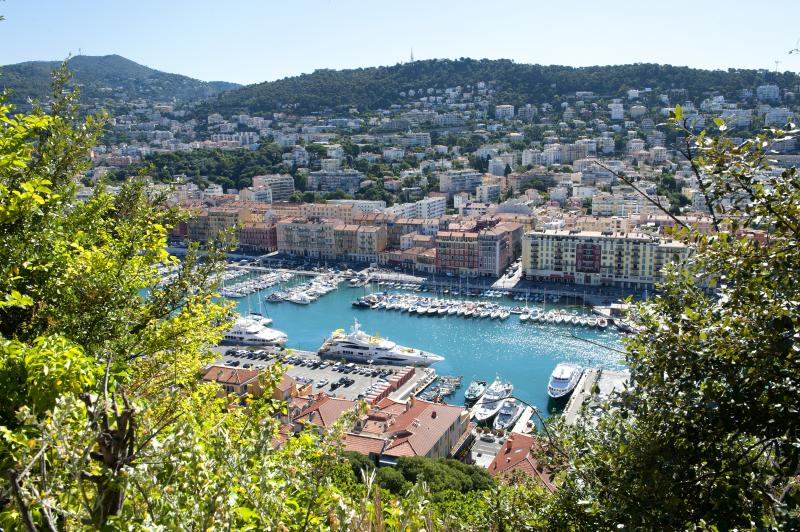 8) Place Garibaldi
Almost as renowned as its adjacent neighbor, Place Masséna, Place Garibaldi has been a beloved meeting spot since its inception between 1773 and 1784. The square, bathed in sunlight and encircled by radiant ochre facades–many of which are strikingly realistic trompe-l'oeil masterpieces–glows with a unique iridescence. Today, Place Garibaldi pulsates with life as locals and tourists alike relish the delight of dining at its numerous terraced restaurants, such as Sentimi, a partner of the Nice a natural iridescence label. It's an ideal spot to enjoy a sun-kissed lunch or to experience the sparkling allure of Côte d'Azur's nightlife.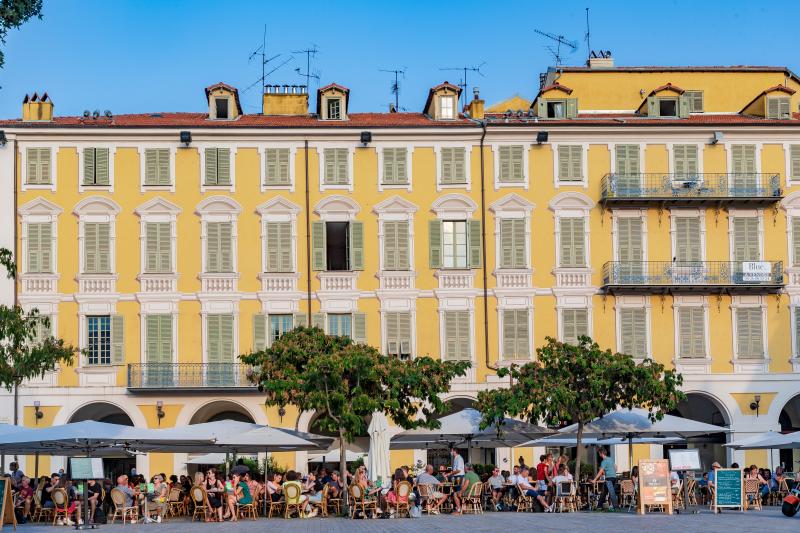 9) Museum of Modern and Contemporary Art
The Museum of Modern and Contemporary Art captures attention with its unique architecture: four strikingly large square towers standing 30 meters tall, interconnected by glass corridors. The museum's interior showcases a permanent collection comprising 1,300 essential works of art. Ranging from sculptures, paintings, engravings, and drawings to assemblages and auditory-visual installations, these pieces invite visitors to ponder over themes such as consumerism, the value of objects, and the subversion of established conventions.
10) The Place du Pin and Rue Bonaparte 
Located next to the Port district in Nice, Rue Bonaparte and Place du Pin epitomize the city's vibrant, chic, and multicultural neighborhood. They are also noteworthy for the LGBTQ+ community, boasting several bars with the Nice with a Natural Iridescence label. Since 2011, the LGBTQIA+ Center in Nice has hosted the annual Dolly Party at Place du Pin. This year, the celebration is set for 14 August 2023–remember to dress in white! Rue Bonaparte and Place du Pin await you.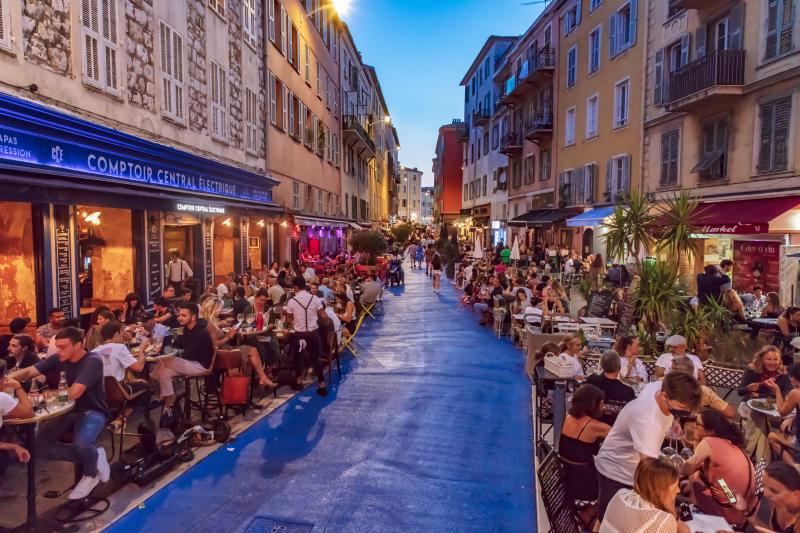 LGBTQ+ Events & Nightlife 
Lou Queernaval, a unique LGBTQ+ tradition in France
Since its launch in 2015, Lou Queernaval has attracted spectators from all over France and around the world and marks the launch of a weekend filled with festivities. Free of charge, this unique event in France was proposed by the Nice LGBTQ+ community in close collaboration with the City of Nice and the Nice Côte d'Azur Metropolis. Open to all, Lou Queernaval, the first LGBTQ+ carnival in France, is committed to bringing the great popular tradition of the Nice Carnival to life with humility and a touch of madness.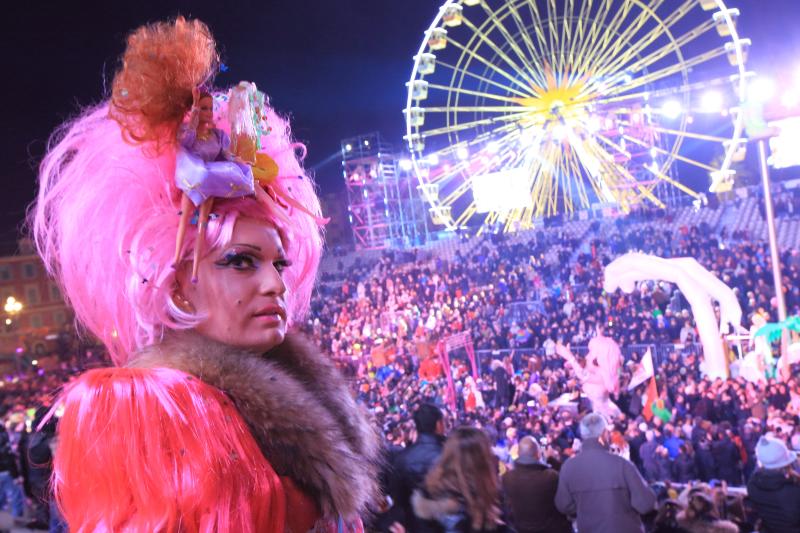 Rencontres In&Out: April Film Festival
Initiated in 2009, the Rencontres In&Out film festival offers 10 days of screenings and events in April, centered around a diverse program that explores notions of sexuality and gender. In 2023, the Queer Film Festival marked its 15th anniversary.
Pink Parade - Nice Pride: Annual Summer Event
Organized annually in July by a local association (AGLAE), the Pink Parade - Nice Pride serves as the LGBTQ+ visibility march in Nice.
Enjoy Events All Year Long 
Explore a wide range of LGBTQ+ events hosted every week to enrich your Nice Côte d'Azur experience. You can find more detailed information about these offerings here.
In addition, Nice Côte d'Azur is a hub of vibrant events, boasting over 3,000 events annually. Among the most acclaimed are the Nice Carnival in February, the Ironman in June, the Nice Jazz Festival in July, the Marathon des Alpes-Maritimes in November, and the Christmas Village. This year, the Capital of the Côte d'Azur hosts the 10th edition of the Rugby World Cup in September.

Supporting the LGBTQ+ Community in Nice
Nice is home to a vibrant LGBTQIA+ community and numerous supporting associations. At the heart of these resources is the Centre LGBTQIA+ Côte d'Azur, a hub that offers a wealth of support and services for LGBTQ+ individuals and their loved ones.
The Centre not only facilitates critical events, such as debates and meetings, but also promotes camaraderie through social gatherings and maintains a welcoming association bar. It's a communal space that hosts 18 LGBTQ+ associations of the French Riviera, including ENIPSE, ATCA, Front Runners Nice, among others.
Volunteers are available at the Centre for general information on Mondays from 5pm to 8pm and Saturdays from 4pm to 8pm. Sexual health support is offered on Wednesdays from 5pm to 8pm. Visit their website for more details.
Plan Your LGBTQ+ Trip
Planning your LGBTQ+ trip to Nice Côte d'Azur is now made easy thanks to comprehensive resources available at your fingertips. The Explore Nice Côte d'Azur website provides a host of valuable information, tailored specifically for the LGBTQ+ community.