IGLTAF Task Force-India
India is a major destination for international tourism and there is potential to grow the inbound and outbound network to benefit LGBTQ+ travelers and LGBTQ+ welcoming businesses. During 2021-22 we will build programs to inspire tourism buyers to include India on their list of LGBTQ+ welcoming destinations, connect India-based tour operators with global suppliers, and support outbound-India travel advisors with LGBTQ+ supplier options worldwide.
 
Sean Howell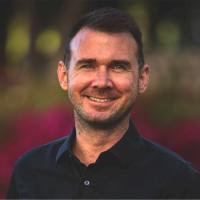 Sean Howell serves as the CEO of the LGBT Foundation, a not-for-profit organization with the mission to utilize blockchain technology to achieve equal rights and acceptance for all members of the LGBT+ community worldwide. He is currently Chairman and one of the founders of Hornet, a gay dating and social network, where Sean helped the company grow its user base to 25 million and its editorial division to become the largest global LGBT+ newsroom at Hornet, Howell also oversaw the company's corporate responsibility efforts under Hornet impact, organizing social justice and health related activations. Prior to Hornet, Sean Howell was a fellow of the World Affairs Council, as well as a Trustee and President of the Young Professional International Network. He has helped numerous organizations leverage technology to expand their impact through his work with the MSM Global Forum along with serving on various nonprofit boards and committees including UNAIDS, E-CDC, PFLAG and chair of the center for public health and human rights at Johns Hopkins university. He is a founding member of the UN Global Coalition for HIV prevention and technical advisor to UNDP's LGBTI inclusion index. He has published scientific papers and is the principal investigator in the upcoming UNAIDS global study on LGBT wellness. 
Theresa Belpulsi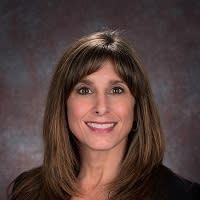 Theresa Belpulsi is Vice President of Tourism for Destination DC. DDC is the capital city's primary marketing organization and is responsible for the economic health of a $9 billion hospitality industry employing 270,000 individuals in the region. Theresa oversees tourism marketing and sales for the domestic, sports and international markets as well as visitor's services.
Prior to her 17 year tenure at Destination DC, Belpulsi served as Assistant Director of Tourism of the Fort Lauderdale Convention & Visitors Bureau. She was responsible for all domestic leisure sales as well as special events to the city.
Currently, Theresa is Chair of the Board to the regional tourism marketing cooperation, Capital Region USA, Inc. (CRUSA). Additionally, she also sits on the board for a number of tourism organizations including National Cherry Blossom Festival, Cultural Tourism DC and the International Gay and Lesbian Travel Association Foundation. She participates in various arts & cultural tourism activities within Washington, DC and the Region.
A graduate of Georgia Southern University, Theresa holds a Bachelor of Science Degree in Communication Arts.
Sujit Banerjee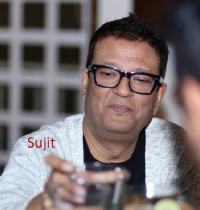 I was born into a family tree that had Durgadas Bandhopadhyay as a patriarch whose memoir of the 1857 revolt of Bareilly – Bangali Bidrohi – is the only record of the mutiny recorded by any Indian. I guess the writer gene comes from there. Born in Lucknow, I grew up in Patna where my primary education was provided by Irish Brothers at St. Michael's School. I finished my post-graduation in Psychology from Patna University with scholarship but ended up becoming a tour operator instead. Which was good since it took me all over the world and I started getting interested in healing and shamans. I joined Pranic Healing courses and became a certified healer. Today I both heal as well as read Tarot cards. Married to a Rajasthani Bengali, without any children but for one of my parent, I continue to work in tourism and live in Delhi. My first book of short story collection is in its second edition! As I hobby I gather stories and few of them got crafted into Rukhsat The Departure. The next one is being fermented. 
Richard Krieger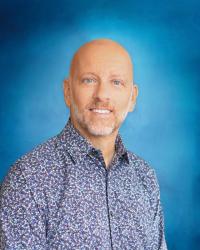 A native New Yorker, Richard enjoys a travel industry career spanning more than 20 years. Having worked in leadership roles in both the retail and wholesale spaces, his experience brings insight into development and distribution of travel products. In his current role as Director of Sky Vacations, Richard is uniquely connected to India. Having spent several years in the Indian market before joining Sky Vacations, Richard now manages two Sky Vacations teams, USA and Mumbai, affording him access to a wide range of opportunities to expand and support tourism to India. Adding to this strong bond to India, Sky Vacations' parent company is Sky Bird Travel & Tours, an Indian-owned company that is the largest airline consolidator in North America and the leader for travel to India. Richard has been actively involved with LGBTQ+ tourism for many years and is a longtime member of IGLTA and a two-term member of its Board of Directors. He is looking forward to working with his extensive network of colleagues and friends in India and around the globe to play an important role in the success of the IGLTAF Task Force-India.
Mona Kapoor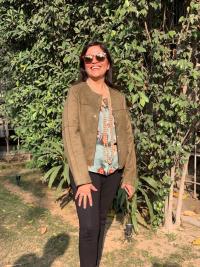 A curator of luxury tours in India, Mona Kapoor is a veteran of Indian tourism. Offering the highest quality of luxury services, she creates tailored itineraries with meticulous detail. Mona brings to the table a spectrum of experience, strong relationships, and a passion for showcasing the best of the Indian subcontinent.
With over 30 years of experience in varied aspects of travel like Airline sales, CRS sales and DMC sales and operations, her understanding of every aspect of travel and holistic approach are unmatched. 
A people's person with a zeal for travel in India and a keen eye for quality, her enthusiasm for her work permeates into every itinerary and Mona will ensure a fantastic experience for every guest, every time.
With intense passion for creating experiential vacations and backed by a professional and efficient team, Mona will ensure a memorable trip for each client.
"Every trip to India should be a life enriching experience, and we at Indian Vistas work hard to ensure this for every guest. Travelling to India is a dream for many, and no detail is too small and no request too large for us." 
Heather Cassell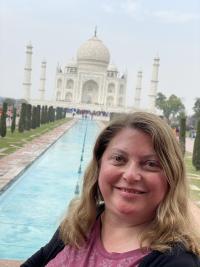 Heather Cassell is publisher and editor of Girls That Roam, an online women's travel magazine and an independent travel consultant. 
She is a regular travel contributor, international LGBTQI news columnist, and freelance journalist for the Bay Area Reporter, Edge Media, The Seattle Lesbian, and other publications. Her work has also been seen in Gaycations, Go! Magazine, Lesbian.com, Lesbian News, OutAloha, OutCities Northwest, and Passport Magazine.
Cassell has covered LGBTQI and women's issues for more than 20 years.
For the past decade, she's traveled the world writing about interesting places and people as a travel writer focused on LGBTQI and women's travel. Cassell has traveled to Austria, Australia, Belize, Canada, Colombia, Czech Republic, England, France, Honduras, India, Ireland, Israel, Italy, Mexico, Spain, and throughout the United States. 
She has participated on panel discussions speaking about LGBTQI and women's travel at the Community Marketing Inc. Travel Summit, Travel and Adventure Show, Women's Travel Fest and other industry and consumer conferences.
Cassell lives and works in the San Francisco Bay Area with her partner when she's not traveling.
Craig Smith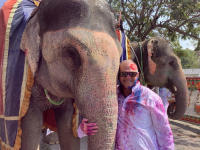 Craig Smith left a successful law practice in San Francisco to follow his dream of creating extraordinary travel experiences for the mind, body & spirit with and for our LGBTQ+  community. Through conversations with some of these friends, and a shared vision of crafting unique and inspiring experiences, Source Events was born in 2001.  Over the past 19 years, Source Events has become a recognized leader in luxury gay travel,  producing inspiring LGBTQ+ cruises and adventures around the world.
Craig has assembled a team of professionals with expertise in every facet of travel and event production.Under Craig's leadership, Source Events has continued to make a difference in the community by supporting LGBT organizations such as the National LGBTQ Task Force, StandUpFoundation, and the Gay Mens Chorus of San Francisco.  In 2014, Craig was honored with the Business Person of the Year Award by the Miami Gay and Lesbian Chamber of Commerce. 
Mark Snoxell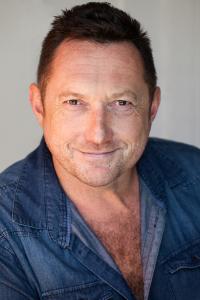 Mark Snoxell is the Product & Marketing Guru for Out in India.
Having established himself as an independent Sales & Marketing Representative in 2014 specialising in emerging destinations to the AsiaPacific market, Mark became part of a joint-venture, Out in India, with a long-term partner to focus on LGBTQ+ travel within India and engaging the local community in to the industry. From an early age, Mark pursued his passion for travel and has been fortunate to have held many exciting roles across the globe including:
·     Being a tour guide in Europe being first based in Paris
·     retail travel in the UK
·     British Airways, based in London (when the love affair with India commenced)
·     Specialist group travel New Zealand
·     Corporate Sales Executive in the Middle East
·     Public Relations & Marketing in Kuala Lumpur & Singapore
While visiting Sydney, Australia, Mark was enticed into the corporate world where he ended up spending eighteen years excelling in the aggressive sales environments of Human Resources, Recruitment & People Management Software and clients included Qantas, Virgin Australia & Airservices Australia.  With his analytical & focused approach and desire for measurable & high-quality outcomes, Mark has since demonstrated an ability to get meaningful results in today's travel & tourism industry. Innately, Mark strives for continuous improvement and driving sustainable tourism initiatives.
John Tanzella, IGLTA, President/CEO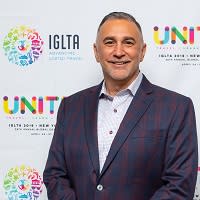 John Tanzella is the President/CEO of the International LGBTQ+ Travel Association (IGLTA) a global non-profit tourism association. IGLTA is headquartered in Florida, with additional staff located in Washington D.C., Madrid, São Paulo, Bogota, Paris, London and Cape Town.  
IGLTA's membership is comprised of tourism business professionals - 5,000+ located in 82 countries. in marketing its tourism industry business members, IGLTA reached 3.4million unique travelers in 2018. 
The IGLTA Foundation was created five years ago as the philanthropic arm of the association, supporting the tourism industry with research, education and developing future LGBTQ+ leaders in tourism.  
IGLTA is the only LGBTQ+ associate member of the the world tourism organization (UNWTO), the United Nations agency responsible for the promotion of responsible, sustainable and universally accessible tourism.  
Tanzella serves on the board of directors for the stonewall national museum & archives (USA). Born in Boston to Italian immigrant parents, attended the university of Georgia, resides in Ft. Lauderdale.